Hey, everyone! I added a new feature to the Sewaholic Patterns shop this week – product reviews!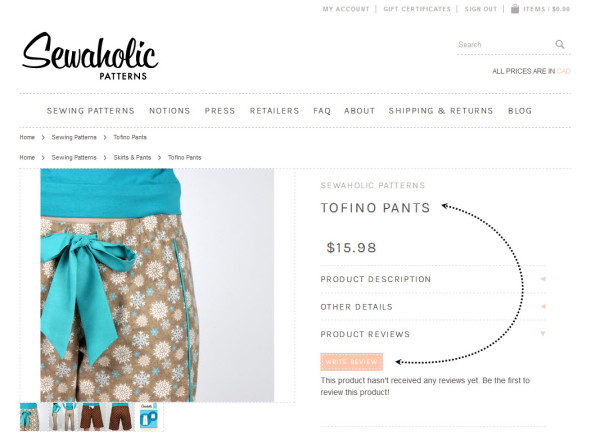 Now you can leave a review of the patterns you've bought, or recommend them to others. I think you can even paste a link to your blog post, if you've made it and posted about your experience! It would be great for potential shoppers to be able to see your versions and read your thoughts.
This will also let people sort the patterns by 'highest rated' – so they can choose from the best-reviewed patterns.
At first I admit, I was a bit hesitant to turn this feature on. What if all I get is spam? I have the captcha which should help with spammers. (Sorry, I hate those too, if you can't read the one it gives you at least you can refresh it and look for an easier one. )
Here's how to get a new captcha – some of them are impossible!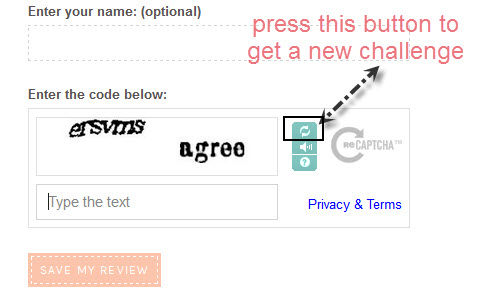 I think the benefits of having product reviews outweigh the issues though, so I'm willing to give it a go. When I shop online I love to be able to read reviews before buying. It makes it really easy to decide whether the pattern is worthwhile if there are a handful of good reviews! Even things like 'fits more snugly than expected' or 'sleeves were too long' are useful for people to read. If it goes bad, I'll turn them off, but I'd love to give it a try.
I'm also fortunate to see so many great comments about our sewing patterns on Twitter, in blog comments and through email. I love to hear about your successes with the patterns! Why not provide a place for those comments to be shared publicly? That's the kind of information that's helpful to future buyers. I can say all the nice things I want about a pattern, but it's so much better when it comes from an outside perspective. It means more coming from you, than from me!
If you've enjoying making any of the Sewaholic patterns, I'd love it if you would leave a review! Even a few words would be helpful. Thank you in advance!