This project started with the fabric first, which I love! I bought enough yardage for a top, then I looked for a pattern that would work with what I had in mind.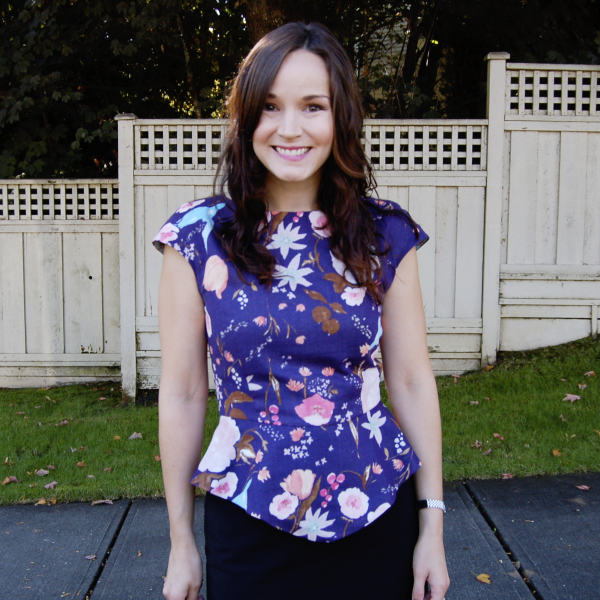 The pattern is Burda 6977, a peplum top, dress and skirt. This is the top (obviously) and I think I'd like to make the dress as well. I've made the top before – Bird Print Peplum Top – and loved it. It's so easy to wear with both skirts and pants, although it's better with skirts unless the pants sit quite high on the waist.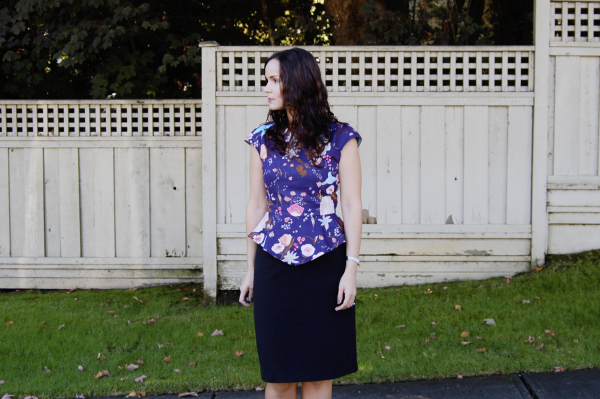 The only change I made was to add 1cm (3/8″) of length to the bodice, above the waistline. It's sitting in the perfect spot for me now.
And luckily, I didn't end up with any 'fig leaves' or boob flowers. I like how that one big pale pink flower on the left shoulder looks like a corsage.
I can get this top out of 1 metre of Nani Iro double gauze – yay! I often see this fabric at Spool of Thread and love it, but since it's expensive I only want to buy exactly what I need. Now I know that one metre is enough.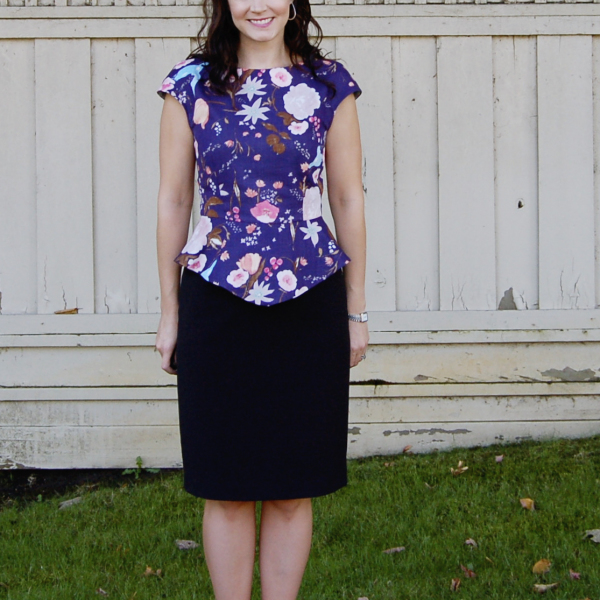 I lined it with turquoise cotton voile. I'd originally bought the turquoise fabric for a top but decided it was too wrinkly for a top. Makes a great lightweight lining fabric though!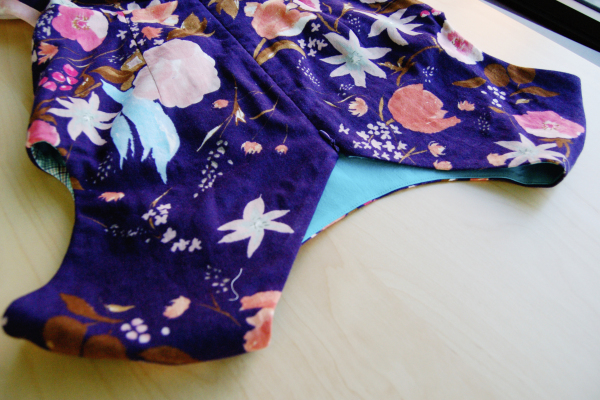 However, I changed sewing machine thread colour so many times that I started to regret my turquoise lining choice.
Purple body: purple thread
Turquoise lining: turquoise thread
Sewing lining to shell: purple
Understitching: turquoise
Zipper: purple
and so on!
I did remember to fuse the interfacing to the lining this time and not to the main fabric. I still think this is sort of a lazy method, but it's a quick top so I don't mind. If I were making an extra-special version I might consider making separate facing pieces that attach to the lining, for nicer neckline edges.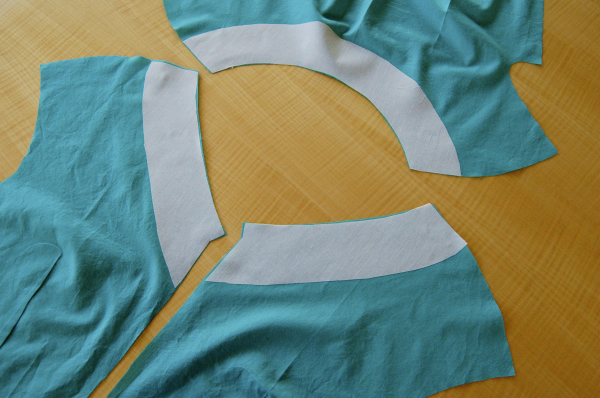 I understitched the peplum hem, which looks particularly nice to me. I pressed the peplum so a little bit of the purple fabric rolled to the underside. This ensures that the bright blue lining won't show at the edges.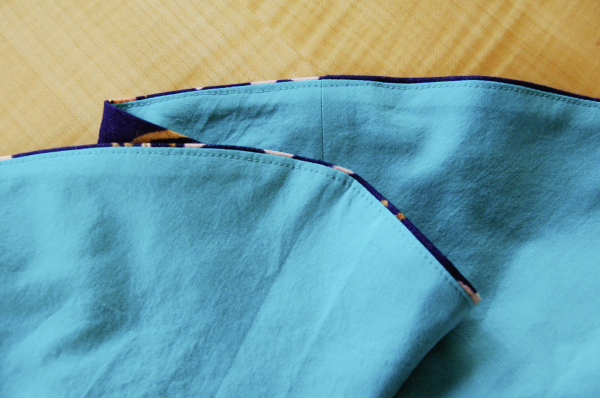 This also means that the lining ends up longer at the top edge of the peplum, since more lining fabric is rolled to the inside than if I'd folded it exactly on the lower seamline. If you do this (or something similar) make sure you use the main fabric raw edge as your guide for the waistline seam. (You could trim the excess lining if that makes it easier to remember and easier to sew the seam.)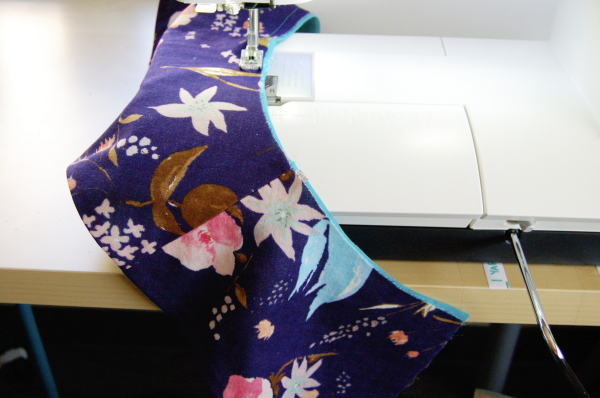 As I was working on this top I wondered if the print was a bit loud. Weird, eh? I love loud! Maybe my tastes are slowly becoming more refined. I'm glad I made it a top though and not a dress or larger garment.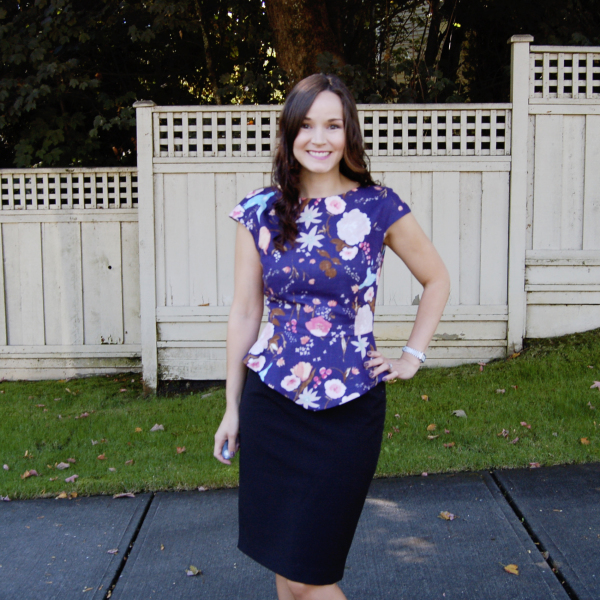 I used an invisible zipper as per the directions, instead of the lapped zipper I used in the first version of this pattern. This is better as it's more subtle. Do be careful if you're sewing something in double gauze and inserting an invisible zipper though, I caught a bit of the fabric in the zipper and it left a snag.
Funny fact about this top: I have worn my first version quite a lot and if you wear it with pants, the back peplum point has a tendency to slip into the back of your pants when you bend or sit. It's so much better with a skirt that hits at the natural waist. Perhaps if I wore pants that hit at the waist they'd be fine too.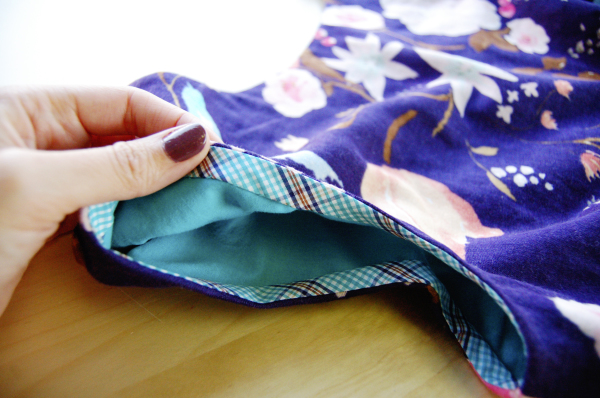 I used leftover plaid bias tape from the book to finish the armholes. It's cute on the inside, and no one will see it from the outside. (See how the bias tape is used to finish the edges in more detail, here.)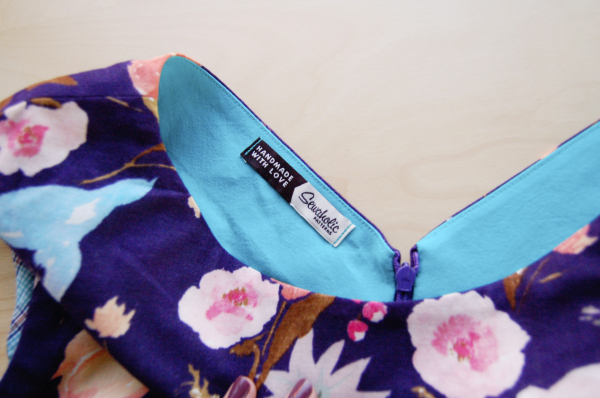 And I added a Handmade with Love label – I'd forgotten to sew it to the lining when it was flat, so I went back in through the center back opening and sewed it to the lining, making sure not to catch the main fabric.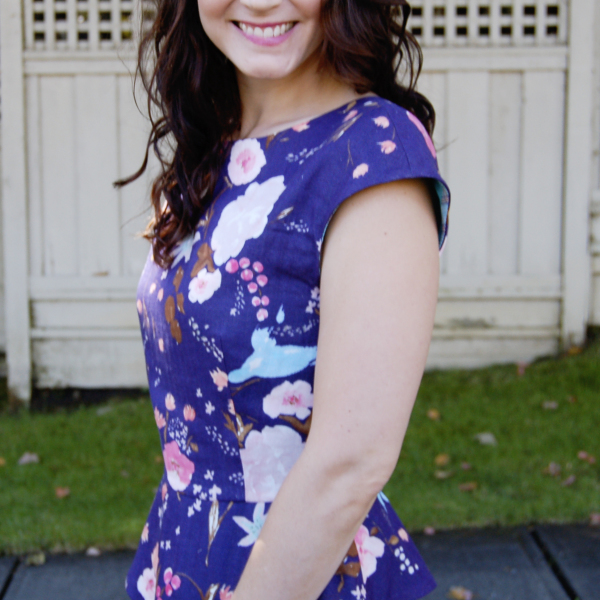 Flat view: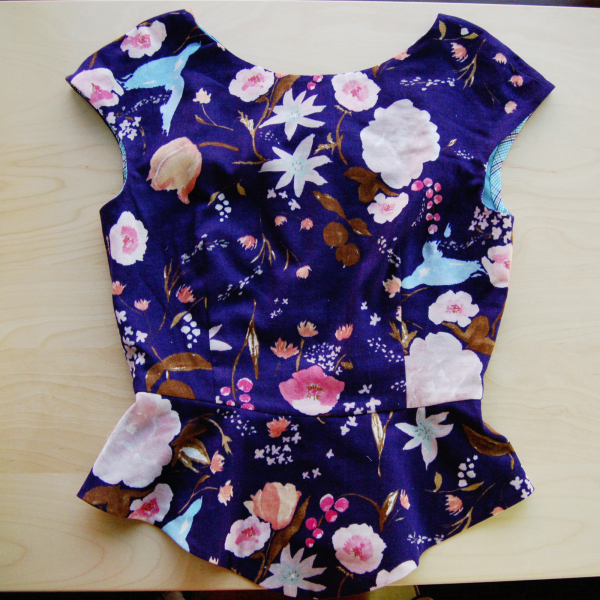 Back view, flat: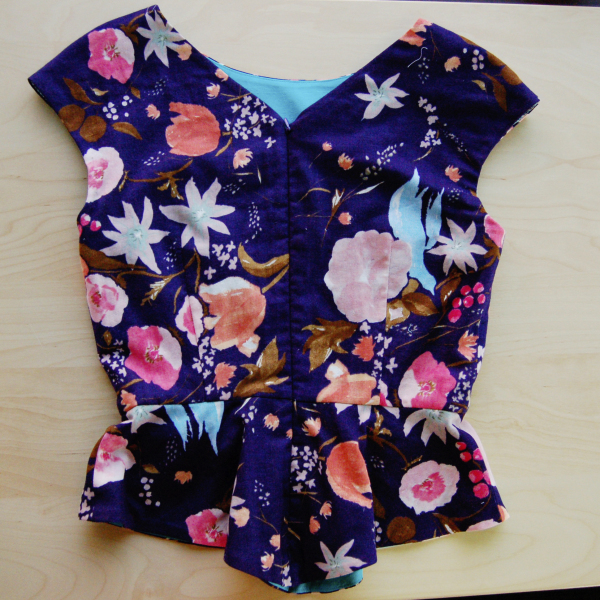 Verdict: love it! It's a good seasonless colour, I think, even though it will probably suit warmer weather outfits best. The extra centimetre (1/2″) of length in the body feels better to wear than my first version. It's a really quick top to make, especially for a lined top, and it's flattering to wear.