You know how sometimes, you end up going on and on about something, and it doesn't intend to be a rant or a complaint but somehow, it comes across that way? (But then all that ranting turns into you getting what you want, after all?)
Let me back up…
I was going on and on about how one day, I wanted my own sewing room. Honestly, all I meant was one day, far in the future, I'd love to have my own little space, clearly designated for crafting, sewing, writing, MY creative pursuits. My sewing machine's pushed up against a wall, between a chest of drawers and the closet door, in the spare room which is technically my guy's home office.  I'd run back and forth from the dining room (pinning, cutting), living room (ironing) and spare room (sewing) while working on projects. But it works, and in my last place I didn't sew at all since there was nowhere to set up a machine.
Anyways… the point is, we were walking down the road after dinner one night, and I must have been in full-force rant mode without even realizing it. I was just saying, don't forget about my hopes and dreams, when we can get a larger place one day.
So while I'm out the next morning, I check my phone to find a lovely text message. "You're going to like what I've done in the spare room" – what a way to win a sewaholic's heart!  I come home to find the desk is facing the window (yay for natural, bright light and view!) and Mr Sewaholic is suggesting we go to Ikea to pick up some organizational supplies. Um, yes! The only thing I like more than sewing is building Ikea furniture, especially when it also involves reorganizing.
It took days to put it all back together, because if you're going to do anything, better do it right. I have a TON of zippers, and going through them all reminded me of projects I never started (hello, baby blue velour hoodie – with only the powder-blue plastic vislon separating zipper to show for it.) Which of course slows down my progress.
I even found glitter iron-on letters of the alphabet, and I'm embarrassed to admit they were supposed to go on the butt of a pair of shorts. You know, the kind teenybopper girls wear that say 'CHEER' or 'HOTTIE.' I'm so glad my style has evolved since my early twenties. (yes, that's right, I was past my teens when I bought the glitter-letters…yikes!)
Here's the finished space. My home inside my home!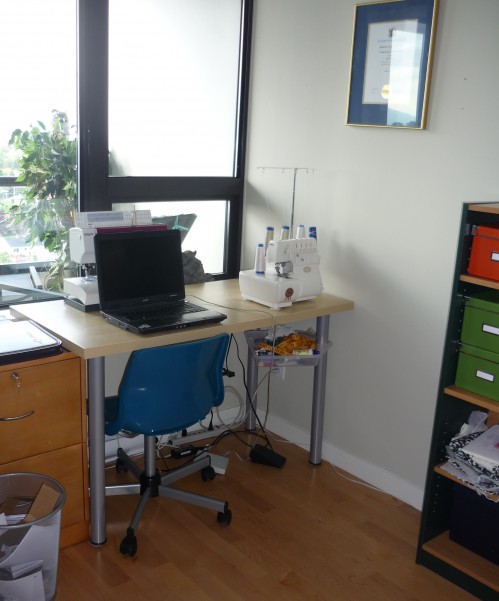 Machine, machine, laptop – sewing and blogging essentials. The laptop used to be on top of the bookshelf, where I'd stand to write my blog posts most of the time. What an improvement!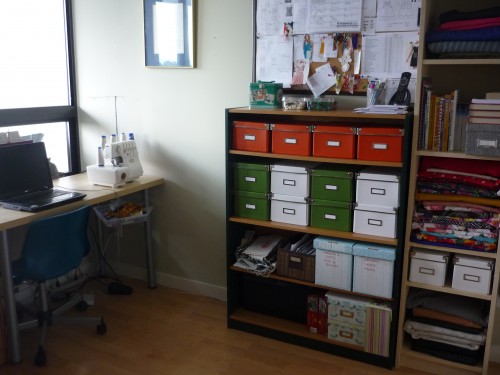 Boxes and boxes. Now it's easy to figure out whether I have supplies on hand without tearing the whole place apart…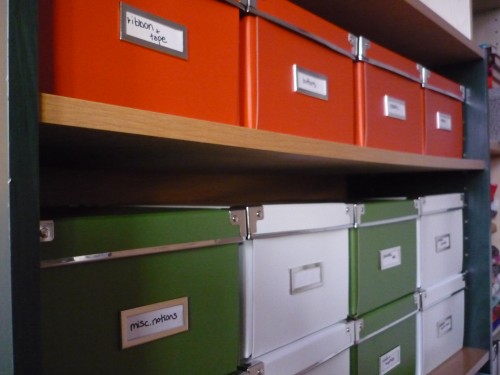 I have a tackboard for sketches, inspiration, swatches, and enough space to squeeze Diana in, as well. (She's modeling my partly-sewn Macaron in this shot.) And a nice tall bookcase for books my fabric stash.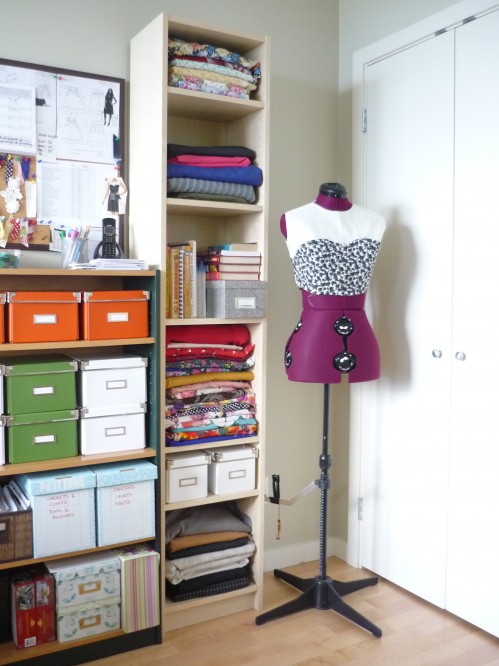 But the best part is the view: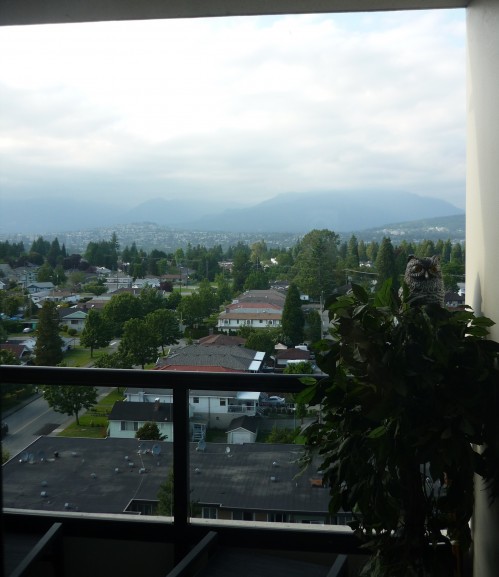 And now that it's done, I can finally get back to working on Macaron! Or whip up an instant-gratification project first to test out the new workspace.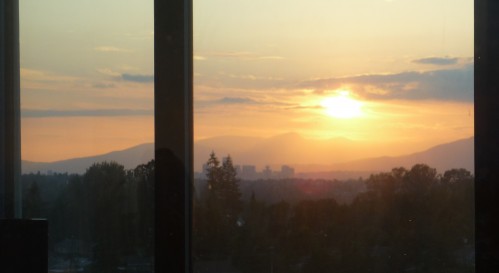 What's your sewing space like? Do you have one, or do you set up camp in your dining room or living room or wherever you can squeeze yourself in? What would you change about your sewing space, if you could? Or are you one of the lucky ones with your own sewing room? Share in the comments!