Want to know what it looks like in my sewing space? Jennifer of Ellison Lane and Heather of The Sewing Loft asked me if I'd like to participate in their summer Studio Spotlights series. I told them it's not very fancy in here but they didn't mind!
My space is pretty much the same as when I moved in to the new office last summer, with a few updates. I find that a sewing space is always changing, a little bit here and there, to get it just right for sewing. I also do everything in this little 8 ft by 14 ft room, from writing blog posts to shipping orders, assembly and warehousing of the patterns, to sewing and developing new patterns. Basically, everything I do, happens in here! So it's important to have a versatile and simple sewing space.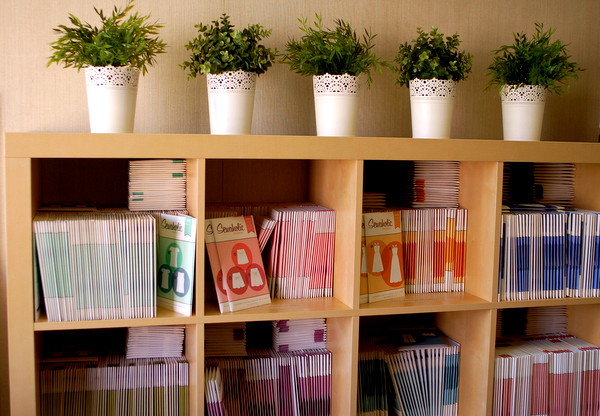 Here's a look at where I sew. Be sure to check out the rest of the Studio Spotlights series to look at other (and probably fancier!) sewing spaces for inspiration! I love to see what everyone else does, especially those with larger spaces.
Here's the table where I sew. It's a basic IKEA table with detachable legs (this one, I think, with different legs). It's the type where you can mix and match table tops and leg styles. I bought it when Mr Sewaholic and I first moved in together, and I just needed the most basic of surfaces so that I could sew in his spare bedroom. This is well before I started blogging and well before I ever thought I'd have my own business! This little table has done pretty well for me.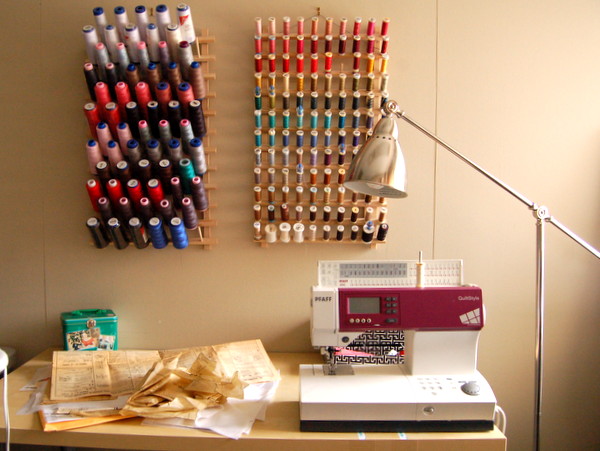 My favourite part is the rainbow thread racks. I love how they look and it's so easy to find the right colour of thread! (The only downside is that the colours I rarely use get dusty. Perhaps I should make a cover for the rack to protect them from lint and dust.)
I added this lamp for extra light when sewing late at night. It's a borrowed lamp from the shared office, but it works quite well.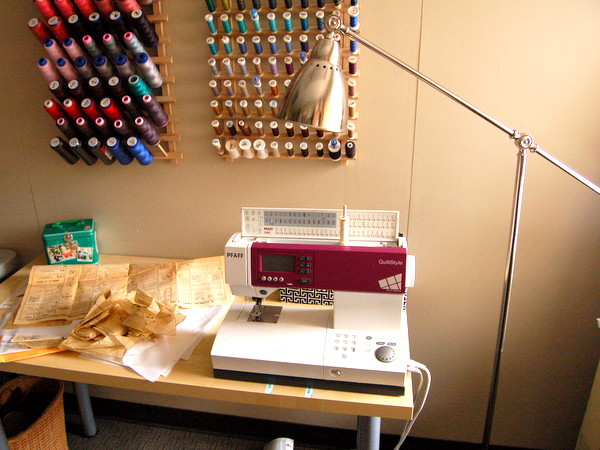 The trick to working in a small space is to have everything moveable. I can put the ironing board anywhere, and collapse it when I need more working space. (In the photo below, the wicker bin stores comfy flats just in case my feet get tired!) You can also see out the door, that's where my office ends. That hallway is the start of the shared space.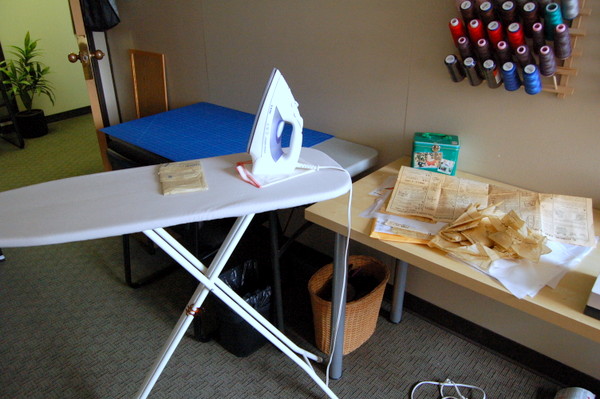 I've started using my rotary cutter a lot, and so I keep the cutting mat on this folding table. I originally borrowed the folding table from the shared office space, before committing to buying a table. I like that I can sit down to work at the table, but I wish it was higher up so my back wouldn't get sore after cutting for a long time.
In the future, I think I'll upgrade it to a higher cutting table that's kinder on my body! (I do like that it collapses though, when I need more floor space.)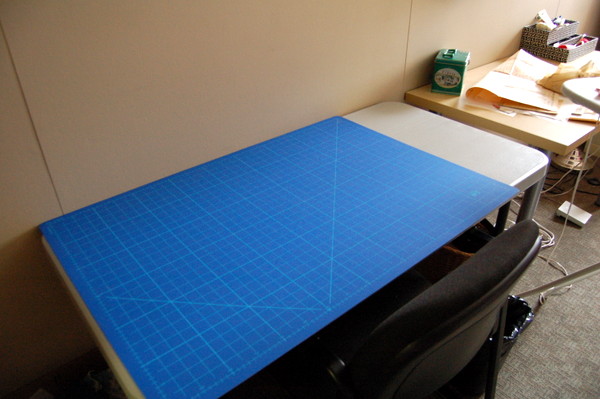 When I do a lot of sewing, I like to have the ironing board near by so pressing is quick and easy. I can lower the ironing board so that it's even quicker to access in between sewing steps. Just swing to the left in my desk chair and the iron is right there at sitting level!
You can't see the chair in these photos but it's just a regular rolling desk chair. I have the same chair for my sewing machine and computer. I can also swing between the sewing machine and the computer, so that I can easily type up things that come to mind while sewing.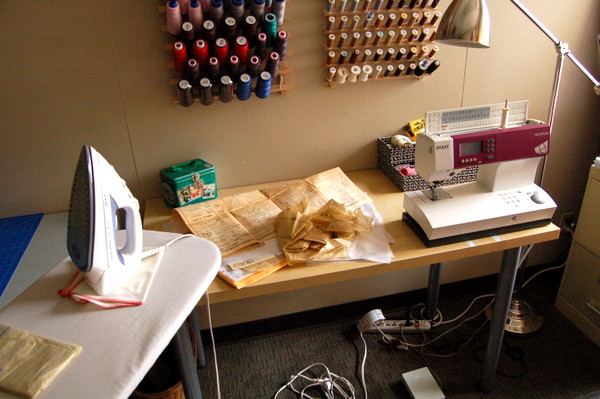 I used to keep the serger on the same table as my sewing machine, but I've found that I like having more space to work. It's nice to have room to the left of the machine for the garments to sit, or to keep tools like scissors, pins, even the pattern instructions. So the serger sits in the window on a filing cabinet, and when I need it I sit it back in its original position, to the left of my sewing machine.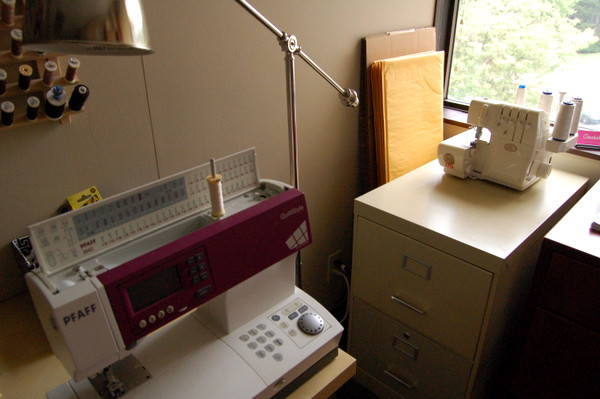 This is a recent addition – I added these little organizer boxes behind my sewing machine. I found that it was useful to have a seam ripper, scissors, marking tools nearby when sewing, so I didn't have to search for them. I'd just keep them on the table top but it looked messy. These divided trays – which I think are designed to be dresser drawer dividers – make it easy to store needles, scissors, and marking tools so they're close at hand.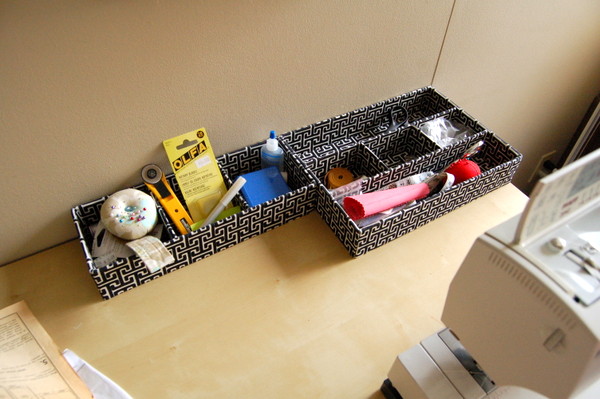 The last thing I did to improve my space was this.. and not everyone is going to want to do this to their tables! I wanted a quick way to measure off fabric or trims, so I marked the 1 yard mark and 1 metre mark on the edge of my sewing table from the left corner. When I can't remember how much fabric I bought, I can quickly measure it off against the table edge to determine how many yards or metres I have.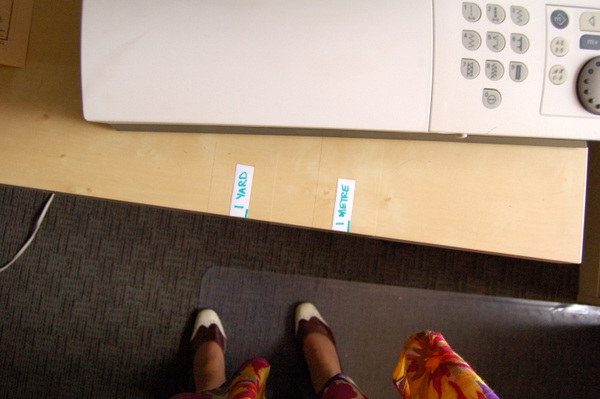 I use this all the time! Now that I think of it, a half-yard and half-metre mark would be useful, too. This wouldn't go over well if I tried to do it on my home dining table, but it's helpful to me in my office and sewing space.
So there you go! That's my sewing space as it looks right now. For me, flexibility is key, as I need to be able to do a variety of tasks in a small space. I'm always thinking of ways to make it more comfortable, efficient and organized in here!
Want to see more Studio Spotlights? Check out the series here!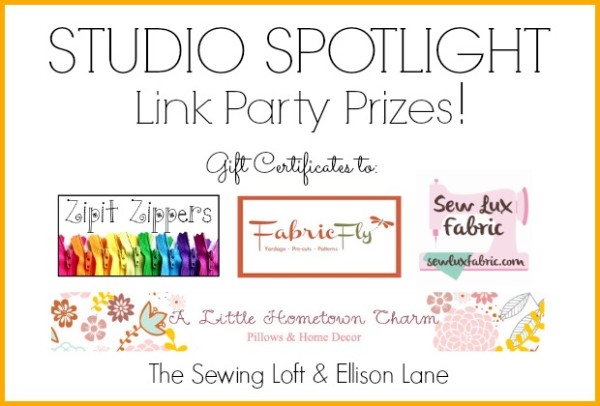 There's even a prize giveaway. To enter, write a blog post about your sewing space, or if you don't have a blog, a Flickr pic or a pic from their Threadbias account of your sewing space will do. Link up at Jennifer's blog Ellison Lane or Heather's blog The Sewing Loft between August 17-23. There will be 4 winners chosen randomly. Check out the post here for more details!
Thanks, Jennifer and Heather for asking me to participate!