Hey everyone! When we talked about our sewing lists spiralling out of control, a couple of people lamented that there was nothing quite like Ravelry for organizing our sewing queue. Then Alessa mentioned MySewingCircle.com – a fairly new website that's based on the Ravelry concept but hasn't really 'stuck' yet. (Or maybe all the cool sewists are using it all the time, and I'm the odd one out!)
Anyways, I remember I signed up for it way back when it started up. A couple of you must have recently signed up as well, as I've seen a couple of you 'friending' me, yay! And I don't know how we did it but Sewaholic Patterns is the first pattern designer to appear when you search 'all patterns' – pretty awesome! I'm sure that will change as more projects are added but that was cool to see.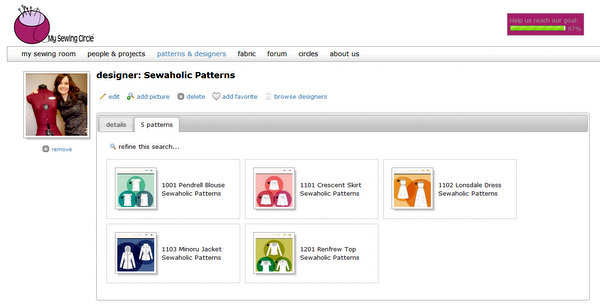 There is my designer page and links to all of the current patterns. Just like Ravelry, you can click on the pattern, and look at all the projects people have made using that pattern. You can rate patterns with stars, and read notes and comments on the patterns.
I like the concept, I like that you can see a pattern and browse finished garments that were made using the pattern. I like that it's pretty easy to use, based on the couple hours I've spent on the site. I like that you can quickly read someone's notes on the pattern (fits small, cut a size 10, add 2″ to length) and know what type of adjustments you might need to make too. The clean white layout is easy to look at.
I haven't spent any time in the forums but I bet they'll be helpful, the more people use the site. I love that you can 'favourite' other people's projects and keep a page full of inspiring sewn garments! And there's great potential to keep your Pattern Library up-to-date so you remember all of the patterns you own! (Although, I do wish that 'patterns' was the first tab – I use patterns more than magazines or books!)
On the other hand, fabric isn't the same as yarn, in that you can buy the same yarn as someone else bought across the world. Fabric is a little more elusive than that and if you find the perfect navy polka-dot fabric, you may never find it again! In that regard, I'm not sure it's going to be just like Ravelry. I can see someone's perfect red dress, but I can't locate that exact fabric and replicate it. (Whereas with yarn, if I see the perfect knit scarf in Quince and Co's Lark, I can go buy myself that exact yarn and make myself one!)
What do you all think? Have you tried out mysewingcircle.com yet? What do you like or dislike? Do you see yourself using it now that you've found out about it?