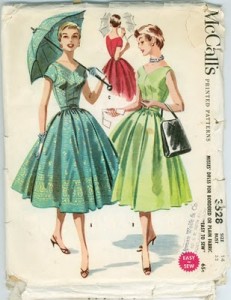 Isn't this vintage dress pattern fantastically cute? I especially love the border print dress – you know I have a soft spot for border prints!
And apparently, it comes with instructions for making the parasol as well. I don't have an immediate need for a parasol, but just in case I feel the urge (or am looking for a challenge), I'll have the instructions on hand. Yay!
I found this on at Serendipity Vintage and couldn't resist snatching it for myself. If you love vintage patterns, check out her site for more! Shipping is available to Canada too.
Now I have to be patient and wait for it to arrive…