I've tried knitting all kinds of things – socks, cowls, hats. But up until now, I haven't been able to master knitting a sweater yet! I bought lovely, lovely yarn and ended up knitting and ripping out the entire sweater twice already. I was determined to make it into a sweater (or else!)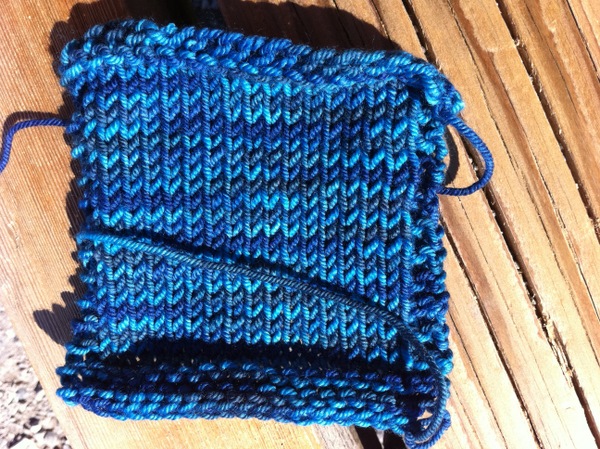 Isn't this the prettiest yarn? It's my favourite colour. Which makes sense, if you're going to spend months making something, pick a colour you love!
Why was I so determined to make one? The same reason I love to sew – I can't afford to buy the quality of sweaters I want to own and wear. I own maybe two sweaters, total. I can't justify spending $80 on an acrylic sweater that will pill! It's not good value to me. I want to wear wool. I love natural fibres! And, I love colour. So often the sweaters in stores are black, gray, navy, and lighter gray. I want yellow and purple and turquoise!
And I did it! I knit a sweater.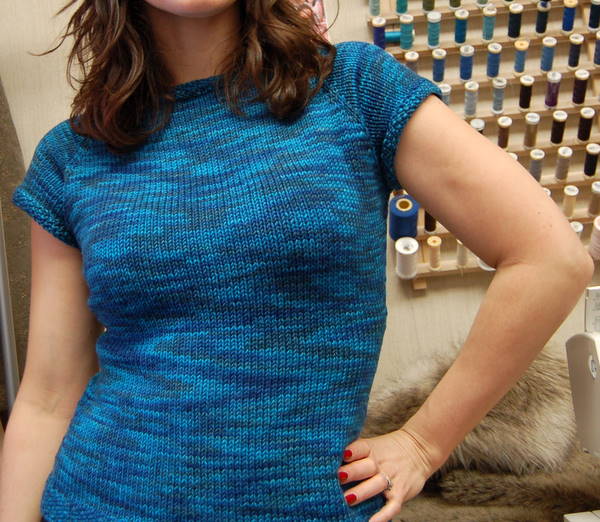 Headless photos are all I've got – I'm squeezing around stacks of boxes in the office so it was hard to get my whole sweater into the photo and my face! For this post, the sweater's more important.
Yes, it's an easy pattern. Yes, it took me three tries and nearly three months to finish it. But I'm so happy that I made a sweater! Success!
The pattern is St. James, a free pattern on Ravelry. It's seamless, so you start knitting in a circle around the neckline, and keep going all the way to the bottom of the top! (Things happen in between, but that's the basic process..)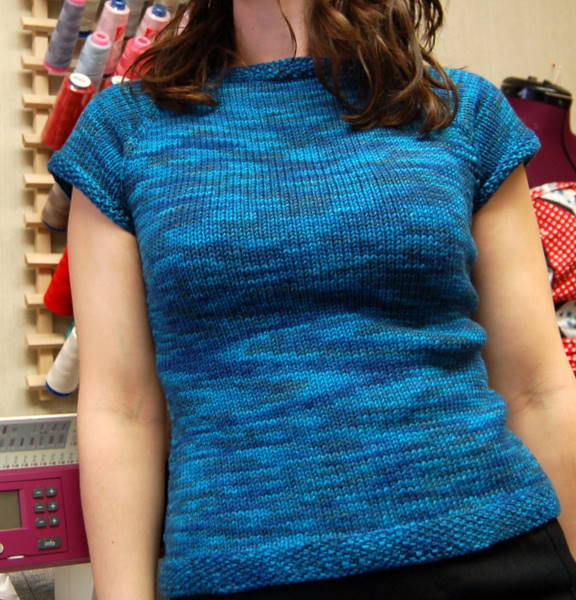 What I've learned about knitting sweaters? Even simple patterns still need to fit properly. Picking an easy pattern doesn't guarantee the right fit. That applies to sewing, too – the simplest A-line skirt will look awesome when it fits you perfectly, but sloppy if it doesn't fit your body. And that undoing and re-doing your knitting doesn't mean you failed. That's the good thing and the bad thing about knitting. While it's not fun ripping out your work, it's great that you can undo it and start again! Or remake the whole thing into hats and gloves, which I admit I was tempted to do.
Persistence pays off though – now I have a sweater!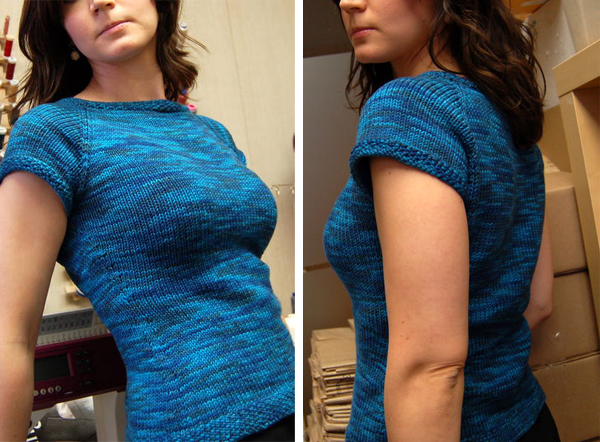 Ravelry notes here – plus links to the pattern and yarn I used. I deleted most of the work-in progress photos from the first two attempts though. One of them was so tight and sausagey, I'd have to walk around with my stomach sucked in and never let out my breath. You could see ribs – not comfortable! We think about ease with sewing, the same theory on ease applies to knitting. Just because it stretches, doesn't mean your sweater should be stretched to the limits. Live and learn!
I imagine this is what it feels like when you start to learn to sew. Once you realize you can make a skirt, you can make any skirt! I know that I can't make any sweater just yet, some are going to be much harder than this one but I'm one step closer!
What's interesting is that this time last year, I was wondering about learning to knit. And you guys encouraged to me to sign up for Ravelry, to give it a try, and told me I could do it! So thanks for the suggestions, tips on where to buy yarn, answering knitting questions over the last year, and most of all thanks for inspiring me to give it a try!