I said I'd never try quilting. Who cares that much about blankets? Well, I was wrong. So wrong. I love quilting. It's like a puzzle, and I love puzzles. And surprise, I love making quilts!
I had a moment this summer where I'd had a really hectic week, finished up a major project, cleaned up my office, and then sat down in the clean empty office thinking, I want to do something completely different. Still sewing, but I want to change it up, learn and experiment.
So, I went shopping, and bought a book, Learn to Make a Quilt from Start to Finish. Actually, I'd started with Sunday Morning Quilts, for making scrap quilts, recommended in the comments of this post 'Do You Quilt?' But while the book is great, it expected me to know a little more about making quilts, so I bought a beginner book to start with.
And fabric.. isn't it pretty?
I love the turquoise and orange colour combo. The back is going to be navy so it won't show dirt. Smart, right? (Maybe not.. see what you think when you see the finished quilt.) Fabric is from Spool of Thread, in Vancouver BC.
I used this quilt project as my 'in-between' project when I needed to keep on moving but take a break from what I was working on. A bit of a reward project – finish that, work on this for a bit to change it up, then go back to the original thing. I found it relaxing and repetitive enough that my mind was free to wander and process whatever was in my head.
The wildest thing I learned right away about quilting? You don't match your thread when sewing pieces together!? Madness! I find this hard to believe. Both books as well as the wonderful team at Spool of Thread assured me it was the truth, but it goes against my garment-sewing nature!
The cutting part of quilting is nice and relaxing. Tidy, neat strips. Slice, slide, slice again. So far, so good.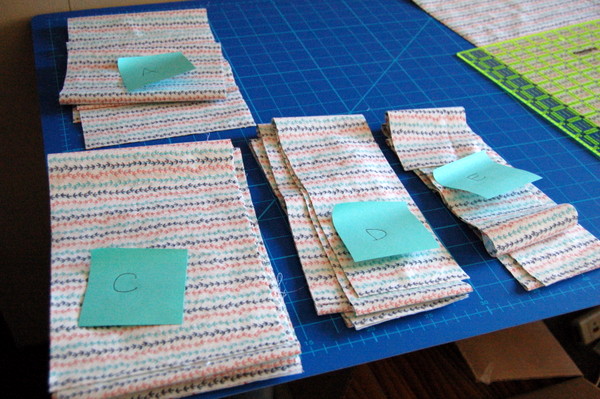 Next was the chain piecing – this is fast! Now I'm thinking if can I work chain piecing into my garment sewing somehow. Basically you sew two pieces together, then the next two, then the next two, all without backstitching, cutting, or stopping your line of stitching. Just keep feeding the next pair of pieces under the machine.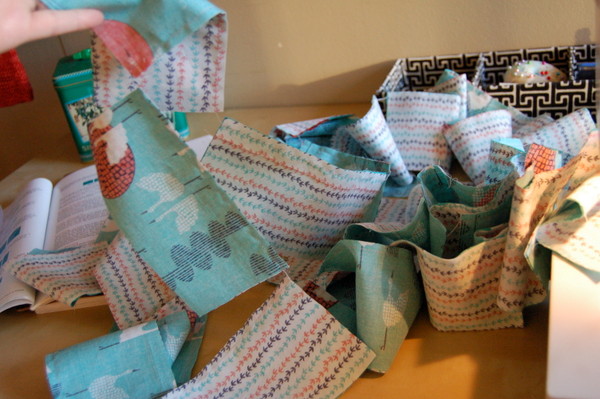 This is probably an obvious benefit to quilting but I like that I can pick super-fun, playful prints that I probably shouldn't wear in real life. I love the paper crane print, but would I wear a dress in it? (actually, I probably would. So there's that.. but perhaps I can get some of my print-love out of my system through quilting.) I can snuggle up with cranes on a blanket instead of wearing them. Or wear them too, why not? What I think I'm trying to say here is, if you really love a fabric but aren't sure you want to wear it out of the house, quilt with it! (Or make Tofino Pants. They'd be lovely with paper cranes and bird feet!)
Oh, my first quilt block! It's so neat. I made that.
The whole process of quilting was completely foreign to me. But here it is: you make a block, like the above photo. And then a bunch more. And then sew them all together to make the quilt top. Here's the quilt top in progress.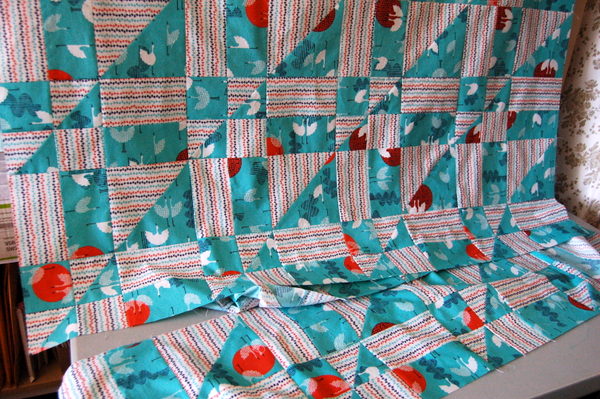 Then you layer it with a layer of batting, and a backing, and sew through all three together. Then bind the edges and you're done!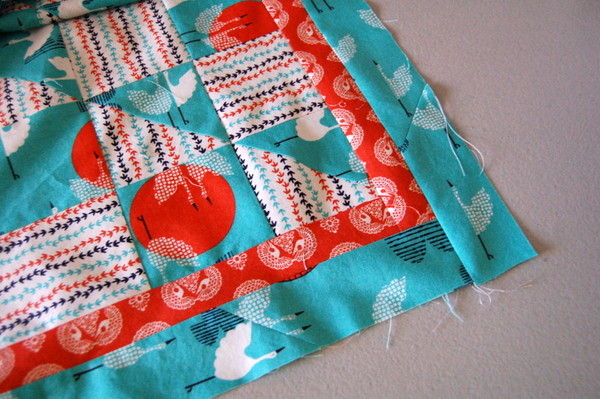 What if you are quilting in a small space? Where do you lay out this batting and such?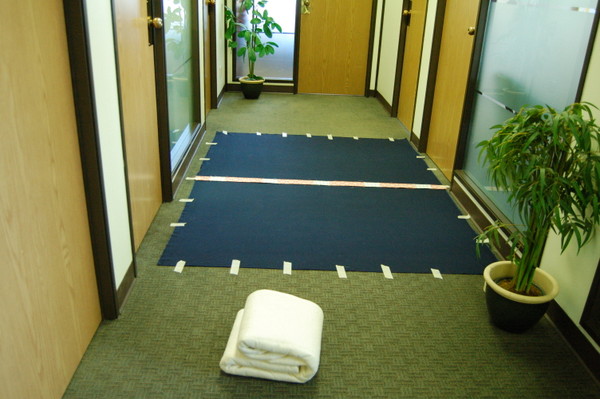 In the hallway of the office on a Sunday, that's when! I was praying none of the people who owned these offices was coming in on the weekend. Luckily, no one did. Whew!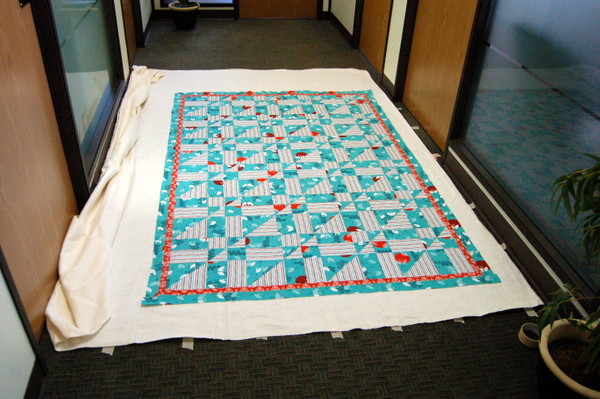 So then the batting goes down, and the quilt top on top.
And then you pin through all the layers.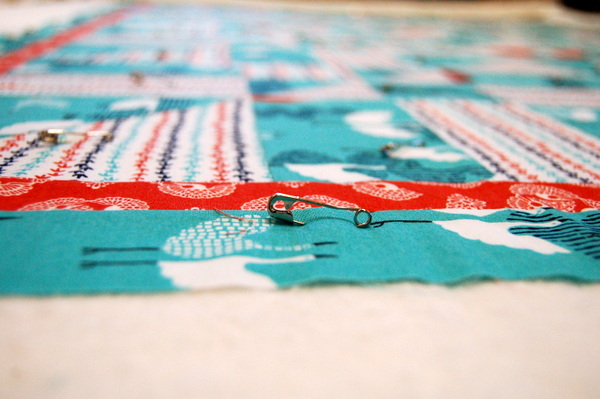 And crawl on the floor a lot.
Then, the fun part! You sew through all those layers. (Quilters, this is probably super boring for you to read. I was just so fascinated with the process of learning something completely new!)
I tried my hand at free-motion quilting. Wow does that ever feel foreign! If you have no idea what that is (like I had no idea before trying it) you turn off the feed dogs that help guide your fabric through, and instead you do all the pushing of the fabric, moving it around to draw shapes with your stitch lines. It is not as easy as it looks! Here is my very terrible first attempt: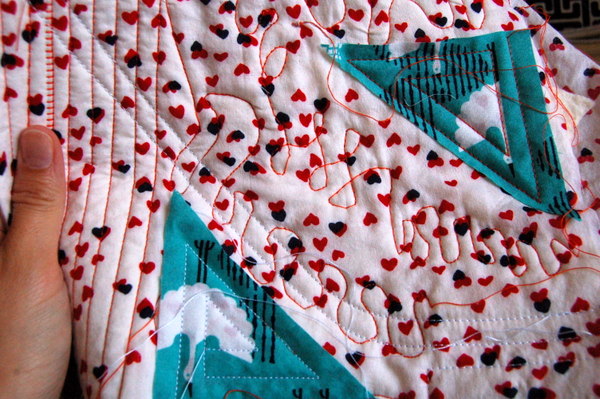 (here is my sad attempt at free-motion quilting. I thought, how hard could it be? Turns out, harder than I thought. Oh this project sure helped keep me humble!)
It's humbling to be so incredibly bad at something, when I feel so confident with regular sewing! Impatient me wants to be good at everything right away, and my ego says you know how to sew, you should be amazing at everything sewing-related! That's so not the truth. Every new technique has a learning curve, especially one as different as free-motion quilting! So yeah. I decided to straight-line quilt my quilt.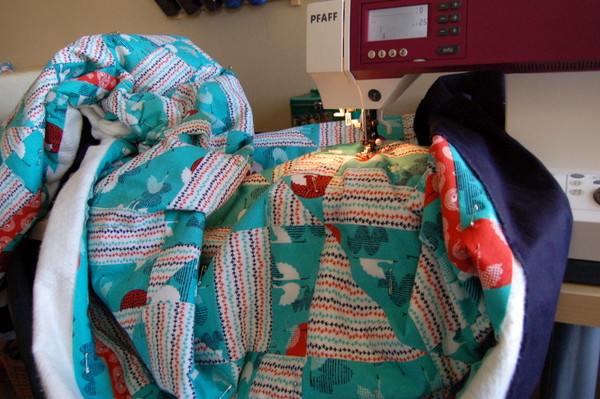 That's a lot of bulk to handle. When I sewed the first row I was like, how am I ever going to manage it all? It gets easier as you go as the stitching holds it in place.
Quilting is HARD. I have a new respect for quilters, especially free-motion quilters. That is hard stuff. I can't even imagine doing fancy shapes, it was hard enough to manage my balled-up quilt and keep my lines reasonably straight! I kept bumping the stitch functions on the side.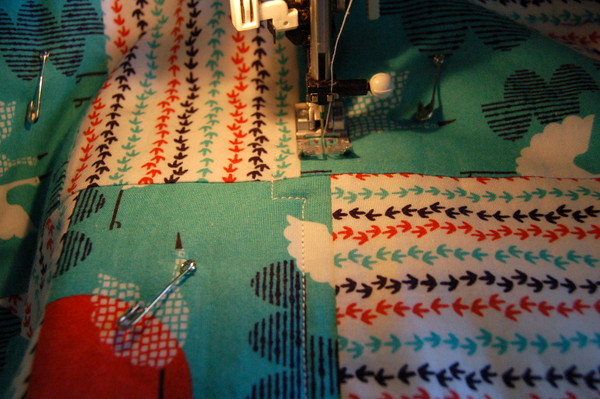 Sometimes this happened. My squares didn't line up perfectly.. so I just followed the crooked paths.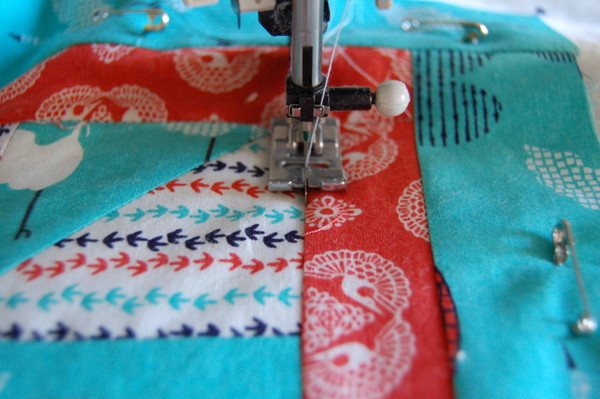 I bought a stitch-in-the-ditch foot for the quilting but I'm so going to use this for garment sewing too!
Then I cut off the extra batting.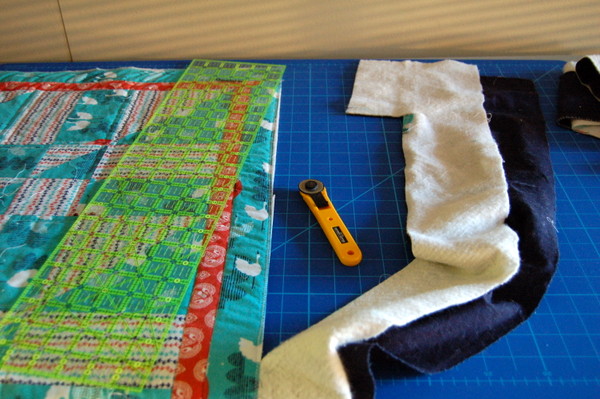 And then the binding! I hand-sewed the binding. Used a thimble for the first time ever, because I'd made the tip of my middle finger numb by pushing the safety pins through the quilt. It helps! (And don't worry, the next day my numb finger was just fine. But I didn't want to do any damage so on went the thimble.) You can use the thimble instead of your fingertip to push the eye-end of the needle through the layers. After a couple of feet of binding was done, I couldn't imagine hand-sewing without it.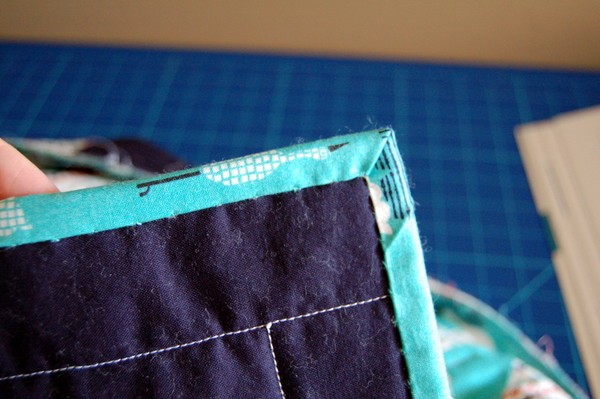 So there's that navy backing – you can see my white stitching lines very clearly and my stitching isn't perfect!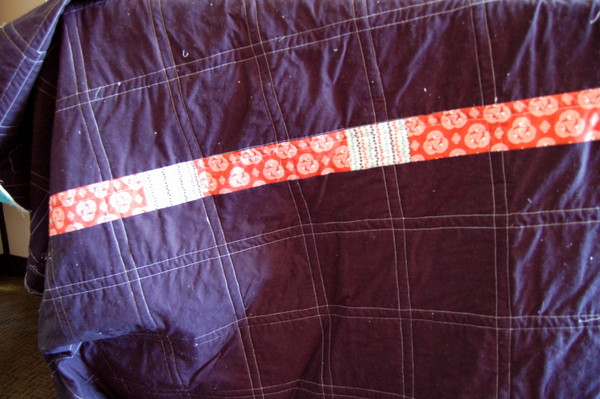 Next time I would choose a print for the backing. Here I thought the navy was a smart choice, it would hide dirt, and solids were half the price of prints. Except you can see my crooked stitch lines! Printed backs from now on. (I'm warming up to the look of it, but when I'd just sewn two or three lines it looked bad!)
Ready to see way too many photos of the finished quilt? Here you go!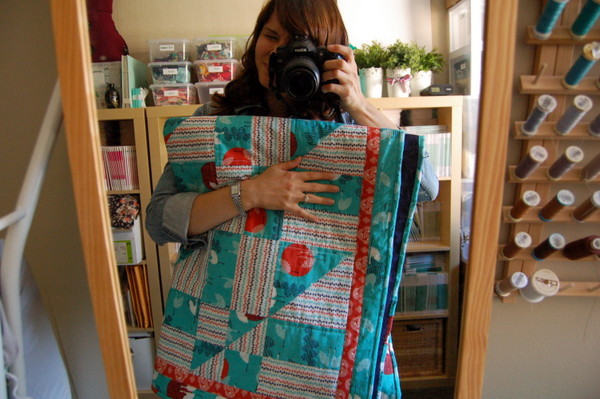 I think I am just impressed with the fact that I made this quilt. I made a quilt! It feels like a real, thick, cosy quilt. I get it. I see what the point of quilting is.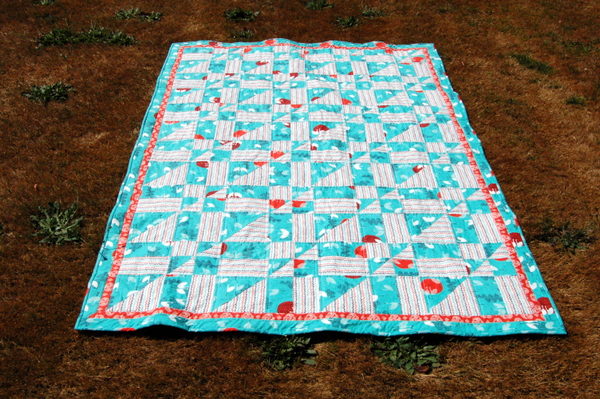 I love how fresh and modern it looks, even though the shape of the  quilt blocks is very traditional.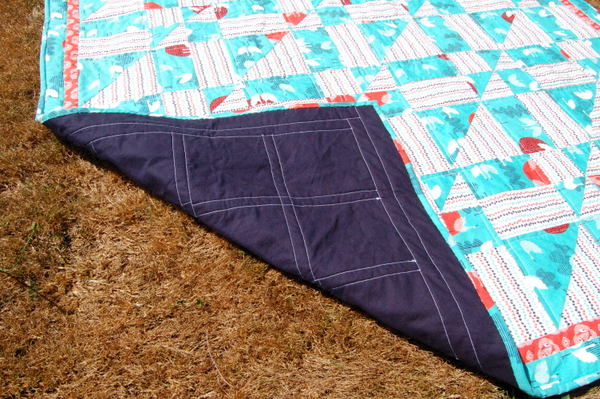 It's so awesome. I want to make more. It's so fun to see it all come together and take shape. When it's just pieced-together bits of fabric, it's a little exciting, but nowehere near as cool as the finished quilt.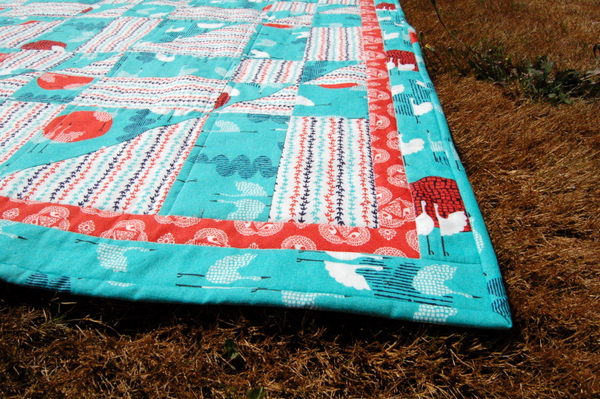 My first quilt!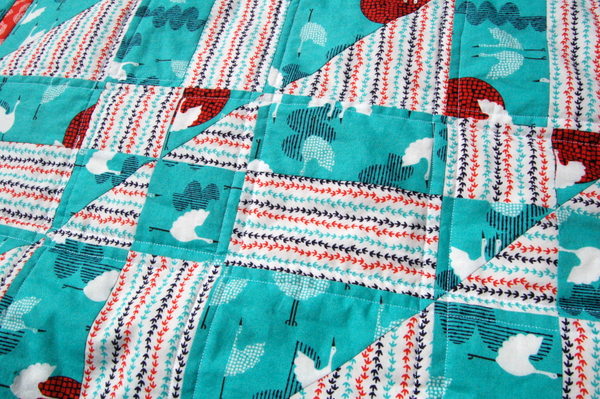 Artistic folded shot: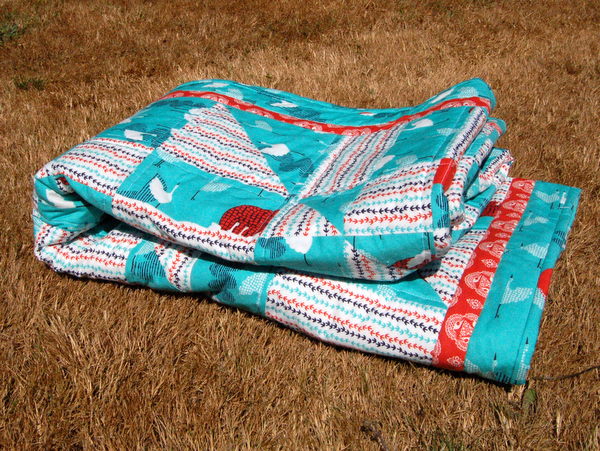 And some more: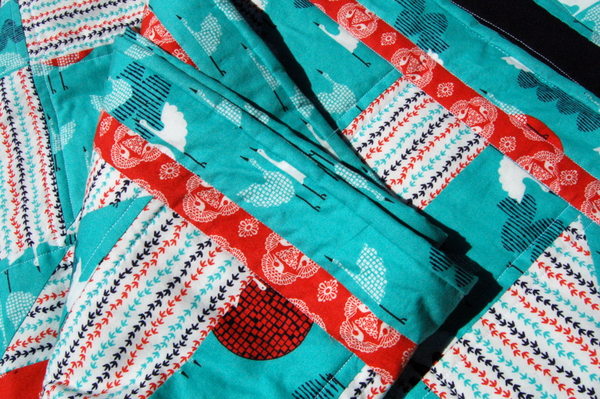 Who knew? Quilting is fun.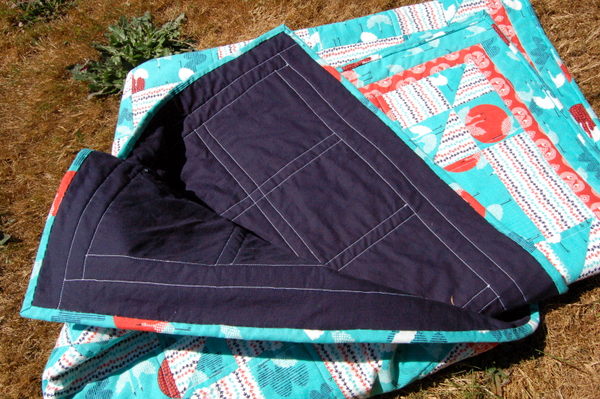 Perfect for taking a break in the park.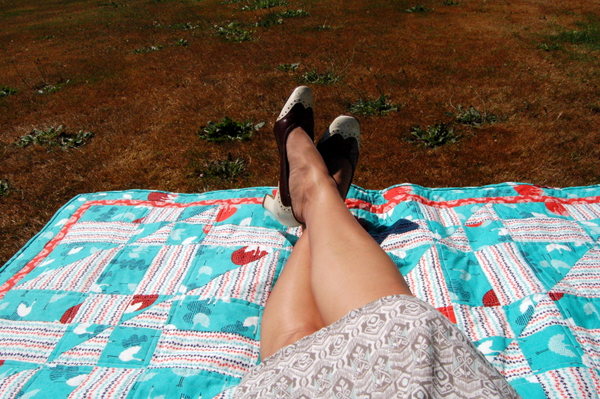 I promise I'll keep sewing clothing… but there will likely be more quilts in my future!