For planning my 2014 sewing projects, I bought a copy of 110 Creations: A Sewist's Notebook. I saw the review for this book on Lauren's blog and had to have it. (Thanks Lauren for bringing attention to this neat book!) I love notebooks. I love lists and planning. So this was high up on my lists of organizational tools!
I'm using mine for planning personal sewing projects only, not new pattern designs or tutorial projects. This notebook is just for fun! It's for the things I wish to make but because they're not tied to work and deadlines, I forget about them. Or I see my original inspiration sketch and think, if only I'd made time to make that instead of just wishing I could!
This will help give me direction when I have a bit of sewing time and want to make the most of it. Sometimes I get so excited that I have free time that I don't know where to start.
My thoughts: it's hard to see the drawings on top of the model sketch. So I put a post-it note on top of the body and drew around it. This makes it easier for me to see the garment apart from the body!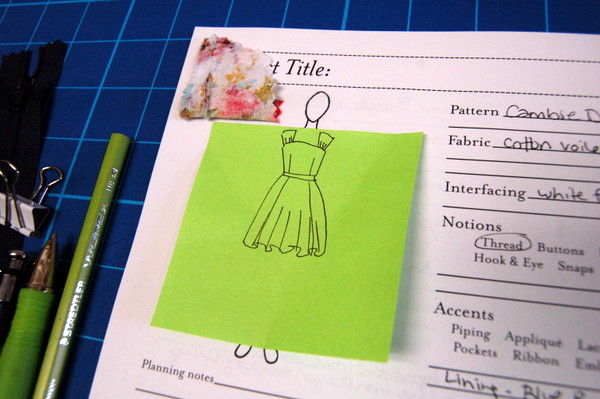 I tape or staple swatches next to the sketch, because often fabric is my main motivator for a project.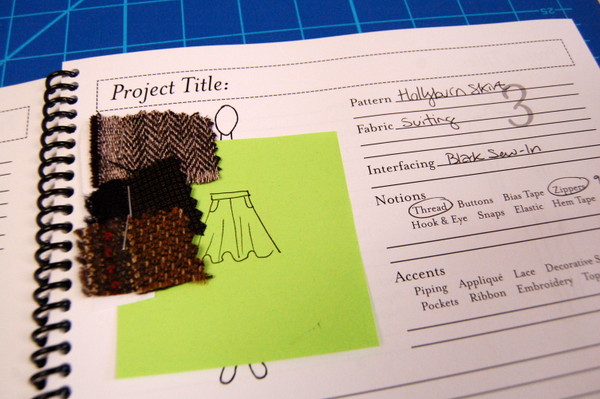 I think this book will be even more useful as it fills up, as I'll be able to look back through past projects to see zipper lengths, thoughts while sewing, even changes that I made on the fly. Things that may not seem interesting enough to include in a blog post, but would be useful to know next time around.
I like the idea of getting away from the computer completely when I sew. Sometimes I stop over at the computer to make notes for future blog posts, and then get distracted from sewing. A real paper book is going to be better for productivity, I can keep it at my sewing table and make notes in it for later.
I'm not a hundred percent in favour of the label 'sewist' on my book. Funny enough, even though we use it commonly on sewing blogs, it still feels like a pretend word. But then again, there really isn't a perfect word for what we do, based on all the discussion in the comments this post: Sewist, Sewer, Seamstress: Which Do You Like Best? Too bad the term 'sewer' isn't as clear as 'knitter' or 'crocheter!'
And look, even a needle change record! Better than my post-it trick.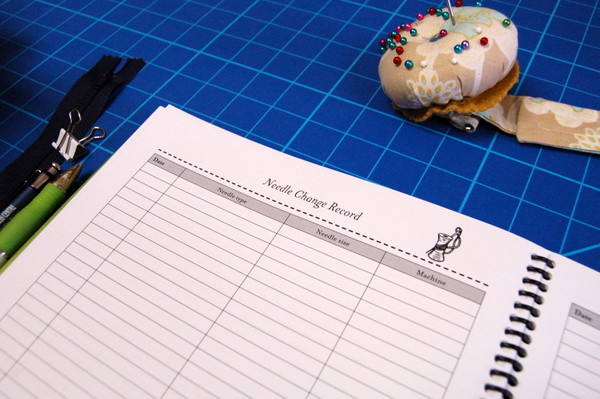 Do you keep a notebook for your sewing projects? Any tips to add?