I've made progress on the muslin for Mr Sewaholic's shirt! We're getting really close to the fitting stage. I thought I'd share how to sew up a muslin to check the fit, without spending a lot of time on the finishing details. I'll show you which steps I skipped and how it all came together. (This is by no means a perfect method, it's just me sharing what I did, hoping you will find it helpful!)
Here's the shirt pattern again, if you're just joining us!
I hoped to finish it all up before writing another post, but the muslin was more time-consuming that I thought! (I'm about 80% done the muslin.)
In the previous post, I started by stitching the seamlines on the front and back. If you use this exact pattern, make a note! Some of the seam allowances are 5/8″, some are 1″ and some are 3/8″. It can be very confusing! That's why for the muslin, it helps if you've machine-stitched the seamlines, or drawn them on the muslin with pen.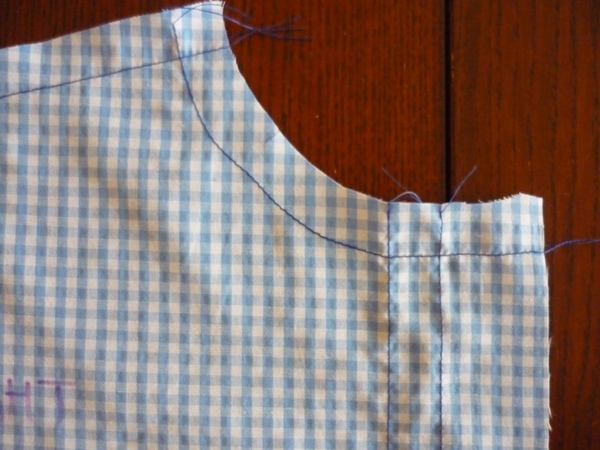 My ultimate goal is to get this muslin made up as quickly as possible, so I can accurately check the fit on Mr Sewaholic's body and adjust where needed, and move on to the real shirt! So I'm skipping any steps that are just for show, and only sewing parts that are needed for fitting.
First, we make the pleats in the back panel. We need these for fitting, so that the back matches the yoke.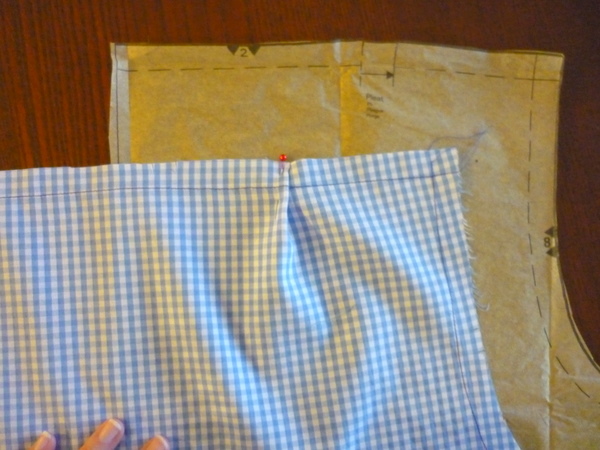 Fold the pleats, and baste into place.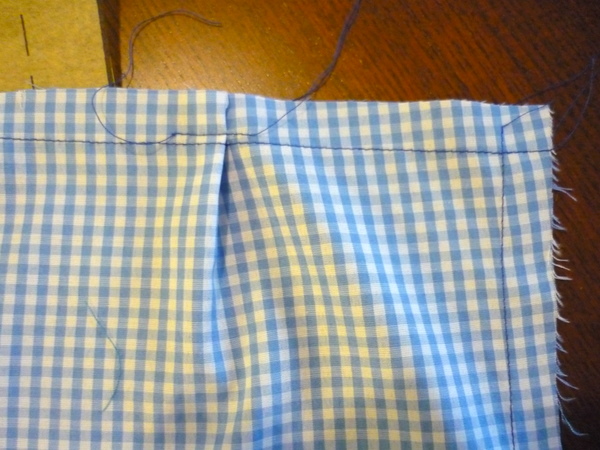 Next, take one of your yoke pieces, and pin to the shirt back. You'll notice I didn't mark the seamlines on the yoke as they are all 5/8″. Plus, in my Shirtmaking book, David Page Coffin recommends making all of your fitting changes to the shirt body pieces, not the yoke. So the yoke pattern will stay exactly as is!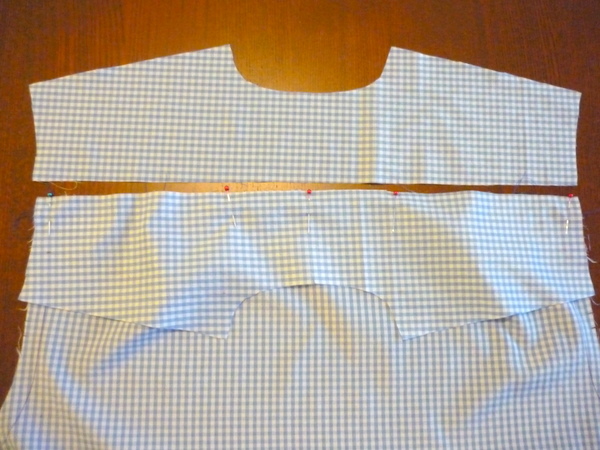 Pin the other yoke piece to the back of the shirt back. Our goal here is to sew one yoke seam, and then flip the yoke pieces up to cover the seam allowance. It's a yoke sandwich!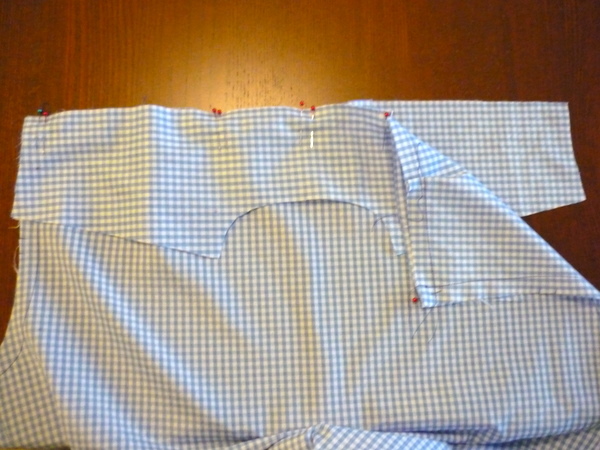 Go ahead and sew the yoke seam. Here you can see the two layers of yokes, one on the front and one on the back.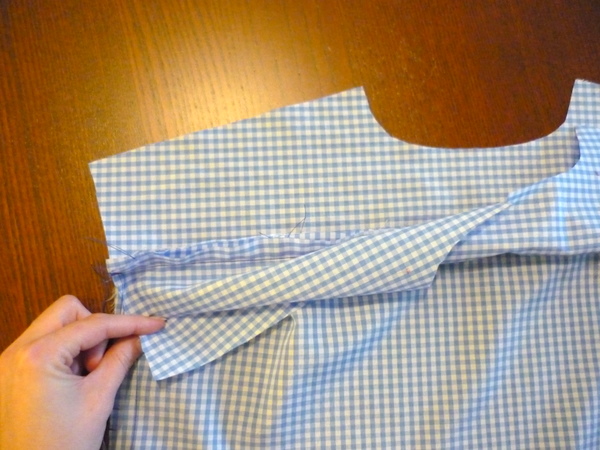 Give the yoke a quick press, so that the seams are as open as they can be. If you don't press, then the seam will be puffy and the back length will be shorter due to the puffy yoke. All seams need to be pressed nicely so we can fit the shirt accurately!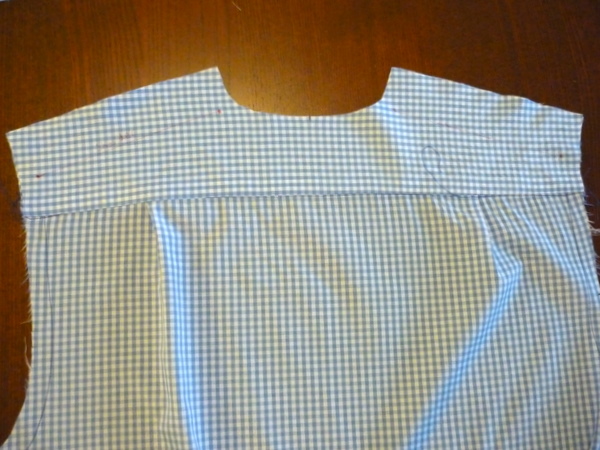 Next, let's get our shirt fronts ready. This pattern has a different left and right front, because the left front gets a separate band for the buttonholes.
On the right front, the one that goes underneath the placket, press under the seam allowance.
Press again on the facing line. (Isn't it handy that we stitched the facing line, so we have a guideline for pressing?)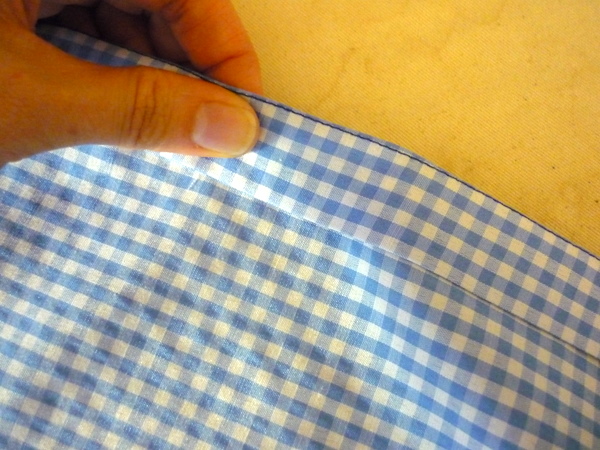 We need to do this step, so when we're fitting we know exactly how much the shirt is supposed to overlap at the front. Baste the facing down along the right shirt front. It doesn't have to be pretty, it's just a muslin!
Now let's add the band to the left front. Press under the seam allowance on the band.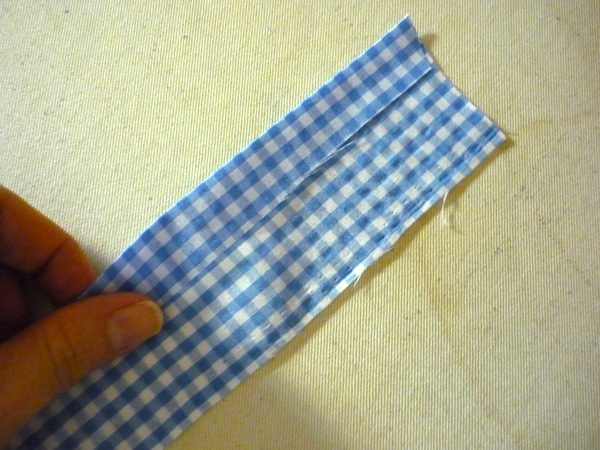 Pin band to front edge, and sew.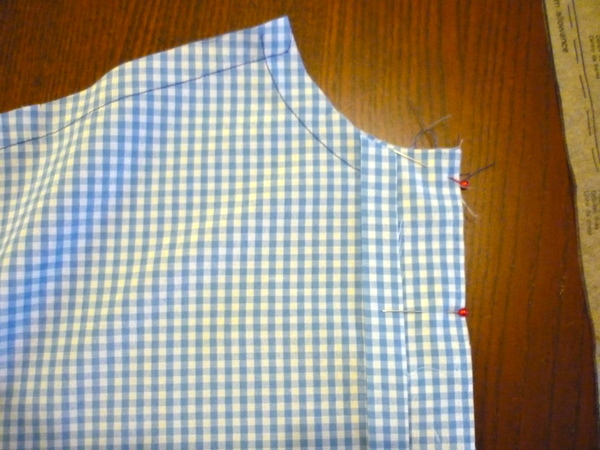 Press seam open, and then press band to right side. Stitch or baste along folded edge of band.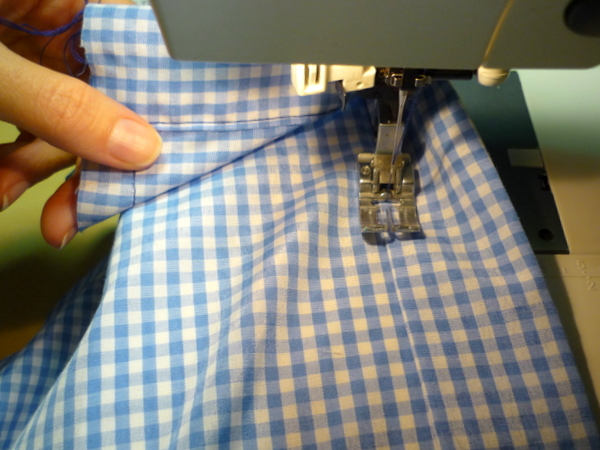 Note: if your shirt pattern doesn't have a band, just facings, then you can skip the facings. The only reason I'm adding the band on my muslin, is because the band is needed to fill in the width of the shirt. Without the bands, my shirt probably wouldn't meet at centre front!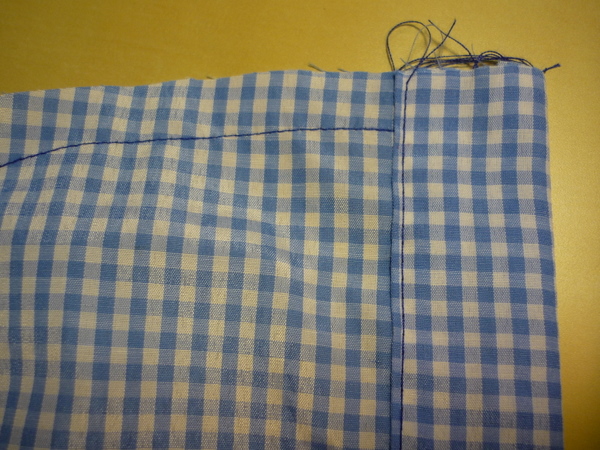 Now that the centre fronts are finished, we can attach the front to back. It's starting to look more like a shirt! (Mr Sewaholic thinks it looks like an apron right now.. must be the gingham!)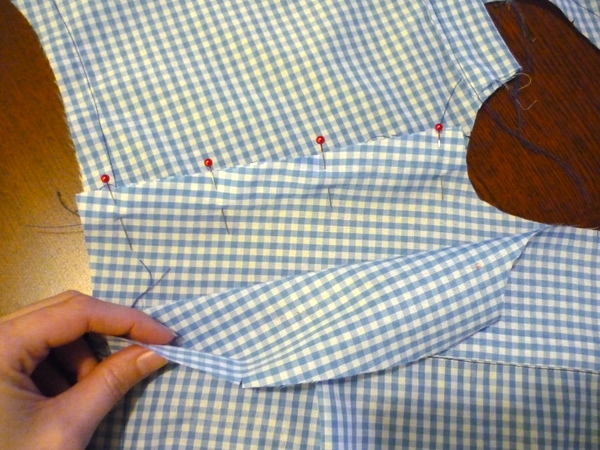 Pin the fronts to backs along the yoke seam.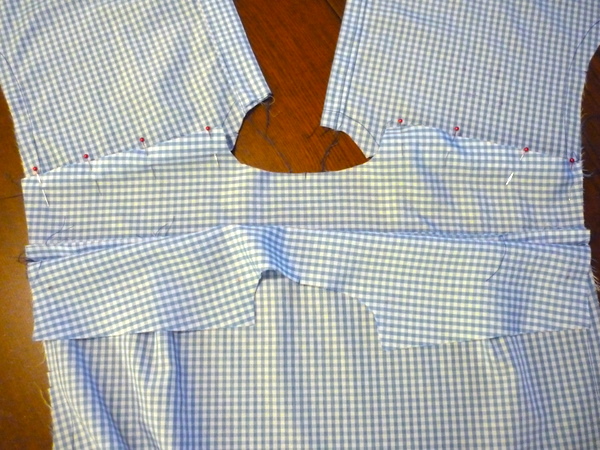 Sew yoke seams. Now that I think of it, I didn't need to cut two yokes, either. One would have given me enough to fit with. Wow, there's a lot to learn when sewing a man's shirt! Same general concept as sewing for women, so many tricky details.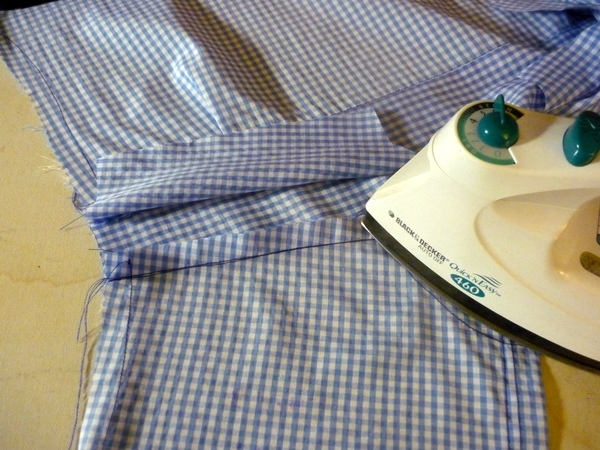 Because I've cut both yokes, I'm going to press under the seam allowance on the top yoke piece and baste along the edge. Just so it looks nicer and more like a shirt. (Ok, not a whole lot nicer due to the mismatched thread! The real thing will look much better…)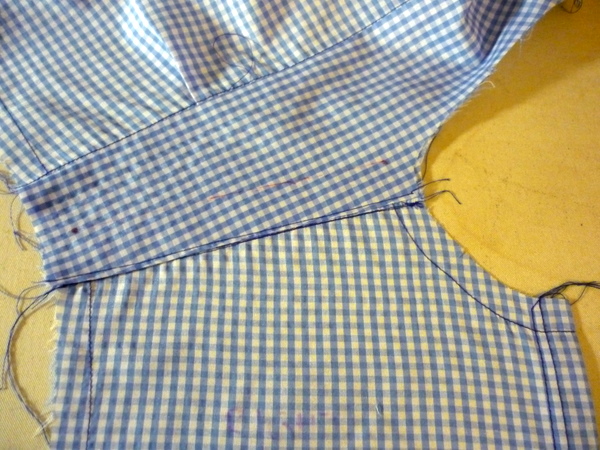 Next, the collar. I thought about skipping the collar, so I had Mr Sewaholic try on the muslin at this stage to see how close we were. Turns out the collar is pretty important, especially if the man is going to be wearing the shirt buttoned to the top. (And even if he says he's never going to wear it fully buttoned, it still needs to be an option.)
So, let's put on the muslin collar! I was tempted to skip interfacing the collar, since it's just a muslin. However, the gingham is so lightweight and might stretch around the neck, which would make our real, interfaced collar too small.
Let's fuse some interfacing to at least one of the collar stands and collar pieces. (I don't know why I'm feeling lazy when it comes to making this muslin, perhaps it's the lack of time to finish this shirt before Christmas. Or maybe women's clothing is truly more fun to sew? Whatever it is, I need to get my men's dress shirt groove back!)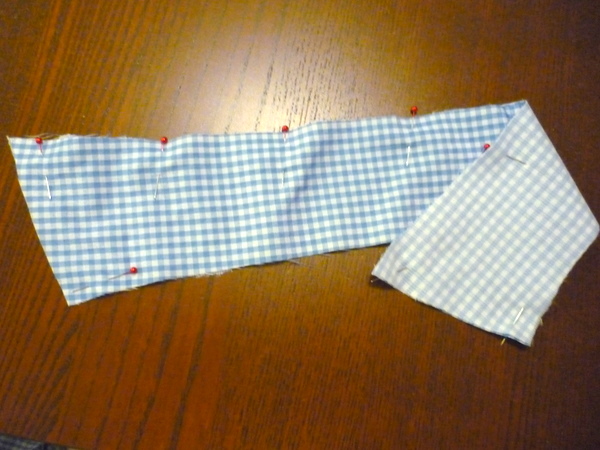 For the collar itself, I'm going to sew around the edges and turn right side out. We'll be able to see the size and shape of the collar on Mr Sewaholic and make sure it looks good.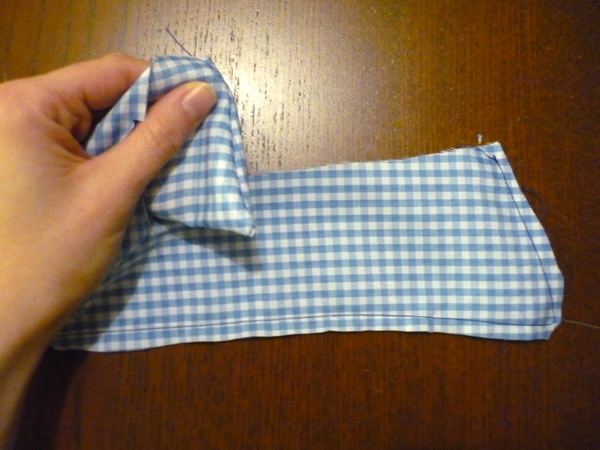 Press the collar. (Whoa, that's a dirty looking ironing board! I swear it's clean, just a little scorch-stained. One day I'll recover it just so it looks prettier in photos…)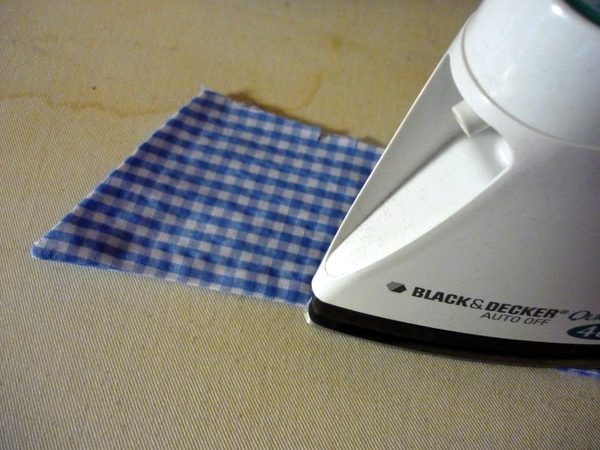 This is as far as I got before stopping to write it up. I was really hoping to get it all done before this post, but I'm glad I didn't rush and sew sloppily.
Next steps are to add the collar stand to the neckline, set in the sleeves and sew the sideseams. The sleeve goes in before the sideseams, which makes it much easier to sew!
I made a few notes while I was working, here are a couple of tips and thoughts on this project!
Things I Learned:
Cutting is so important! It's super noticeable on the gingham when pieces are slightly off-grain. Men's clothing is very boxy and full of straight lines, so it's important that all the lines are perfectly cut. Especially since I'm using a stripe fabric!
Gingham is a pretty cool fabric for muslins! I figured out my gingham is made up of 1/8″ checks, so pressing, stitching and marking are really easy. A 5/8″ seam allowance is 5 checks long! Pressing under seam allowances is super easy, just count the squares. Although, the cutting has to be spot-on for that to work…
Reading, while cutting, is pretty important too. I made a lot of silly cutting errors because of the complexity of this shirt pattern. A lot of the pieces say 'Cut 1' and I cut two, the grainlines aren't always the way you expect, and there are a ton of interfacing pieces that need to be kept separate and not cut out of fabric.
If you have a complicated pattern, keep the pieces handy for reference. I found I was constantly referring to the pattern tissue for seam allowances, markings, and other reminders. Depending on your skill level, this is a good tip for any project. It even helps to see which way is up, where centre front is and check for markings you may have forgot to mark on your real fabric.
Too many shortcuts equals sloppy fit. Don't be tempted (like I was) to skip pressing, interfacing and sewing the collar. All of these steps are important to get the fit right!
I am typing up the things I learned for two reasons – so I remember them for future, and so you can tackle men's shirt muslins with confidence!
Time to finish up the muslin, then snag Mr Sewaholic and fit the muslin properly!
I have Shirtmaking by David Page Coffin as my reference book, since I've never fit anything on a man before. I've made men's clothes before, in school, but they didn't have to fit anybody specific. Does anyone have tips or suggestions on fitting for men? Leave a comment if you do!