Thank you for all the comments on the bias tape colour for the Instant Dress! I love that you guys are passionate about getting the details right. So many of you agreed that if it isn't right, that's all we'll think about in the finished garment! (Pretty much nobody said it's good enough as-is, if I'm not satisfied.) I like how Julie said that unpicking is as much of the process as sewing, just like ripping out and re-knitting is part of the knitting process. Undo and redo until it's right!
Thanks to you all (over 90 comments at the time I am typing this) for being the voice of reason and encouraging me to make it right in my eyes!
And now it's right. I got bias tape to match! This is a much better navy colour than the bluish navy on the left. I was ready to make my own tape if needed but this was exactly the right navy for the print.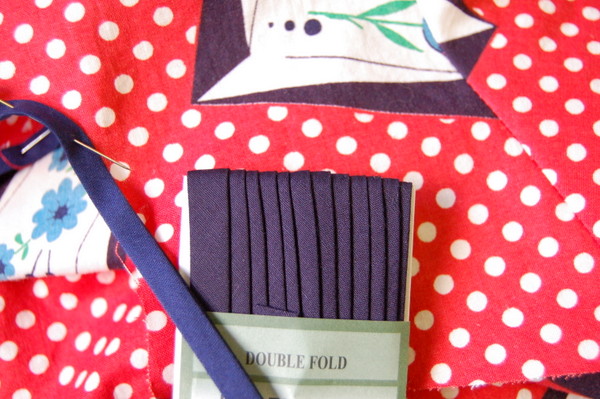 It matches the print outlines better and even though I'm backtracking I'll be happier with the finished product.
I considered white but was concerned about the trim getting grubby over time. White around the neckline and armholes can go off-white quickly especially on a summer dress. And if I love a dress, I tend to wear it a lot (Twin Spruce Dress, Chantilly, Chantilly 2, Linen Cambie) and so longevity is important.
As much as the idea of a random-coloured trim is quirky and out of the ordinary, it's too much for me. I need it to match at least one of the colours in the print for a simpler look. That's just my personal taste though. On the right person, I could see navy-and-white polka dot tape or gingham or kelly green looking dramatic and interesting!
Red is one of the hardest colours to match and the red of this fabric is a little faded-looking, making it even harder to find a good red trim. I also wanted a strong dividing line between the body and trim, outlining the print. This properly matching navy does that for me!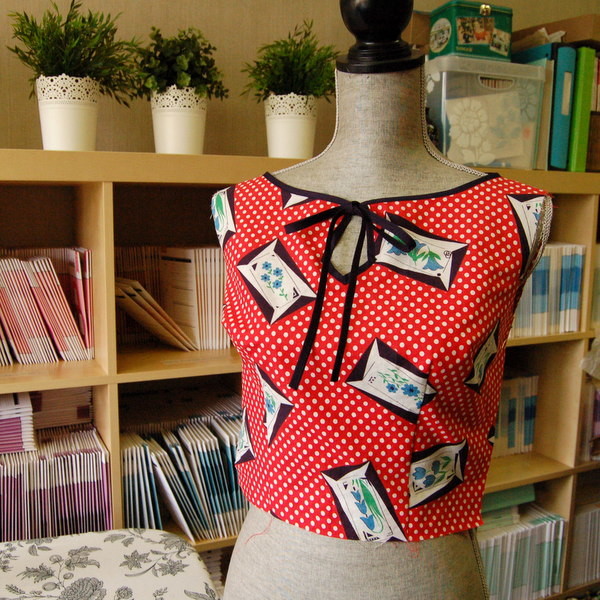 So much better! This is exactly how I want it to look. It looks more elegant and less handcrafted. The trim is there, outlining the neckline, but doesn't look like there's too much going on. (Here's the first attempt at the bias trim.) You can see how quickly it's coming together!
ps. This is my 700th post. Seven hundred blog posts, that is a lot of talking about sewing projects!  From bias tape to bombshell swimsuits, patterns to problems, thanks for reading, everyone!
pps. Happy Fourth of July to my American readers!