It's done! Success! Mr Sewaholic's Christmas shirt is finished, just in time to wrap and place under the Christmas tree.
My finger's healed and back to normal, so I can sew again. Yay! I can type at normal speed and everything. Thanks for all the well wishes and kind thoughts! (And thanks for sharing all of your sewing horror stories as well… it's great to know I'm not the only one who's accident-prone around the sewing machine!)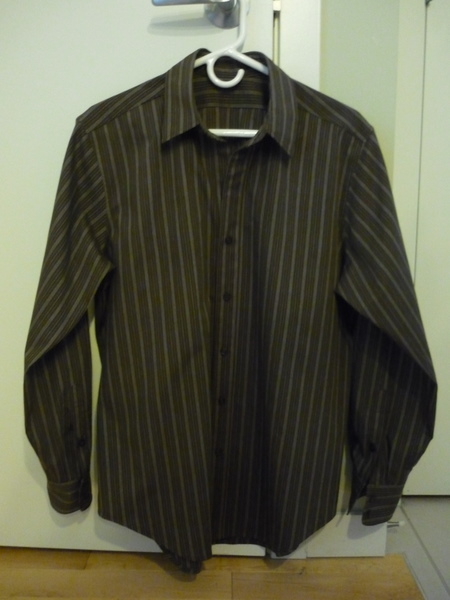 It was really hard to get nice-looking photos of the shirt on a hanger! It feels a bit underwhelming to post pictures of an empty shirt, after so much fuss and hard work on this project.
Sadly, I wasn't able to get him to model last night by the time I finished. I'll see if I can get a few photos of the shirt on him later today. (Maybe he'll wear it for Christmas festivities and I can get some action shots of the shirt!)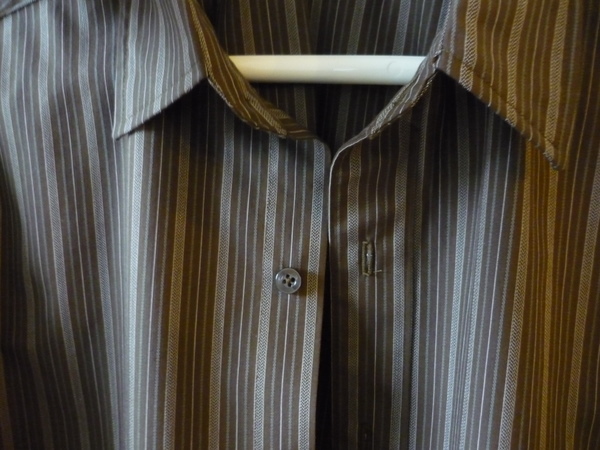 It was a mad rush to complete the shirt over the last couple of days! I have to say, I didn't document very much of the actual shirt sewing this time. I hope you understand! It was either stop to take photos and make notes, or finish the shirt. I chose to finish the shirt instead of writing up the steps. Plus, I felt like I was learning as I went on this project, instead of applying skills I'd already learned.
I highly recommend the book Shirtmaking by David Page Coffin. This book is a wonderful resource! I followed his process to construct the collar and cuffs, instead of the pattern instructions and both turned out beautifully. If you are intrigued by shirtmaking and tailoring, this book is fantastic, full of comprehensive, detailed written instructions and easy-to-follow diagrams. His methods are so different from the standard home-sewing pattern instructions, you have to trust him and know it will work out in the end! (That's how I felt while trying some of the techniques!)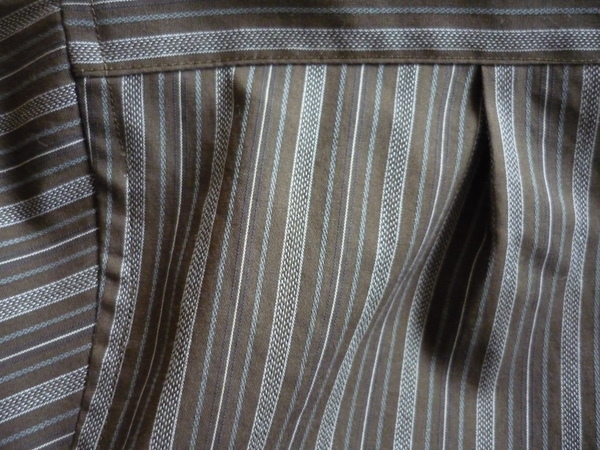 I'd use this book again and again for future shirt projects – it's not a book you read once and remember everything! It's written by someone who not only loves shirts, but thoroughly enjoys and appreciates the process of tailoring a dress shirt. Not all of you will want to make a shirt this way! If you just want to bang out a shirt quickly, then this book is not for you.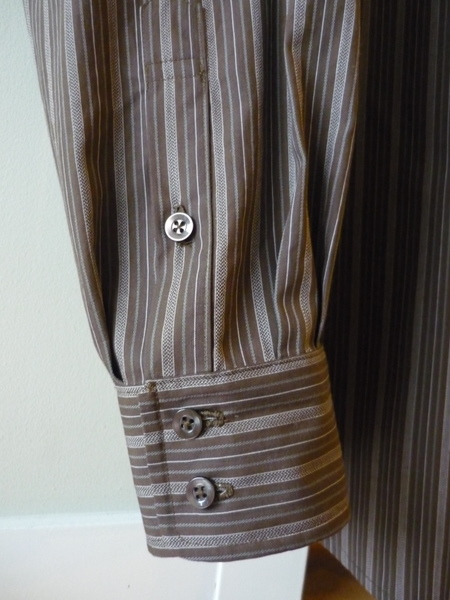 Close-up of cuffs and placket – they were hard! Cotton fabric is easy to work with, but constructing a shirt is a challenge. So many finicky parts to do: collar, cuffs, placket, even a curved hem is hard to do nicely!
I was holding my breath the entire time I did the buttonholes, praying my machine wouldn't eat my shirt! Luckily, the worst thing that happened was running out of bobbin thread mid-buttonhole. Not to worry, I just started up another round of the buttonhole stitch and started it where my previous stitching left off.
Now I don't want to fold it and wrap it up, or I'll have to iron it all over again!
Here are all the Christmas Shirt posts leading up to this one:
You might be wondering: would I make a men's dress shirt again? Mr Sewaholic is probably hoping the answer is yes! While fitting is the hardest part, you need patience and a calm state of mind to construct the shirt itself. I'm proud that I finished it in time with tidy, polished results.
Of all the projects I've made this year, this one wasn't my favourite to make. It was one hundred percent a labour of love – in that I love my guy, and wanted him to have something special made just for him. So for that reason, perhaps I will make another shirt! For a special occasion, of course. Luckily, I have lots of time until his birthday in July!
PS. Great news, Spool of Thread sold out of the Pendrell Blouse pattern already. Isn't that fantastic? Not to worry, their shelves are stocked again! I dropped off more patterns yesterday.
Thanks, Vancouver-area readers, for supporting me as well as a wonderful local store!