Mr Sewaholic models the Christmas Shirt! My first thought as he buttoned it up was 'what a relief – it fits!' It not only fits, but it fits him really well. The stripes are really flattering and the colour looks great on him! Of course, I'm biased, I think he look good in anything. What do you think?
Here we are on Christmas Eve – doesn't the shirt look nice? We're both in made-by-me outfits. He's in his Christmas shirt, and I'm in the rose-print Pendrell blouse.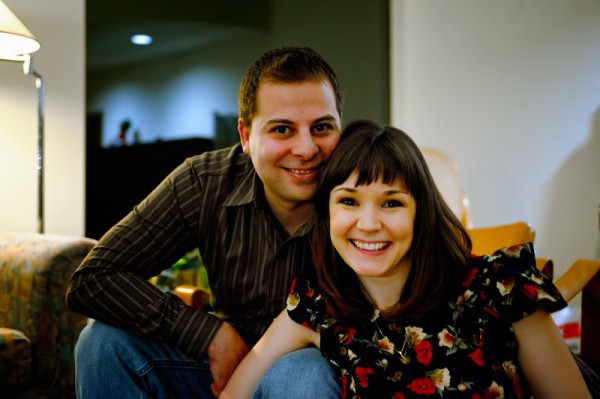 Both of our families didn't notice he was wearing the shirt I made at first! I was thrilled. That must mean it looks professional and not home-made! Definitely a good sign.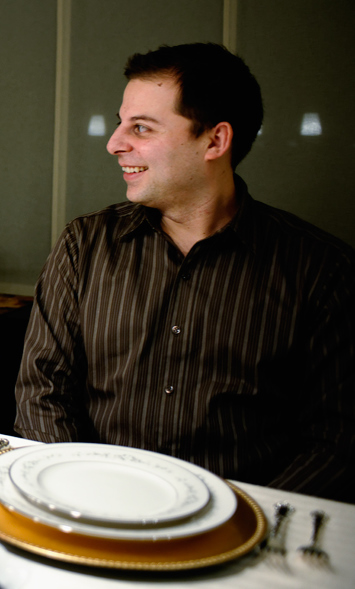 These two are the best photos from the holidays. We took a few before leaving the house that aren't nearly as clear and bright.
It sure is hard with the gloomy winter weather we've been having! I'm already looking forward to Spring and sunshine. And summer dresses.
Anyways, back to the shirt! I keep asking him what he thinks of the shirt, whether he would change anything, and any thoughts or comments. All he says is that he likes it and wouldn't change a thing. I'll take that as a good sign!
He loves it, and hopes there will be more custom-made shirts in the future. And now that I have my own copy of Shirtmaking, and we've fine-tuned the fit of the shirt, the next shirt should be a lot easier than the first. We'll see!
Here are some silly photos of Mr Sewaholic flexing his muscles. You can see how the shirt fits around the shoulder and armhole from this angle, at least!
So, my first major sewing project for a man was a success! I wanted to sew something for him before the end of the year, and I did. Hurrah! Now, back to vintage boleros. Have a great day!