Who's moving? I am! After a year in my current teeny office – and after admiring the bright, spacious Colette Patterns studio when I was in Portland – I decided it was time to upgrade my workspace. I've quickly outgrown my small office in a short time. With each new pattern, the office fills up completely with cardboard boxes, making it hard to navigate from the doorway to the computer. I have to assemble the patterns as quickly as possible so I can breathe again!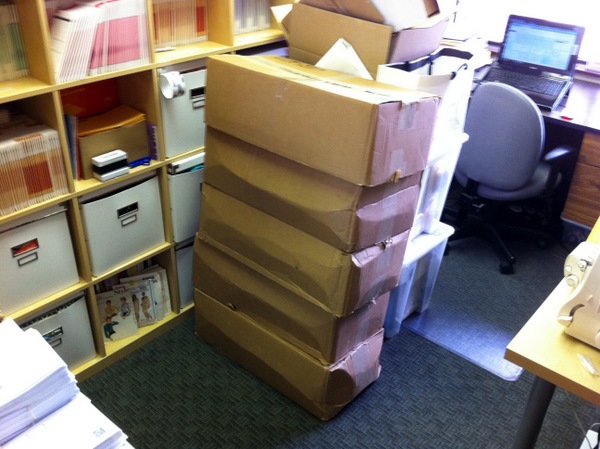 (what it looks like, but much worse. this was during the Minoru pattern launch and we've done 4 patterns since then!)
So, I'm moving on up to a larger office. Same great building, just a bigger room!
In this new office, I'll be able to double the bookcases and add a hanging rack for samples. (Yay! I tried to fit a rack in here before but it was impossible to move…) I'll still have a window and I'll be closer to the printer. Most importantly, I'll have more room to sew without having to shift everything around to try and make room.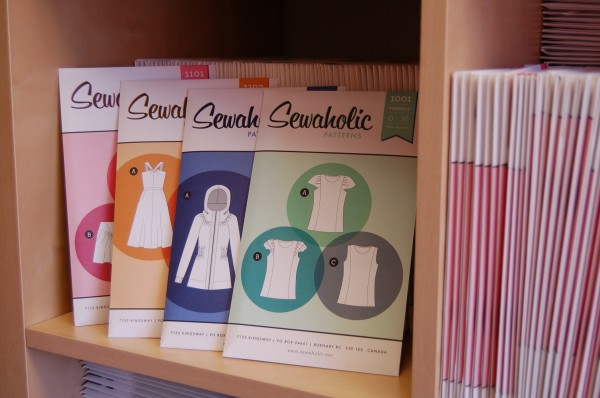 And in preparation for the move, I have to unload all of the patterns from my shelf so I can move the big heavy bookcase. As soon as I realized that, I thought to myself, the more I sell, the less I have to move…
Which means, it's time for a sale! Shop the Pattern Store at sewaholicpatterns.com and use the promo code MOVING at checkout to get 20% off your order. All patterns are on sale, including the brand-new Alma Blouse! The more you buy, the less I have to pack, move and unpack. It's a win-win!
The fine print: Promo code is valid on orders all around the world, and can only be used once. Sale starts today and runs until Thursday, September 6th at midnight Pacific Standard Time.
Happy shopping, everyone!