One of the best parts of designing sewing patterns is seeing your finished blouses! Thought I'd share some of the beautiful finished creations I've seen so far. I love to see your fabric choices and variations on the design!
Check out Sam's pretty Liberty-print cotton Pendrell blouse. Don't you just love Liberty lawn prints? I've never sewn with real Liberty fabric myself but I'm totally drawn to the detailed, multicoloured tiny florals. So dainty and feminine!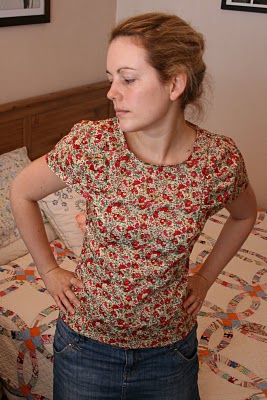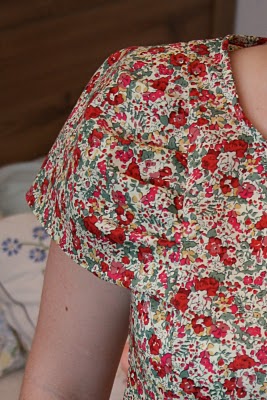 She works quickly, as it only took her a couple of hours to make. Isn't it lovely? And she's going to make it again, using the ruffled version next. (Click here to read her full post and see more photos!)
Andrea's made the Pendrell Blouse twice already! Look at her pretty plaid blouse, I love the idea of using a plaid fabric.
The plaid ruffles are cut on the bias, it looks tricky but it's not. In fact, they naturally end up that way if you follow the cutting layout! You'd get the same diagonal effect on the ruffles if you used a striped fabric as well. Great idea! (Click here to read the full post on Andrea's blog, Invisible Flower.)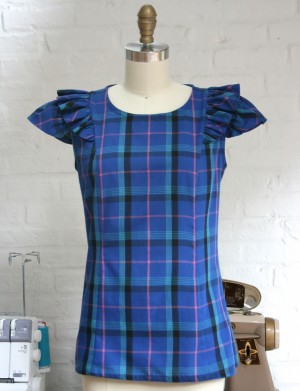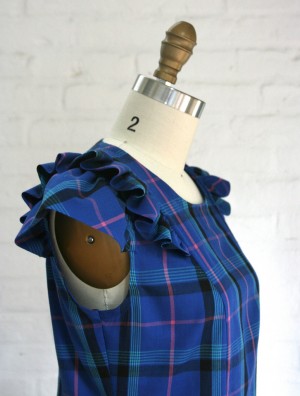 For her second version, she left off the seam ruffle and added a little bow at the neckline. Look at the perfect alignment of the floral print. The vines wind down naturally down centre front, as if they were embroidered or added afterwards. (Click here to read the complete post on Andrea's blog.)
Come to think of it, embroidery would work as well! This blouse would be lovely with embroidered details, or subtle sew-on appliques as embellishments. The possibilities are endless!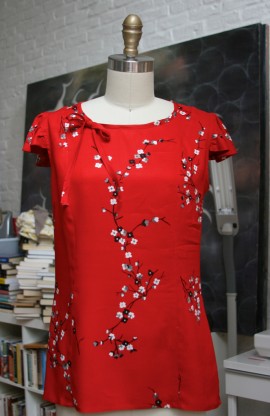 Hope this gives you a few ideas and some inspiration for your own blouse! I'm delighted to see a few other versions in progress, or on your to-do lists. So exciting! Keep 'em coming, and send photos and links!
Have you made the Pendrell Blouse? Leave me a comment and a link! If you like, add your photos to the Sewaholic Patterns Flickr Group!
This week I'm preparing for the Pendrell Sew-Along, starting next week! We'll start by talking about fabric, pre-washing, pattern adjustments before we get to the sewing part. So there's still time to join along!
And if you don't have the time right now, the posts will be there when you're ready to make your blouse. I'll compile all of the posts into a Sew-Along page for easy reference!
PS. Want your own Pendrell Blouse pattern? Order yours today – click here to visit the store!