Wow! What an enthusiastic response to the Pendrell Kit Giveaway! Nothing like the chance to win free fabric and patterns to get the comments rolling in! And a big hello to all the new readers that arrived to enter the giveaway, and stayed for the sewing!
My favourite part of hosting this giveaway is reading which fabrics are your favourite to sew with: lots of love for cotton, several fans of wool (because you can beat it into submission as several of you noted, and because it looks expensive) and some rayon lovers like me!
So many of you mentioned behaviour as the main factor in choosing your favourite fabrics. Natural fibres behave so much better than synthetics when sewing and pressing. However, synthetics wrinkle less, are easier to care for, and are usually cheaper. As with everything, balance is key!
Back to the topic of today's post – more exciting and inspiring Pendrell Blouses!
Kristin from K-Line (a fellow Canadian!) made her entire outfit: denim leggings and the Pendrell blouse in a fabulous floral print. The whole look is fantastic with the boots and belts, makes the floral more edgy and cool. Just when you think florals only look prim and proper! Great photos, too!
Click the image below to visit her blog and read more: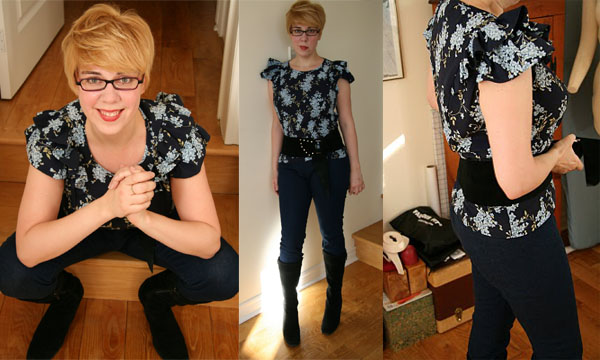 How about another ruffled version? Salvia in Germany used white and black dotted cotton jersey for her blouse, and paired it with a timeless circle skirt! It's feminine and flattering, done in colours you'd wear forever.
Did you notice the contrast hem on the ruffles? It outlines the edges so well, but it is tricky to do on the bias! She did a lovely job on the sleeve hems for her blouse.
Click the image to see her project on Burdastyle: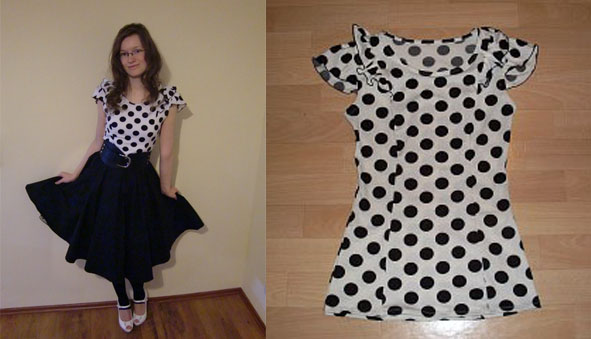 Of course I like Kristie's bright blue ruffled Pendrell Blouse. It's very similar to the colour of my first Pendrell, which I love! How pretty is this colour on her? Click the image to visit her blog and see more!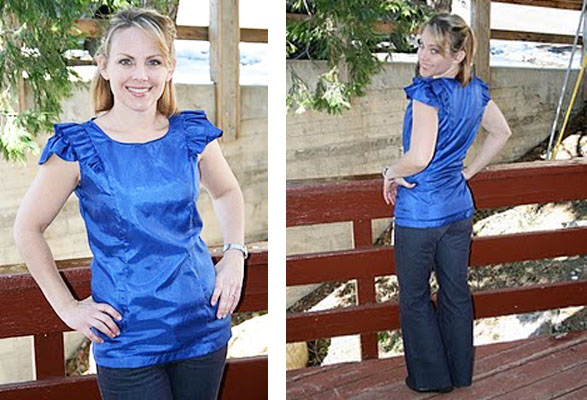 Rachel from Melbourne used a striking printed polyester fabric for her Pendrell Blouse. Love the colours! This blouse looks so great tucked into skirts.
Click the image to visit her blog and see more photos!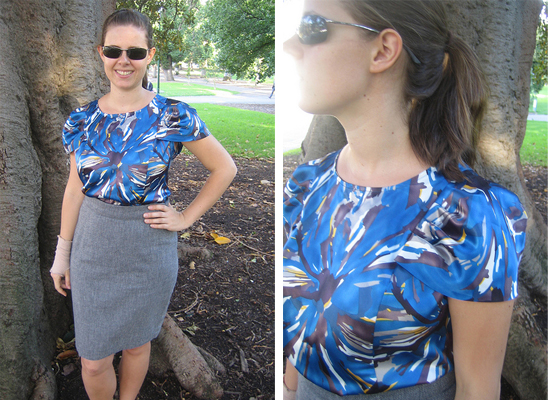 And now for something completely different, look at Reana's adorable yellow sleeveless Pendrell Blouse. Would you believe she's brand-new to sewing, if you saw her walking down the street in this fabulous outfit? I wouldn't think so, either!
Click the image to visit her blog and see more photos, including a close-up of the bow detail!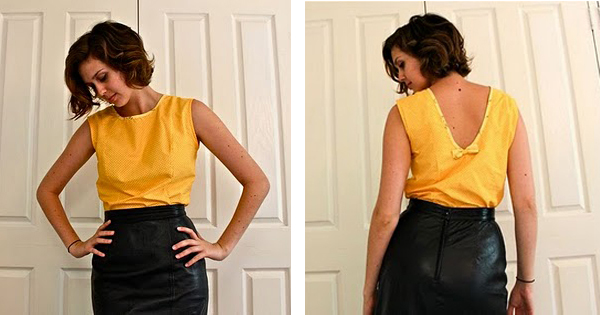 How adorable is the bow and the scoop in the back? I love a scoop back, especially one that still lets you wear a bra!
She's done the bias trim on the outside of the blouse instead of the inside for a little contrast. You can do this, too! Follow the exact same steps as you would for regular bias binding, but sew it to the wrong side of the blouse and then turn it to the right side to topstitch it.
As requested, I've also added links to all of the Pendrell Blouses by You posts to the Sew-Along page, so they're easy to find later on!
I still need to take photos of my Pendrell Blouse from the Sew-Along. I swear, I keep trying to, but it's literally freezing outside. Every time I get out there, I realize there's no way I'm taking my coat off for a photo. Even for you guys! Soon, I promise. Once the weather cooperates!
Check out more Pendrell blouse photos in the Flickr Pool here! There are over a hundred photos posted to the group now. So many great projects to look at!
Or check out previous posts showing off your creations:
PS. Want your own Pendrell Blouse pattern? Order yours today – click here to visit the store!
PPS. Or, enter the giveaway to win yourself a copy of the pattern, plus fabric and thread!