Hello everyone! Hope you enjoyed a romantic night with your sweetie, or a blissfully single night of eating ice cream and hanging out with girlfriends. (Or perhaps a quiet night of sewing!)
I turned off the computer for the evening and enjoyed a lovely night in with Mr Sewaholic. He brought me a beautiful bouquet of red roses! We ordered Thai food, watched 'Knocked Up' and snuggled on the couch. When there's so much going on in our day-to-day life, that's a perfect Valentine's day night for me!
I'm working on the financial planning part of the business plan. This is normally the dull part, but because it's my own business I find it fascinating! How much money can I make? When will I be able to pay myself? How many patterns can I afford to launch this year? All very good questions, and pretty soon I'll have the answers. My business plan is due next week, so this will be a very busy week with not much sewing!
You probably came here for some sewing goodness, so here we go! Here's another round-up of gorgeous Pendrell Blouses by you. We're on a bit of a floral theme today!
First off, you may know Casey of Elegant Musings and her awesome sense of style. Look what she did with her Pendrell Blouse: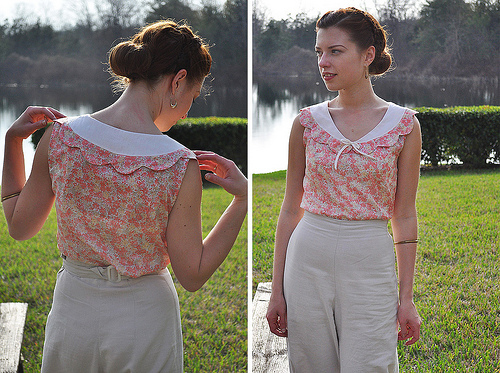 She took the simple, sleeveless shell (View C) and turned it into a romantic, scalloped-collar blouse. So creative! She may be putting together a post on how to make your own collar like hers. I'll be keeping my eye on her blog for that tutorial!
Kristen from KristenMakes made her Pendrell Blouse in florals, too! The inside of the blouse is neatly finished with French seams, a tidy way to finish the seam allowances. Click through to her blog to see more photos!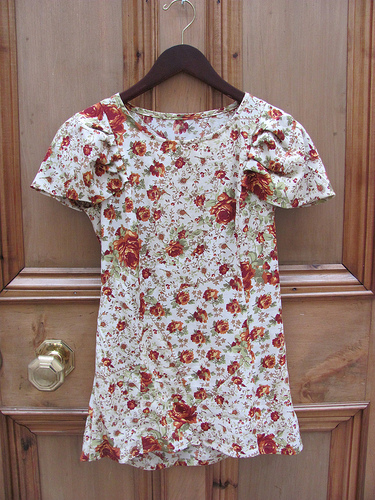 The next floral Pendrell blouse has a cool story. Debi from My Happy Sewing Place hosted a giveaway for a Pendrell Blouse and Natalia was the lucky winner. And, this is the first piece of clothing she's ever sewn!
Didn't she do a beautiful job? I love the fabric, and look at how she's cut the panels so the flower bursts end up cascading down the sides. A very successful first go at garment sewing! Check out her blog for more photos.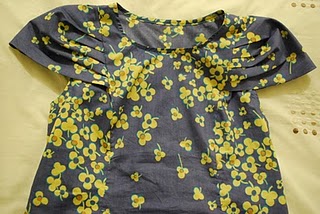 Check out more Pendrell blouse photos in the Flickr Pool here!
Or check out previous posts showing off your creations:
PS. Want your own Pendrell Blouse pattern? Order yours today – click here to visit the store!