Happy Monday, everyone! Today I'm showing off some of the beautiful Pendrell Blouses I've seen now that the Sew-Along is over. There are so many, I might have to post a Round 3 and a Round 4! I could even start grouping them together in themes: florals, dots, solids.
I didn't have a chance to sew this weekend, I was a good student and worked on my business plan. (Full of exclamation points, as I mentioned on Facebook the other day… no, I'm just kidding. It's a serious plan.) Want to hear more about it, as the course continues? Today's class is about Finance, part one of two full days devoted to math. I'm pretty excited to crunch the numbers, as they say, and find out when I'll start making money! We'll do our financial planning and find out if we're in the black, or in the red. (Let's hope I'm in the black!)
All right, back to the blouses! These beautiful creations are literally from around the world: Australia, London, Canada, and the United States. Just a few of the many lovely blouses I've seen so far!
How cute is this one? If you look closely, the print is little bows. Adorable! Kylie's blouse was featured on the Sew Tessuti blog, an awesome-looking fabric store from Australia. It's a cotton fabric, but the print and the style make it easy to dress up or down. (Yes, you can still buy the fabric! Very tempting…)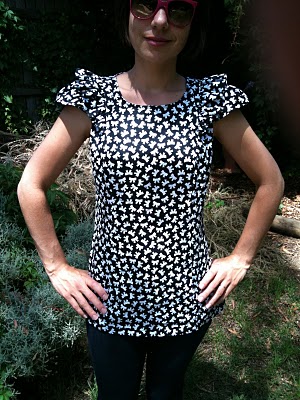 Miss Katie is pretty in pink, modelling her Pendrell blouse. This is her first sewing project of the year! I love how every version of the blouse looks so different, yet equally gorgeous! Loving the shiny pink satin, it's so delightfully girly, especially worn with pearls and stockings! Click the photo to visit her blog and check out more pretty pictures! I keep thinking that she looks so happy in this one, it makes me smile too.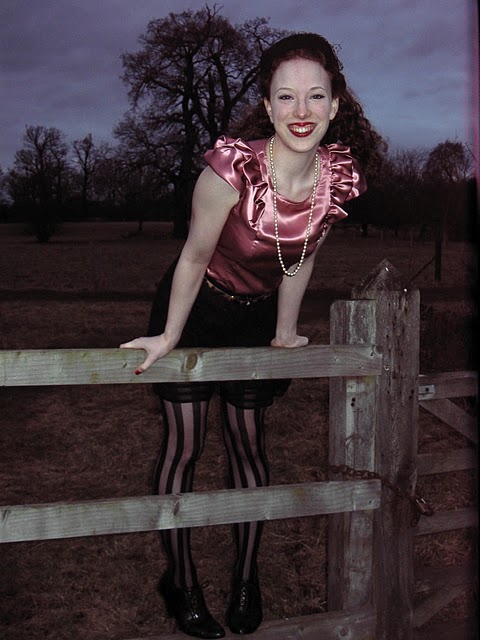 Amanda in Virginia, USA recently made the Pendrell Blouse in turquoise floral – and if you know me, you know my love of all things turquoise and floral! So pretty. So springy! You can't tell from these photos but if you click through to her blog, she's paired with the Beignet skirt, one of my favourite skirt patterns! It's a perfect match with the Pendrell blouse. Just right for tucking in your blouse, and finishing off the look with a slim belt. (And fabulous shoes!)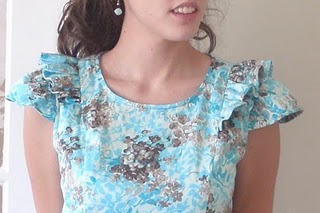 Sarah from Rhinestones and Telephones is Sewing through the Decades, and chose the Pendrell Blouse as her modern pattern to use! Sarah's from Canada, like me, except at the other end of the country. Here's her classic black-and-white polka dot blouse. It may be a modern pattern, but the dots are timeless!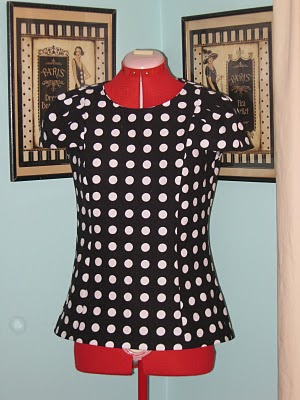 I'd love to post more of your finished creations, if that's OK with you! It's awesome to see them come together. I'm loving all of your styling ideas, too! Just when I think I've thought of every possible variation, you guys surprise me with something totally unique and new. That's the wonderful part of sewing: the possibilities are endless. Colour, pattern, texture, print – anything goes!
More blouse photos in the Flickr Pool here!
And check out this older post showcasing more Pendrell Blouses by You!
PS. Want your own Pendrell Blouse pattern? Order yours today – click here to visit the store!