Three lingerie sets to share today!
Over the last year I noticed I was completing lingerie projects more than any other personal project because I was setting aside specific time for them. I'd plan to come in on a weekend weeks in advance, and gather supplies in preparation for a day of bra sewing. When the time came, I'd been looking forward to it for a while, I had everything I needed, and I could just sew! Groundbreaking eh? Back to the post about balancing creative pursuits: if you block off the time to do the things you want and stick to it, you're more likely to get them done.
To make it quick I've decided to only write three things about each set, the three most useful points or things I've learned.
Royal Blue Watson Bra Set
Pattern: Watson Bra, Watson Panties. Fabric: Kit from Blackbird Fabrics.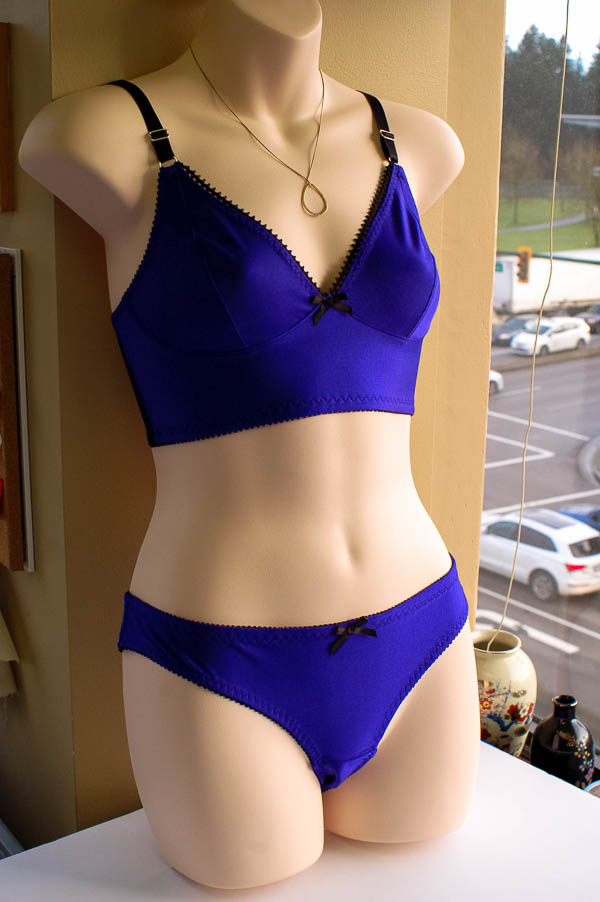 Three Things:
This fabric is way nicer than the fabric I used for my last Watson Bra set. It looks  similar to the peach fabric, but it's firmer and more resilient. Also, I cut one long-line bra and three pairs of panties from one kit! The joys of being a small bra size.
I fused interfacing to the cradle again. On version 1, I used interfacing, version 2 I used cup lining instead. The interfacing avoids the bubbles that occur when the lining slips during basting, or even if you've basted it perfectly, when you sew in the cups and apply the band elastic things can shift. That's my preferred method from now on.
I have enough Watson Bras now. It's easy to make the same thing over and over again, like playing your favourite song on repeat. 'That was fun, let's do it again!' Time to branch out and try something new.
Turquoise Lace Set
Pattern: Pin-up Girls Classic Bra, my own lace thong design. Fabric: Lace from Merckwaerdigh ebay store (now on Etsy), elastics from Bra-Makers Supply.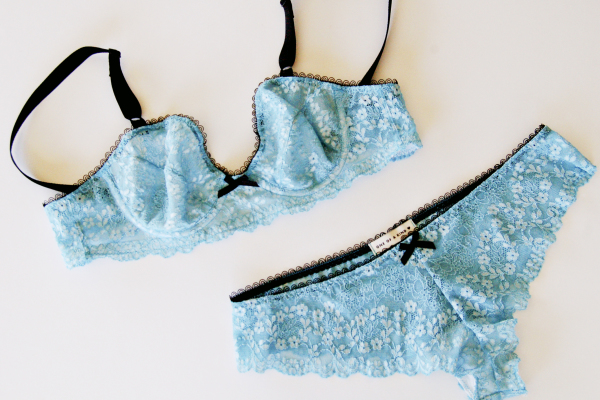 Three Things:
I like black straps on colourful lingerie. If your strap shows it's a basic black strap, and if you can't find a perfect match, it looks intentional if you choose deliberately contrasting trims. With the black accent you can mix in black pieces, even if they aren't exactly the same colour black. Your top and bottom aren't close enough to tell!
I lowered the neckline of the Classic Bra pattern to a demi-cup; this is more comfortable to me than wires that circle up high on the chest. Where I went wrong is moving the straps too far away from the centre of the cup. The top edge of the cup doesn't sit nicely, and it would look a lot better if I'd positioned the strap closer to the center of the cup so it pulls up the fabric evenly.
Every lace fabric has to be evaluated for stretch and recovery. I wanted the delicate look of an all-lace band, but it is a lot less supportive than a powermesh back. It's really pretty, but it's much looser than other bras. I chose fashion over function, which is not really a good choice for undergarments. Not ones you want for everyday use, that is!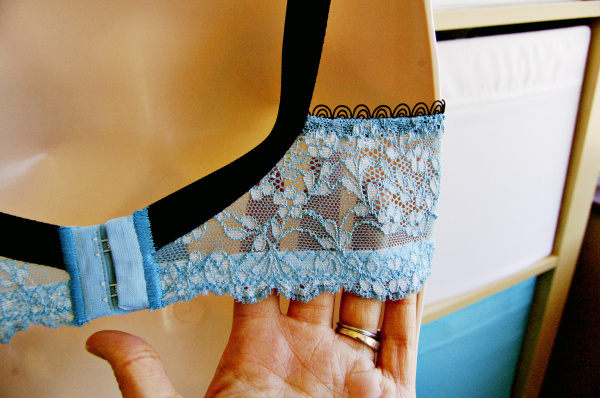 Floral MakeBra Set
Pattern: MakeBra DL01 Foam Cup Bra, MakeBra free hipster pattern. Fabric: Kit from Merckwaerdigh ebay store (now on Etsy).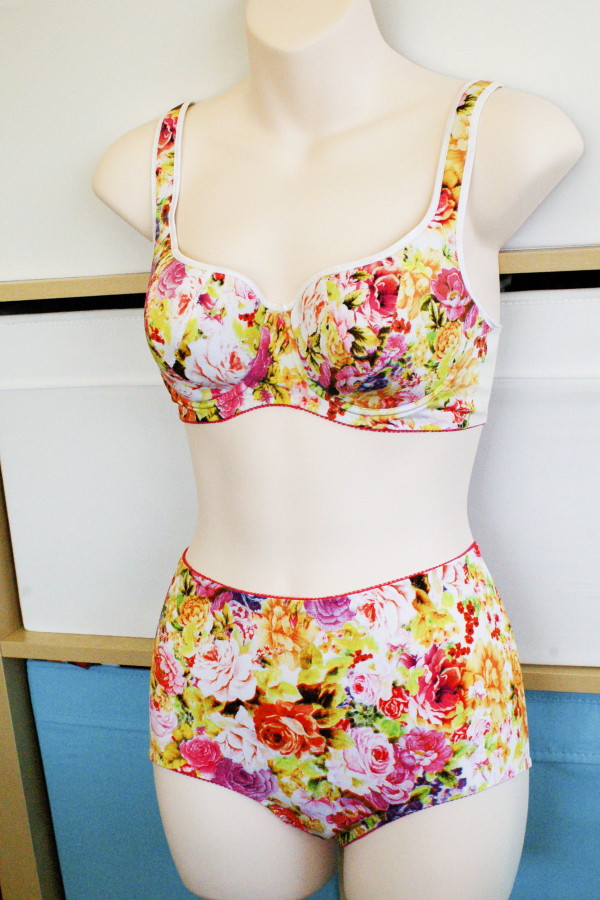 Three Things:
This bra is sewn with foam cups. You construct the foam cup, then cover it with fabric. The neckline edge is finished with FOE (fold over elastic) and I like that you don't have to turn the foam cup seam allowance under, that would be bulky. I didn't really enjoy sewing on the elastic and it took me a few tries to get a nice application around the curves, through foam and fabric. Practice will help!
I do love the fit and shape of this bra! It's the most rounded and most shapely bra I've made. It gives me a round, curvy shape under clothing, which I prefer over pointy shapes.
I did take inspiration from Anne the Clothing Engineer for this set, in fact I did the same thing she did here and added 1″ to the rise of the hipsters. Turns out I would prefer them to sit back in the original spot on the waist, or instead, higher like a true high-rise bottom. My learning from this is not to assume someone else's modifications will be what you want, even if you are the same size and general proportions. Everyone is different.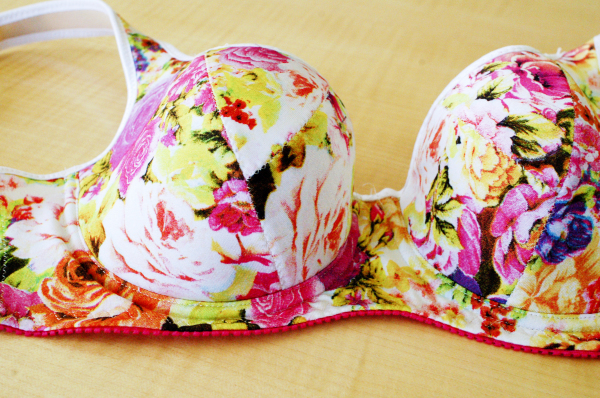 Next on the lingerie list: possibly another MakeBra pattern. I'm intrigued by the fabric-covered foam construction and like the shape of the cups.
As the pattern business grows I often think about what I'm doing and how to spend my time. What's the most productive thing I could do next, and what's the most fun and fulfilling? Where does blogging fall on that scale?
Well, after being away for a month, I've realized that I love blogging about sewing, both personal projects and Sewaholic Patterns projects. I've always loved writing and detailing what I did, what worked and what didn't. I like explaining things and knowing perhaps I'm helping someone with the same project or same problem. I like the storytelling aspect of blogging, going through the planning part of a project, problem-solving during the process, and evaluating the final result. That part is interesting to me and I think interesting to read about as well.
I hope you agree, because I'm planning to schedule myself a Sewing Day each week to fit more personal sewing into my life. I want to stay inspired, keep improving skills and make things just because I feel like it, no strategy or motive! Sewing may be part of my day job but it's also a creative outlet that I love and I want to keep the passion alive. And talk about it here, of course!