Wow! All of the comments to yesterday's post were really, really interesting to read. (So much that I didn't get a proper post up for today! So I thought I'd continue the coat talk.) Many of you are hesistant to sew coats. Either for fear of getting it wrong, making something you aren't absolutely in love with, or spending all fall sewing the same project, getting nothing else done. Or the monumental cost is what scares you!
The good news: now I have a million ideas for future blog posts!
I have ideas and answers for plenty of your questions and concerns – how to choose fabric, choosing a pattern, making pattern adjustments, how to make your coat warmer. I'll take lots of photos when I make my coat, and write up little tutorials on interesting or new techniques.
The one I'm sort of stumped on is how to sew through bulky fabrics. Does anyone have suggestions?
My machine has never had a problem getting through thick fabrics – it does need a little encouragement over layers of denim but coatings are usually fine! I'd love to hear your thoughts on solving this one!
I plan to make at least one coat this fall, one that's a real Fall-style long coat made of wool using traditional tailoring techniques. This is the one I'll make out of the Christmas-present wool coating. So much to show you! I did a little tailoring  on my cape last winter, just a little bit of hair canvas padstitching on the collar, and I'm excited to do more. I have a romantic notion of sitting in a comfortable chair, hand-sewing needle in hand, making loving pad-stitches in a beautiful coat. Doesn't that sound peaceful? Maybe I can get you all interested in the idea of hand-tailoring.
Here's what padstitching looks like – pardon the not-so-great photo! I lightened it up to make the stitches appear and it got really grainy. It's useful because it shapes your collar, giving it that nice roll at the top edge.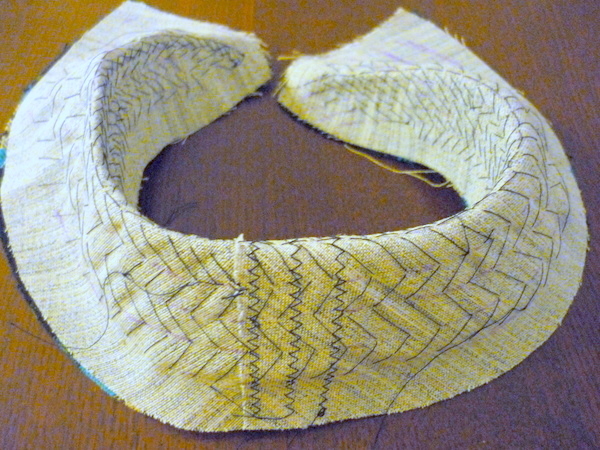 Here's how nice the collar looks, when it's all put together: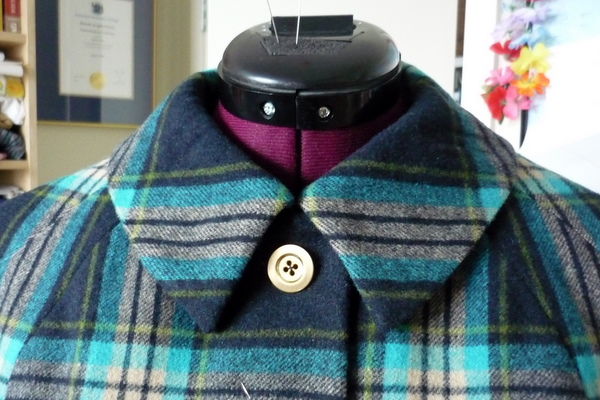 If my vision of relaxing hand-tailoring doesn't inspire you, I have more plans! I'm also making another outerwear piece that's not a long Fall-style coat, that's not tailored and is actually much easier to sew than it looks. It's kind of the opposite of the first coat project. No hair-canvas or padstitching at all, hardly any interfacing as well!
Stay tuned for more on the subject of coats, jackets, and outerwear. This is going to be a warm and cosy Fall around here!
Let's end on this quote on coat-making from Regina in yesterday's comments – I liked the enthusiasm!
I made my first coat last year from a Project Runway inspired pattern. I was very intimidated to say the least when I first started, but taking it step by step it came out beautifully!! It's one of the nicest pieces I've ever made! I will NEVER let anything intimidate like that ever again…this only limits my creativity and ability to try new things. Believe in yourself and go for it!!
Have an awesome weekend, everyone!