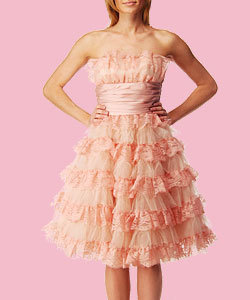 I just wanted to say a huge THANK YOU to everyone that has stopped by or left comments on my blog.
Today will be my one-month-a-versary since I started this blog and I'm thrilled to have over 100 visits so far! I don't know if that's a lot of not, but it feels pretty good to me!
To celebrate, here is a picture of a Betsey Johnson party dress, that I did not make sadly, but may be inspirational if you love pink, ruffles, lace, or tiers. Maybe a prom dress idea for a very girly upcoming graduate?
Thanks again for visiting and stay tuned for more!