Here's my Monday-morning Day Twenty outfit. I'm wearing an open-back dress with tights to make it work for fall – as I'm running out of things to wear for this dreary rainy weather we're having! (Luckily the rain stopped after work so I could snap some quick photos outside the grocery store…)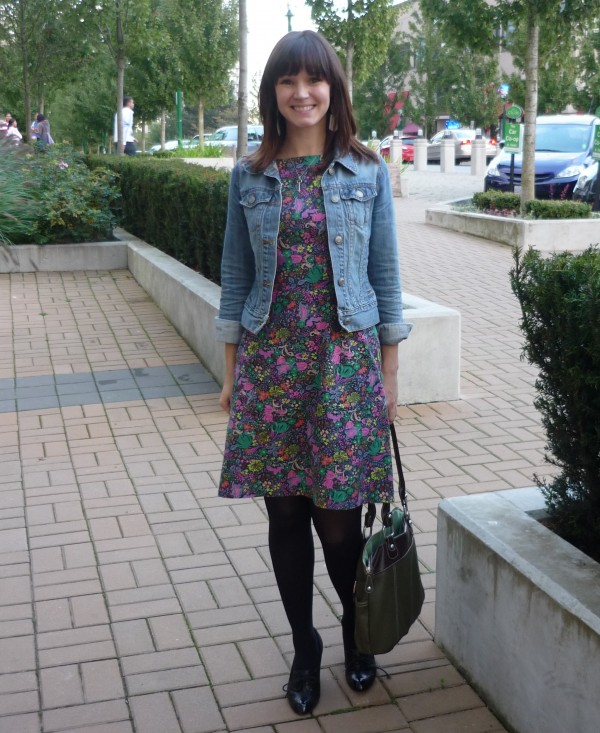 What I'm Wearing, Day 20:
Self-Stitched Dress: Groovy Sixties Dress, McCalls 7743 from vintage cotton fabric
Denim jacket: Old Navy, same as in this outfit.
Shoes: Ellen Tracy, bought at Winners last fall.
Read more about the dress here!
Ahh, that's better! Back to being a dresses and florals and bright colours girl, the way I like to imagine myself.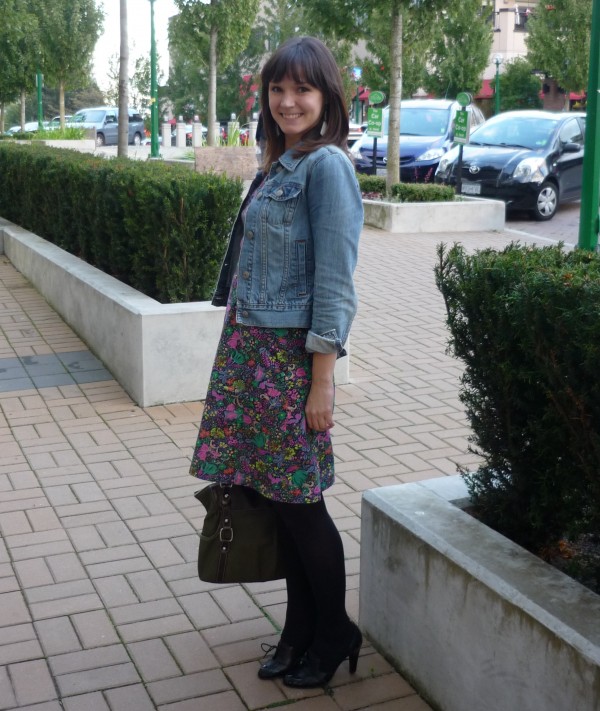 Really interesting responses to my ramblings yesterday, about dressing the way you want the world to see you. I wanted to point out some of the great thoughts you guys shared!
I love what Tanit-isis said, we can manage awesome sometimes, but then fall back on boring. I completely agree, the trick is to have more awesome in our wardrobes! Both Zena and CGCouture are starting to define their styles and resolved to sew more of their own clothes, so what they love and what they wear are on the same page… And I felt better knowing that even a gorgeous girl like Sunni doesn't love how she looks in jeans – we are so critical of ourselves as women! Indigorchid said "even though I made it, doen't automatically make it my (current) style." I totally agree! Sometimes there's a disconnect between sewing something as a project, and creating clothing you want to wear everyday. Or clothing that fits into your lifestyle. Funnygrrl mentions 'giving herself permission to invest in great items' – yes, yes, yes!
That's how I want to approach my sewing as well, as an investment in great items! Working towards more awesome in our wardrobes! Well said.