When I developed the Minoru Jacket pattern, one of the best decisions I made this time around was to improve the testing process. This time, I had nearly twenty pattern testers, all making different sizes, living in different parts of the world, and using different types of fabric. I sent them the pattern, they sewed it up, and told me what I could do to make it a better product, easier to sew or understand, and whether they liked the design.
It was such a great decision! The feedback I got was invaluable. Yes, it took longer to get the pattern finalized and out to print, but it felt well worth it. Some people contacted me frequently throughout the testing period, some waited until the end to turn in their surveys on the pattern. All in all, it was incredibly helpful and I believe that having a better testing process makes this pattern the best yet!
You may know Molly, from Molly's Sewing and Garage Sale Adventures? (She made a lovely yellow seersucker Pendrell Blouse earlier this year!) Molly was a pattern tester, and just posted photos of her finished jacket on her blog this week – take a look!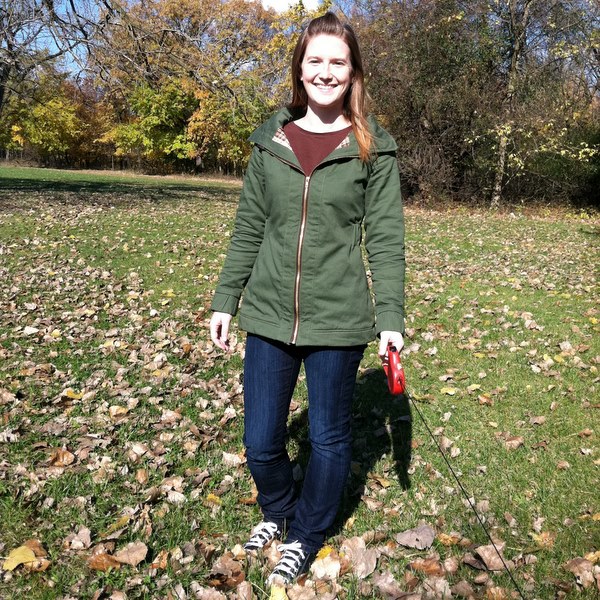 Click the image above to check out Molly's blog and her comments on the Minoru Jacket! With every new pattern release, the most exciting part is seeing everyone's finished projects! I love seeing what kind of fabrics people choose, the colour combinations they put together, and how they wear the finished garment. How cute is Molly's dog-walking outfit? I love the plaid lining!
Thanks, Molly, for being a pattern tester! Stay tuned for more on the Minoru jacket pattern and the upcoming sew-along!