What an amazing response to the Minoru Jacket announcement yesterday! A ton of great questions came up and I thought I'd put all of the answers together in one post so it's easy to read. (And if you have a question about the pattern that's not already mentioned, please leave a comment and I'll find you an answer!)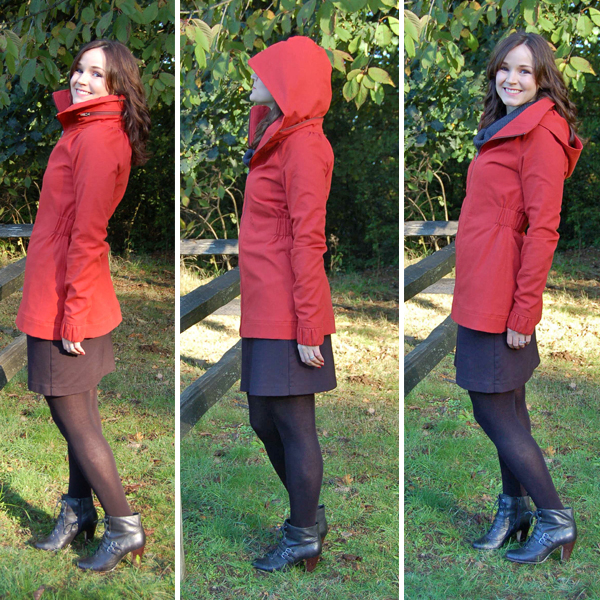 I forgot to mention that this is an intermediate level pattern, but with a little help and guidance an advanced beginner should be fine! So if you loved the look of the pattern, but worried it was too complex for you, it's actually much easier to sew than it may look! Especially if we do another Sew-Along! Speaking of which, let's get to the questions…
Q. Will there be a sew-along? I want to make this jacket but I'd love a little extra help.
A. Absolutely! I was thinking we should do the sew-along in January, after all of the holiday excitement is over. Many of you are making gifts for people, and everyone gets busy with parties and get-togethers and family events. Plus, it'll give us something to look forward to in the New Year! How does that sound?
Q. How can I make it waterproof?
A. This one is going to be so good! I have an amazing guest post planned that's going to talk about waterproofing and sewing real technical outerwear. I'll also talk about making a coat that's water-resistant. Water-resistant is different from waterproof – in the apparel industry, claiming that something is waterproof is a very strong claim, so you'll see more garments labelled as 'water-resistant' rather than completely waterproof. (Or they won't say anything. Labelling on garments is a really big deal and often requires proof and testing!) For our purposes, we'll learn a bit about waterproofing, as well as making our jackets water-resistant. It's going to be fun!
Q. What if I want to add inseam pockets (or some kind of pocket) to the front of the jacket?
A. That's fairly easy to do! Here's a link to a Burdastyle tutorial that gives you the basics of adding a pocket, and here's another Burdastyle tutorial that shows you how to sew them. It's simple to do – just remember to sew them in before sewing up the sideseams of your jacket. (When you get the pattern, that point is just before Sewing Step 9.)
Q. Is it easy to lengthen/shorten the jacket?
A. Yes! I added those helpful 'lengthen or shorten here' lines to the jacket pattern, so you can simply slash and spread the pattern to add length. I've added the lines to the sleeves as well, because if you're taller, shorter, or just like your sleeves a certain length, it's a good reminder to adjust the sleeves as well!
Q. Can we see the back of the pattern envelope for fabric requirements and such?
A. Absolutely! I'm putting together the pattern store page between now and when the pattern is back from printing, so I'll have that up for you shortly. Metric conversions, too!
Q. I'm on the mailing list but I didn't get the pre-sale email!
A. Try checking your spam folder – there's an image in the email, so it may have been filtered out of your inbox! Did you sign up recently? It may be on its way to you, sometimes the emails are a bit slow to deliver. Problems with the pre-sale links? I fixed an issue with the PayPal buttons mid-day yesterday, so if it didn't work at first, try again! (Still having problems? Let me know and I'll fix it for you.)
I think that's all of the questions I saw! (Did I miss yours? Let me know and I'll get back to you.)
Thanks for all of the support so far – you guys are awesome!