I saw this jacket picture the other day and instantly thought – Minoru!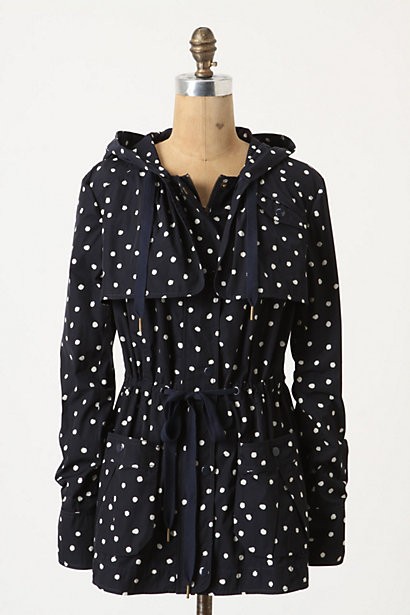 (source)
And now I'm on a mission to find a navy polka-dot fabric that would work for this jacket. This original is polyester which isn't so bad if it's a strong, durable type of polyester. (Nothing that will snag or look too shiny, you know? Or like it should have been a blouse instead.)
I've found plenty of quilting cotton options with navy dots but I don't want it to look craftsy. I like how the dots are spaced farther apart and aren't too large or dominant. What would be awesome is a dotted raincoating fabric so it feels intentional. In fact I used to have a navy polka-dot umbrella in a very similar print!
I'm thinking of using a gold metal zipper, so it looks expensive and classy rather than craftsy. Playful without looking juvenile. That is, if I can find a fabric that works!
This might be the closest option, from Fabric.com. It's cotton, but the dots are unevenly spaced and look to be the right side (maybe a touch too large). Even though it's a cotton, I'm considering giving it a try, and if it doesn't have the right feel for the jacket when I see it in real life, it'll be a cute summer dress!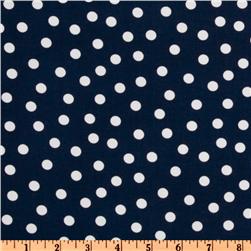 (source)
If you see a navy dotted fabric like this, that's not a quilting cotton, let me know! I'd even be interested in a taupe and white dotted fabric.
I also found this one! I went to a bunch of fabric sites and typed in 'dots' into the search bar in case you were wondering how to go about searching for fabrics to buy. This one's a bit of a dream fabric – silk taffeta! It would be a bit swishy and rustly, but so glamorous! Who says the Minoru is a sporty jacket? It sure wouldn't be in silk taffeta! But for $30/yard, I'd have to be pretty confident that it would work out. (Although again, it would be a gorgeous and incredibly classic navy-dot dress if I changed my mind about its jacket potential…)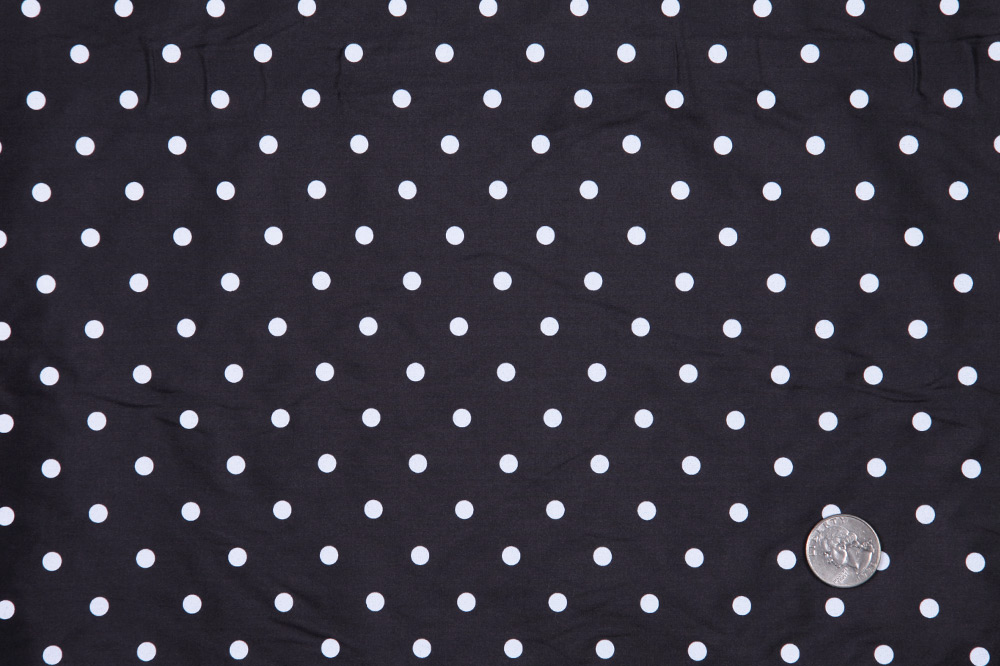 (source)
For all my talk about ordering fabric online, I'm still hesitant to take the plunge and buy fabric online myself, especially when the costs are high.
Don't you wish there was a fabric resource that let you search by 'navy polka-dot fabric' and would bring up every possible buying option for navy dots? Wouldn't that make it easy to find the elusive fabrics we dream of? How do you find the fabric in your mind, or do you settle for the next best thing? How do you feel about navy dots for the Minoru?