Hello everyone! I'm catching up on a few things you asked for, starting with the fabric requirements and sizing information for the Minoru Jacket. Look for more posts on the Sew-Along coming soon! I'd also love to feature a few more Minoru Jackets by my pattern testers, too. It's amazing that you can give people the exact same pattern to work with, and end up with completely different finished products!
By request, I've posted the Envelope Front and Back images and PDF files for the Minoru Jacket. Sizing, fabric requirements, and back view illustrations are all here for your reference.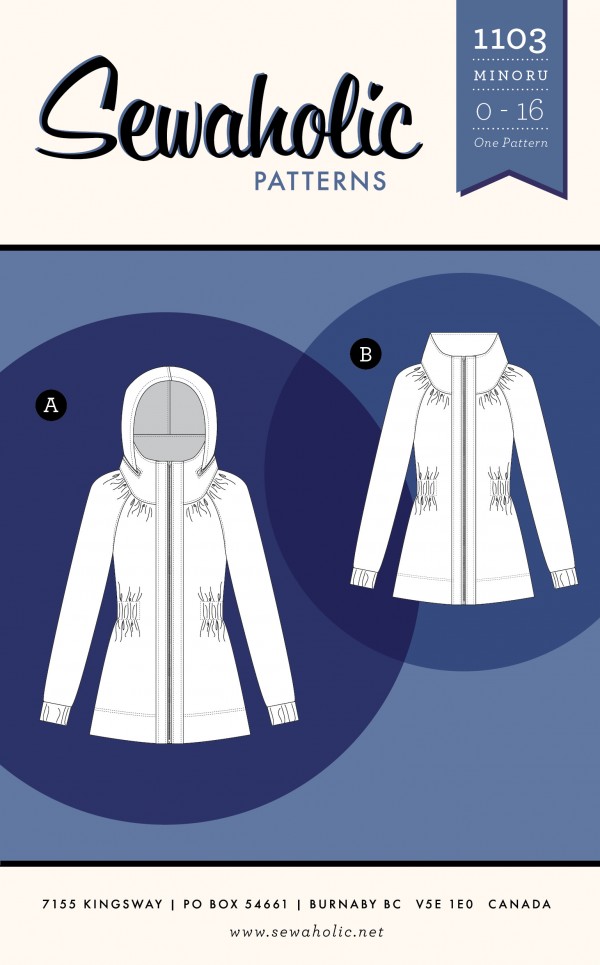 The blue colour is amazing in real life! It looks so pretty next to the golden yellow of the Lonsdale Dress pattern.
A couple of people have asked me whether you can make the jacket without the hood. Absolutely! The hooded jacket is View A, and the hoodless jacket is View B. The fabric requirements for each version are different because of the hood.
Here's the Envelope Back image, so you can see the information: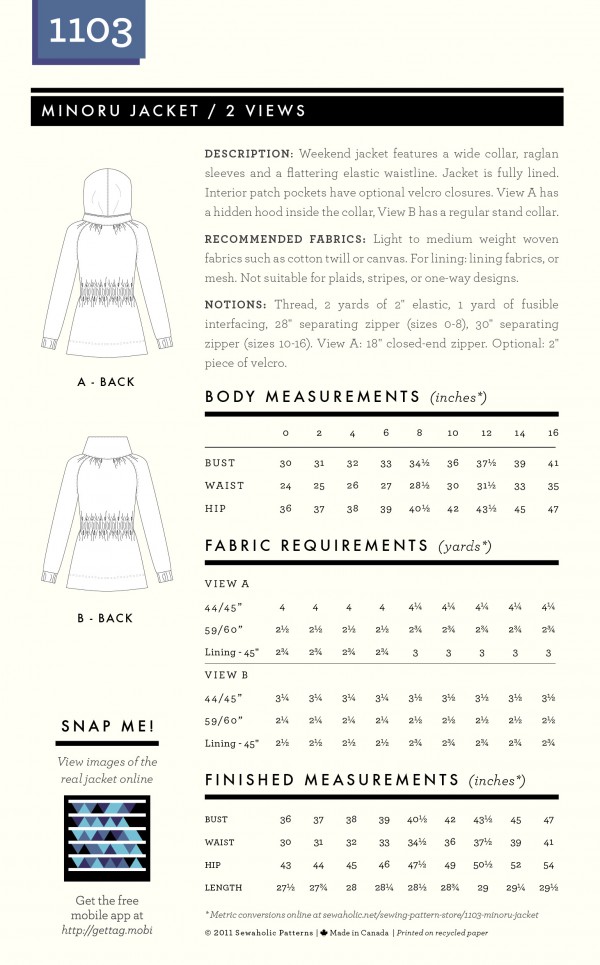 I've also included a PDF file to save to your computer. Or if you have the iPhone, you can save it to your iBooks! Handy for flipping through when you're at the fabric store. Or print out a copy to take with you when you go fabric-shopping.
Click here to view the Envelope Back in PDF format.
Metric conversions are coming soon! If you're in need of the metric fabric requirements right away, simply multiply the yard requirements by 0.9144. For example, if you need 3 yards, multiply 3 x 0.9144 = 2.75 metres.
PS. Like the look of this pattern? Sign up to the mailing list for the pre-sale link and special offer. I'm excited to report that presales are going extremely well so far. Just a few days left to pre-order your copy of the Minoru Jacket!