Thanks for all the feedback on the Sewaholic Patterns size chart and fabric requirements on last week's post! Several of you wished the requirements were in metric measurements and I totally understand, being in Canada myself. So I've done the conversion!
As requested, here's the metric version of the Size Chart and Fabric Requirements: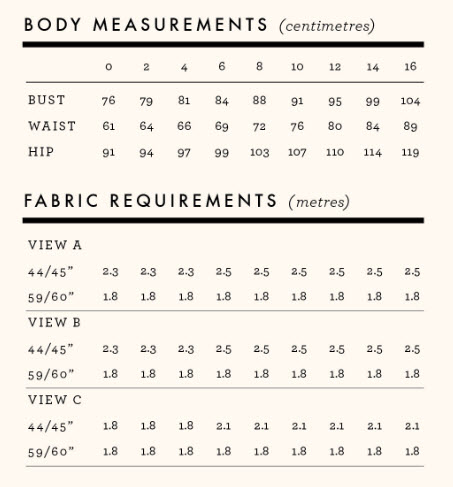 View A is the original, pleated-sleeve version. View B is the ruffled version, and View C is the sleeveless version.
Just so all the information is in one post, here are the fabric suggestions again, for your reference!
Recommended Fabrics:
Chiffon, georgette, charmeuse, challis, crepe de chine, lightweight crepe, lightweight jersey knits.
The fabric you pick should have a nice drape for best results! To get the look of the ruffled blouse, or pleated sleeve, drape is essential. A too-stiff fabric will just stick out and not hang nicely. The fit will be better if your fabric has drape, too, since the blouse has no closures! Look for silk, rayon or polyester soft blouse-weight fabrics.
TIP: You can print out the image above for your records, if you want! Just right-click the image and save a copy to your desktop, and print it out before heading to the fabric store.
Once the shop page is created, I'll be sure to post both measurement charts in the same place for your reference. I hope this helps!