I'm always thrilled to receive sewing-related questions from readers using the contact form! I secretly love it, I'm flattered that you guys trust my opinion and want to hear what I have to say. Luckily I always have plenty to say about sewing, fabric, patterns, et cetera!
One of the questions I see most often is about dress forms. What kind do I have, what would I recommend, what features are most important. Well, I can't speak for everyone but I certainly can tell you about mine and what I love about it.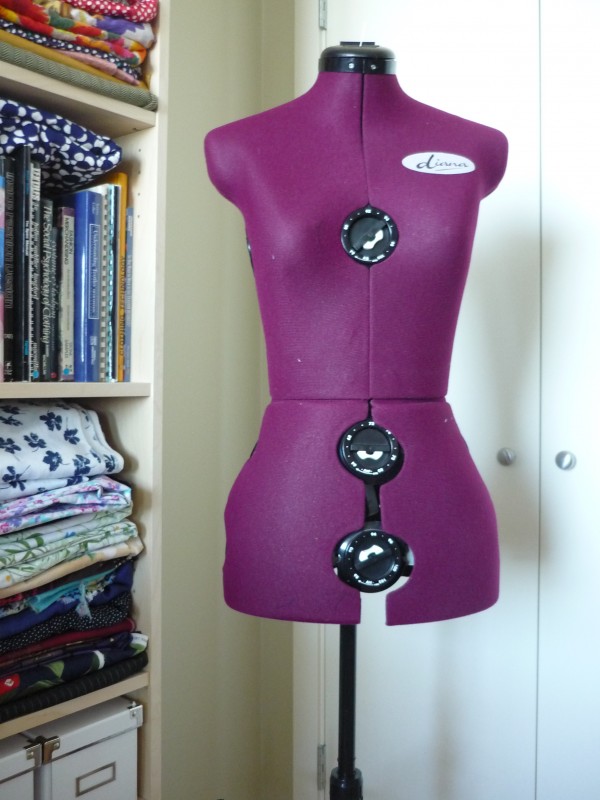 So… Meet Diana! Yes, I'm terribly uncreative when it comes to naming my stuff. She's Diana because that's what her nametag says. Although my grandmother's name was Diana, so I think it's a pretty great name.
Things I love about her?
She's adjustable! I can be anywhere from a 84 cm to a 100 cm bust. (That's 33″ to 39.5″ for the imperial folks.) So when I'm on the larger side, I can turn a few handy dials and make her my size, again. Technically, I'm a 32″ bust but it's close enough to work with. You can adjust the dials separately too, so I can widen the hip and keep the waist and bust small.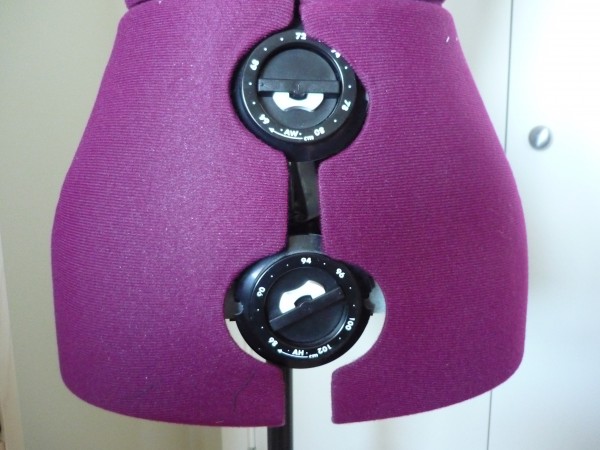 She's also adjustable in height! Although, I'll admit I usually leave her really tall, at least six inches taller than me. I think she looks better taller, and clothes look better on her that way. Let's just imagine she's me, with permanent 6″ heels.
You can pin into her. I love to pin fabric around her, imagining what it will look like as a garment. I also tend to pin the cut pieces of a project to her to visualize the finished item.
She has a handy hemmer-tool. While I don't use it that often, it's nice to have. I use it to mark the hem of circle or bias skirts, and then I'll try the garment on to make sure it looks equally even on myself.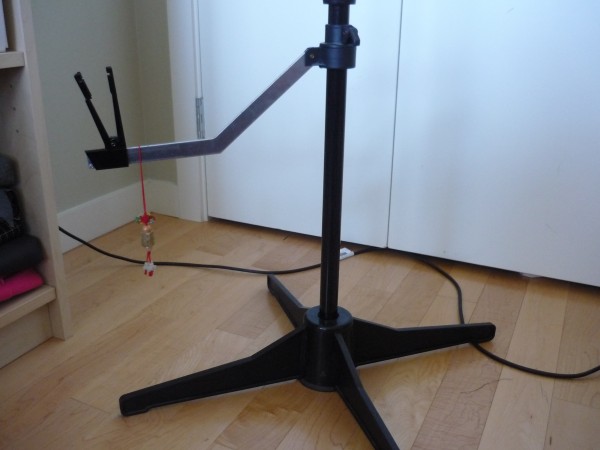 She also has a mini-pincushion where her head should be. I'll still sometimes leave the pins in her neck but there is a proper place for pins as well.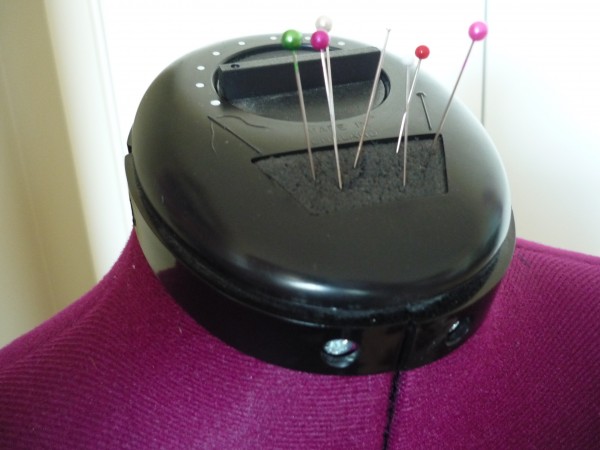 Anything I don't love about her?
It sounds ridiculous, but I wish she wasn't purple. Isn't that so silly? I wish she was beige or tan or white so the things I make don't always clash with her. I have seen royal blue versions of Diana, but no regular-human-coloured options.
People have asked me where to buy one, too. I was lucky enough to get mine as a Christmas gift years ago! And since you guys are located all around the world, I'm not sure where to recommend.
I'd suggest your local sewing store as a first option, to touch and feel and see if it will meet your needs. They do carry dress forms at Fabricana if you're local, and at Dressew as well. However, they rarely go on sale. (Please correct me if I'm wrong!)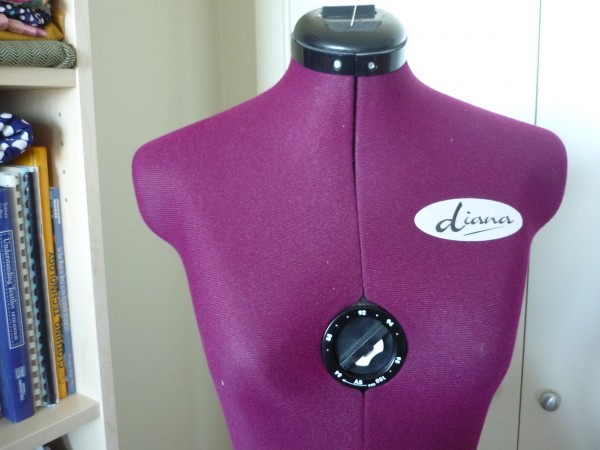 A great place to buy dressforms, if you're not picky about newness, is from Craigslist or Kijiji or Ebay. A lot of the time, people are cleaning house and don't realize what they're worth, or just want them out of their house/garage/attic. You could also Google 'Diana Dress Form' and see what comes up.
Hope this was useful! Do you have a dress form, and what brand would you recommend? Are you one of those adventurous types that made your own? I'd love to hear your thoughts & opinions in the comments!