I'm very excited to welcome Claire to my world. Claire is my new (to me) Pashley Princess Sovereign bicycle! She's beautiful and practical, handmade in England, and built for riding in rain and snow just as well as in sunny summer weather!
After a couple of very muddy, very wet commutes on my first bike this fall, I started dreaming of a bike with skirt guards and a chain guard. After a bit of research, I also learned there were bikes with 'hidden' brakes and gears as well, perfect for riding in the cold as they wouldn't freeze! Oh, I wanted one. The thing that deters people from cycling (well, besides the rain and cold and physical exertion) is having to find suitable clothing that looks good at work. I admit it's been a challenge picking outfits that have enough movement to bike in, are resistant to dirt, yet still look reasonably put-together. I feel better and more productive at work when I'm dressed up a little. So why not get a bike with all of its working bits covered up (gears, chain, brakes) and wear whatever you want?
I fell in love with the Pashley Princess after reading this review on Lovely Bicycle, and became convinced it would be perfect for me. Stylish, practical, and built for all-weather commuting? Yes, yes, and yes! Exactly what I was looking for, to make my commute that much better. I loved biking to work on my current bike, but my bike got so dirty that I'd avoid touching it as much as possible between washings. And just try buying skirt guards separately! They're so hard to find – plus they come with the added mystery of how to install them without resorting to plastic zip-ties or electrical tape.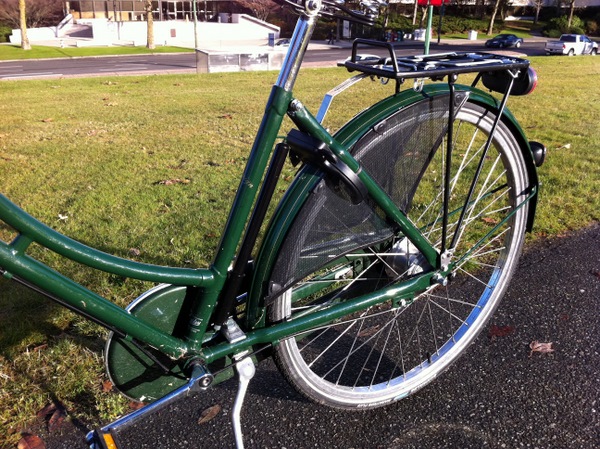 skirt guards – brilliant!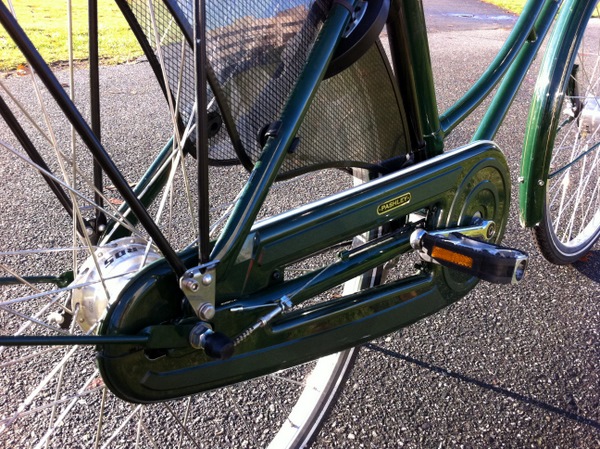 fully-covered chain case – I can rub my legs right up against it and still stay clean!

Pashleys are built in England, and are hard to find in Canada or the US! I'd be looking at buying one online probably, so I'd have to factor in shipping costs, duties and taxes in order to get it here. That adds up! But it's well worth it when you're cycling five days a week or more. I definitely bike more than I drive! (I'm still biking every day, and it's mid-December. I'm pretty proud of the fact that I cycle rain or shine!)
So the plan was to wait, and save up. And maybe for my thirtieth birthday, or next summer, I'd treat myself to a new bike. Make myself wait, you know, so I appreciate it more? (Wow, do I ever sound like my parents! Not a bad thing, it's just funny to hear their words coming out of my mouth.)
And then I stumbled upon my dream bike, for sale secondhand, in my city. I was browsing for reviews of the bike and found the listing. Can you believe my luck? It was truly meant to be! What are the odds of that happening? So I set a date to check out the bike, and instantly fell in love. And now she's mine!
I was so excited to take home my new bike, I rode it home from the previous owner's place. At night, in the dark, over 12km, uphill! It didn't matter, I was just so happy and excited. The ride was so comfortable and so much fun. And when I woke up the next morning, even though my legs were sore, I was still excited to ride her in to the office!
So this is Claire, everyone! In my mind, girls named Claire are pretty but practical. I think it suits her.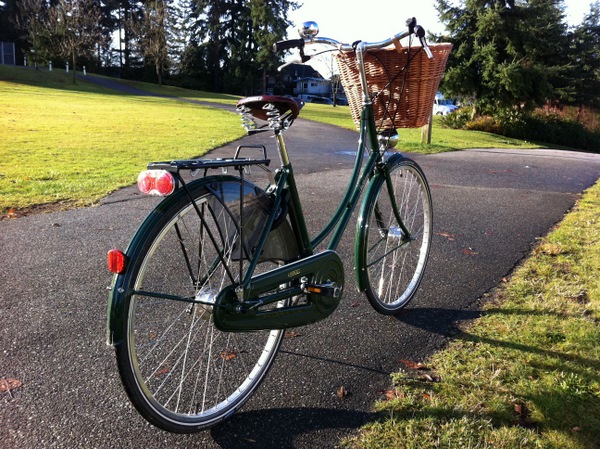 People love Claire. She gets smiles and waves from strangers on the street, way more so than my first bike. You can't help but admire her well-built frame, big beautiful basket, vintage styling and shiny forest-green paint. She's truly beautiful, functional, and practical. An excellent purchase!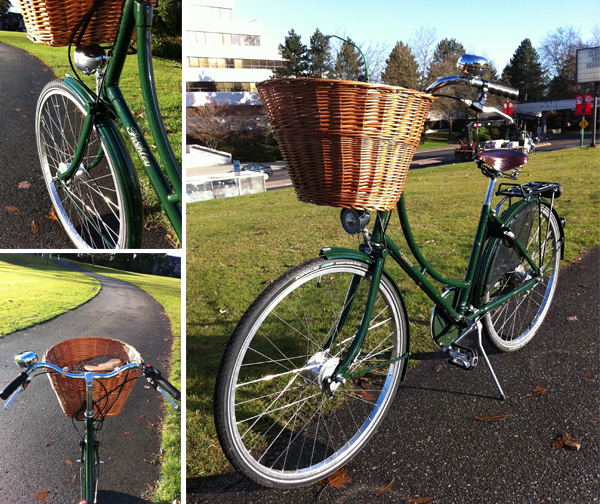 she's got the biggest bike-basket I've ever seen!
It's funny that I've gone from a semi-girly bike to a even more girly, classic bike. It's not faster, but it's way more solid. It feels like it supports me better. I've been riding it for about a month now and I get out-of-breath less but my legs get more of a workout, if that makes sense! Other great features are the puncture-proof tires (yay!) and the big lights. I was re-reading your comments on my first bike post and a couple of you thought I might want a faster bike eventually. Quite the opposite it seems! It takes some time to figure out exactly what works best for you. (Kind of like a sewing machine. You're still figuring out what you want and need, after you buy your first one.) And I always, always wear a helmet!
I know this has nothing to do with sewing, but I do talk a lot about cycling and bike commuting and what to wear while riding a bike. And the more I talk about it (and walk around with my bike helmet) the more people ask me about cycling. I think a lot of people are curious about cycling without becoming a spandex-clad cyclist. Cycling as a regular person, you know?
I'm all for encouraging more people to ride bikes as part of everyday life. Besides getting exercise and fresh air, each person on a bike is one less person driving a car. The more choices we make that are better on the environment – sewing long-lasting clothing, shopping for secondhand items, recycling and choosing recycled products, cycling rather than driving – the less harmful impact we have on our world. Small steps add up!