As the photography gets better, the Me-Made inventory in my closet is getting lower… but I still have a good 3 days of new outfits to share. I'm proud to say there have been no repeats yet!
Day 7: A gorgeous, sunny day and a quick early morning photo shoot. I'm in my border print skirt and cool fedora. This skirt pattern (McCalls 5803) rocks, I can't say enough good things about it. Pockets and a roomy flattering silhouette make it incredibly comfortable too.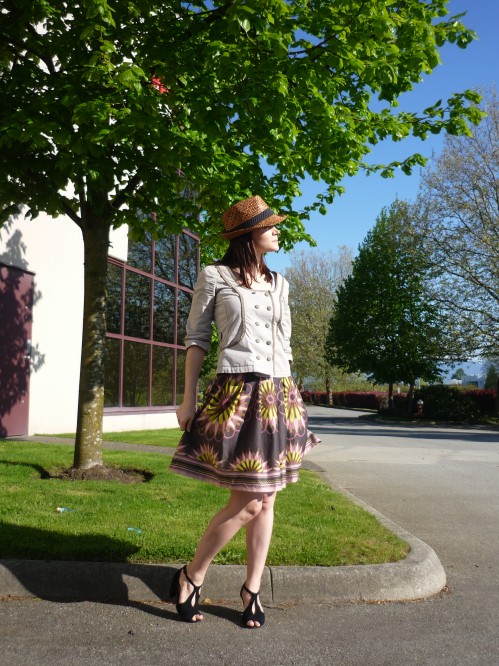 And I'm pretty impressed with my self-photography here too. Not bad for a tripod on the tailgate eh?
Day 8: Here's my casual Saturday outfit – a cotton voile skirt and tee. I made the skirt years ago, from a self-made pattern. I attached a little cream ruffle to the lining so it peeks out, super cute! I'm a big fan of full skirts, judging from all of my Me-Made outfit choices. I find them so comfortable! And instantly more put-together than jeans.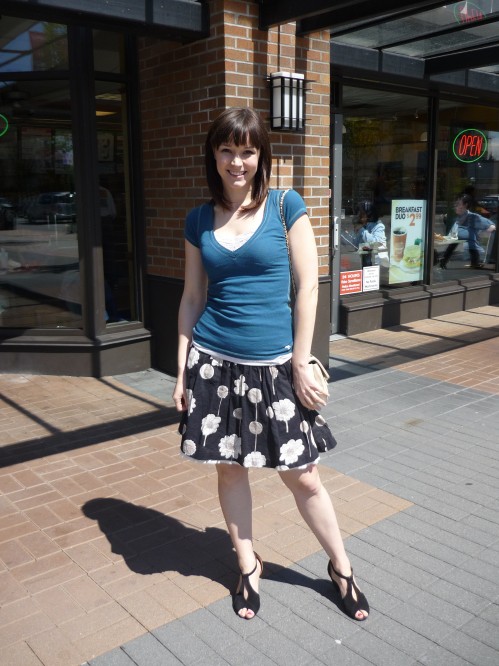 Plus, I'm definitely curvy on the bottom, and this style of skirt skims nicely over all of my curvy areas. While jeans bunch, or fall down, or crease around the legs and knees – a skirt hugs the waist and floats away from the rest of the body.
Day 9: Mother's Day Brunch. After enjoying the most excellent buffet with my guy's family (going back for seconds, thirds and a fourth mini-plate for dessert) we went for a walk along the boardwalk. What a gorgeous weekend! I'm in a stretch polyester satin wrap dress, from a Mccalls pattern. (I don't have the pattern number handy but if you love it, I can look it up.)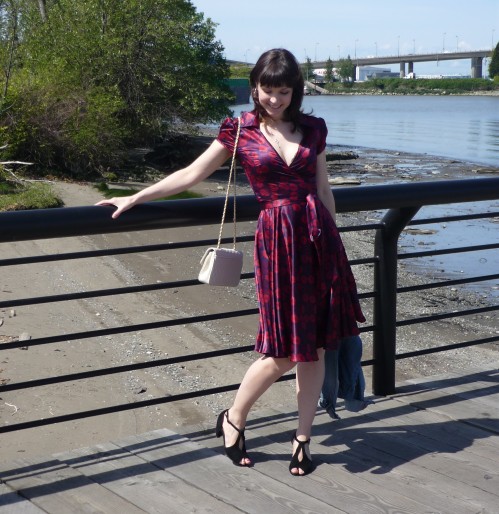 I made this a couple of years ago as well and remember it was a devil to cut out! I love that it's a wrap dress, works well for buffet dining as you can release the ties a little after a big meal – just watch the deep V neckline! It gets more low-cut if you wrap the dress loosely. I love the big floppy bow, and the full twirly skirt.
Things I don't totally love? It's a bit staticky and sticks to my legs, plus of course the polyester problems. Plus it's a bit low-cut and can slip out of place. I wore it again later in the evening for Mother's Day Dinner with my family and slipped a navy camisole underneath.
Did I get any sewing done this weekend? Yes I did! I'll make a Me-Made outfit with it and show you shortly. (No, it's not Vogue 1174. It's on hold not because it's not working, I just needed some space from it. Everything's fine, really!)