Readers, I have something NEW for today's Me-Made-May report! Well actually, I have TWO new things. One you can see, one you can't. Both are making me super excited. So here they are!
Day 5: The first thing – the one you can't see – is my lovely new tripod. It's a tiny little thing, fits in my purse (almost) and folds flat.
What it does though, is turn any place into a potential photo shoot location. If I can park my car nearby, I can photograph myself anywhere!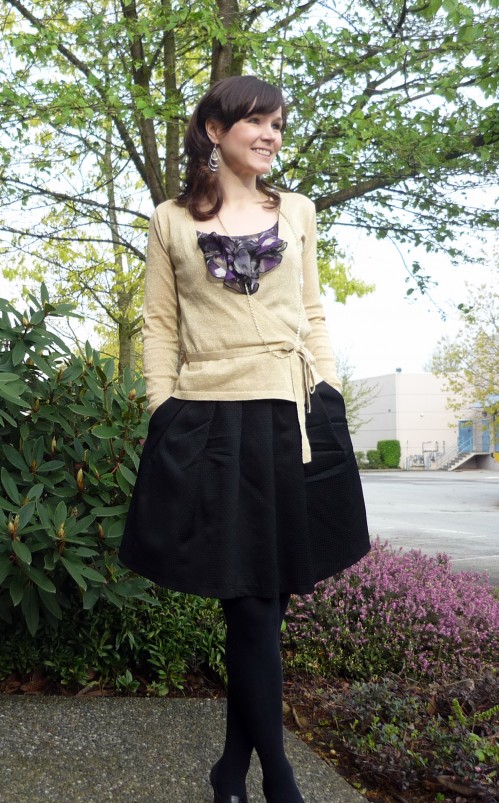 A huge thanks to my awesome man who gave it to me. Probably so I will stop asking him to take my photo!
And thanks everyone who suggested a remote, but it appears that my particular model doesn't have a compatible remote out there, sadly.
Anyways, back to today's outfit! Here I am in my Armani skirt, Forever21 blouse and Plum wrap sweater. Love this skirt, it's SO comfortable and has wonderfully huge pockets. So many good things to say about it. I will probably wear it as many ways as I can think of this month.
It does wrinkle a little though, a few of the pics I took had sitting-creases from being in the car. The second photo is before driving, so you can see it crease-free. (Yup, I made the pillows on the lounge chairs too.) Other than that, it's an excellent skirt!
Day 6: Here's the second new item, I call it my Monet skirt. I was inspired by Monet – not the artist, the talented seamstress and quilter extraordinaire! Her post here inspired me to make my own version of her pretty watercolour skirt.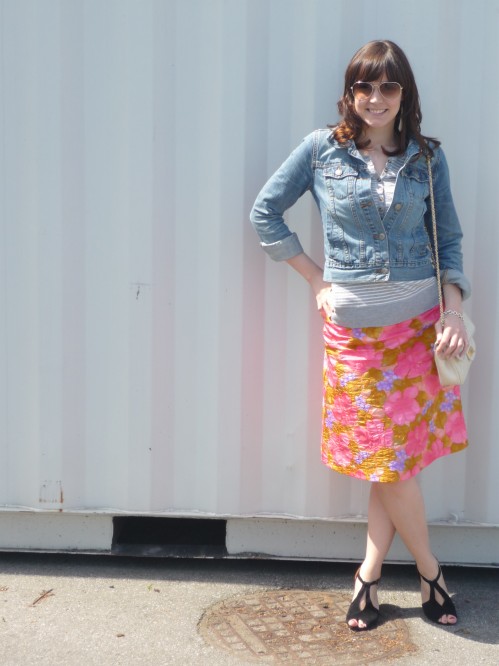 It's made from a beautiful vintage acetate I bought it online from this Etsy seller and when it arrived, I instantly LOVED it. It's from the 60's and has a cool puckery texture.
Plus, I was craving instant gratification after battling with Vogue 1174. Voila – a one-night skirt!
AND one last (non-sewing related) announcement – I am entered in the Vancouver Marathon for 2011! Scary, and yet such an exciting goal to work towards.
I've never ran a marathon before, just to give you some idea of where I'm at on the fitness scale. The longest run I've done is about 10k, but that's with some walking breaks. I love running but have kind of let it slide recently…well not any more! No excuses for skipping my run, I have a marathon to train for. (Maybe I'll become one of those people, talking about how amazing I feel after running marathons and how everyone should try it.) I've registered for the half-marathon, not the full marathon, but it's my first marathon nonetheless!
That's all for now. Feeling excited/scared about both putting together tomorrow's Me-Made outfit, and preparing for the upcoming marathon. Have a fantastic weekend everyone!