Here's the outfits from Days 3 and 4. So far, it's only been slightly challenging getting dressed in the mornings, incorporating a Me-Made garment. I sense it might get harder as the month progresses!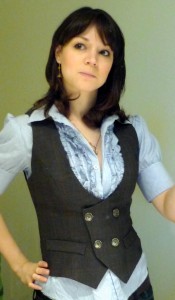 Day 3: I'm wearing a wool glencheck vest from a Simplicity Project Runway pattern, style 2556. (Yes, there's a strange expression on my face, but that was the best photo of the day…)
When I planned this project, I wanted to make the view with little loops and buttons down the front and picked out the cutest little brushed silver buttons.
Then when I got home, I realized the loop 'n' button version has a halter back. I just couldn't picture a halter-backed wool vest, so I switched to this double-breasted view. I'm so happy I did. I've worn this vest probably a dozen times or more since the fall, it's my instant office-ready look and I like how snug it fits through the waist.
If you're a C or D cup, this pattern also had cutting lines for different cup sizes which is super handy.
Things I like about this vest? Flattering, fits well and makes me feel professional. Also, it goes over so many blouses! The blue stripe in the photo isn't even the usual blouse I wear. Me-Made-May inspired me to pair it with something different, and the brown and blue worked surprisingly well together.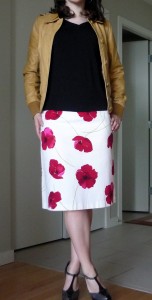 Day 4: Today I'm wearing a Me-Made skirt from 5 to 7 years ago. I know it's at least five years old, because there's a hideous staff meeting photo from 2005 of me in this skirt.
It's a stretch cotton twill that I originally made capri pants out of. Ugh, I know. If only I still had the pants – we'd all get a good laugh!
Not only were they strange and unflattering on my short legs and curvy bottom half, I'd also manage to place one of the big poppy flowers in a very strategic place. Yup. Not cute at all. But luckily there was enough fabric left after the ghastly pants to make a slim skirt – this one!
Wearing this skirt is a surefire way to spill my coffee, or lean against a dirty wall. However, this skirt survived the day averting all possible disasters. I almost never wear it because of the coffee spill factor, yet I still love the print so it stays in my closet.
What I like about this skirt? The print and the fabric. It's been around for a while and I still like it just as much as when I bought the fabric. It's cotton, so it's easy to care for and it has stretch. Other than that, it doesn't fit very well (I've lost weight) and it always gets dirty so I'm afraid to wear it. Also, I find it hard to make outfits from it (red looks toooo coordinated, black is boring) and it is too low-waisted to tuck into, or to wear with a belt.
On a side note, I'm working on the most beautiful project. It doesn't fill a void in my wardrobe for Me-Made-May, or coordinate with my other Me-Made items but it's absolutely gorgeous so far. It's a delight to work on (despite the amount of construction work) and I can't wait to finish it!
Here's a sneak peek. You can't tell from the photo but the piping is gold-flecked linen – love it! Recognize the (Vogue) pattern it's from?