Me-Made-May is over today! And while I'm relieved that I can dress freely in whatever strikes my fancy, I'm a bit sad that this celebration of sewing is ending. It's not that I won't wear the fabulous things I've made ever again, but I feel like I've been wearing them with purpose this past month.
Day 28: Me-Made wool vest again. I was thrilled to get it back from the drycleaners and worked it into an easy Friday outfit, with a blouse and black pants.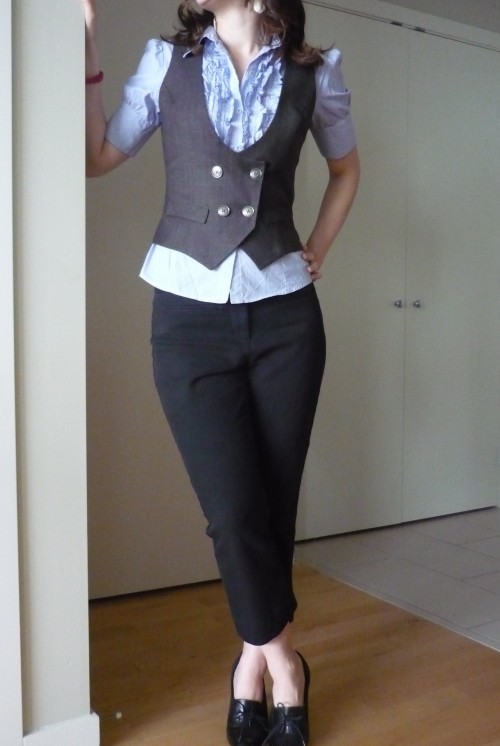 Day 29: I didn't get dressed today. How embarrassing to admit! If I wasn't blogging about it, no one would ever know but now my secret is out. I had the whole house to myself for the whole day, that's my excuse. My guy went away on a fishing trip so I made a day-long date with my sewing machine, no dressing up required. I end up sewing in my underwear most of the time anyways, so why bother?
Day 30: I had to get dressed today, after spending the whole day lounging around yesterday! Also, my guy was returning from his fishing trip, so I couldn't very well stay in my sweatpants for another full day.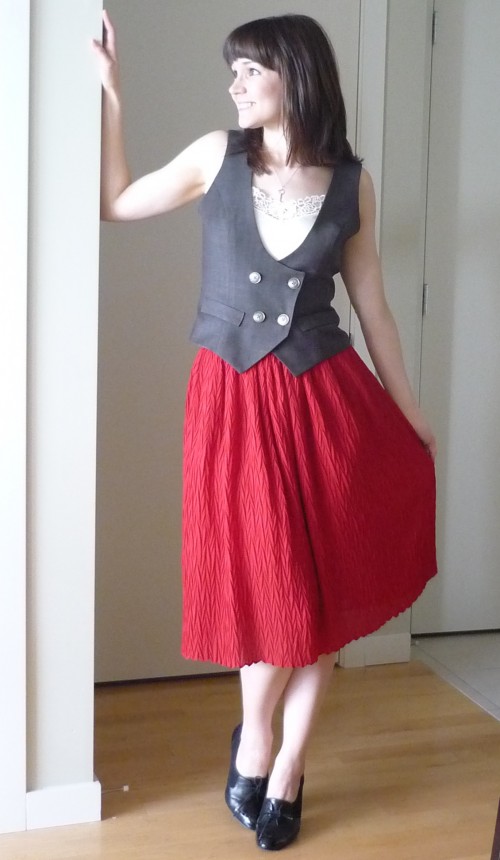 Me-Made vest from Friday's outfit, with a silk camisole and skirt. The skirt isn't Me-Made but it's somebody-made, I bought it at Value Village for $5.
It's funny, I'm so critical of my own sewing techniques but this skirt is sewn with pink thread in the bobbin and orange thread on top! (And serged in white.) I was with my sister and we were imagining what the person who made it was thinking. The fabric is a crinkly polyester crepe-type fabric and we both agreed we would have bypassed it in the fabric store for sure. Do you find the fabrics you're drawn to in the fabric store are different from the fabrics you choose when buying clothing?
Anyways, that's it for me. One last Me-Made-May outfit to report on and perhaps some reflection on the past month… Happy Monday everyone!