Oops! It's Long Weekend Monday so I'm a bit slow to post today. Enjoyed a lovely sleep-in this morning, and I have nothing on my agenda but sewing, with a few breaks to eat. It's a sewaholic's perfect day!
Day 21: Casual Friday in jeans and a Me-Made blouse. This used to be my work uniform, how boring eh? After wearing skirts and dresses mostly this month, it's somewhat uncomfortable to be squished into jeans.
Not to mention having to worry if the jeans and blouse don't exactly meet and leave a little slice of skin exposed. That's the brilliant part of wearing a dress – everything's connected, no slices of skin can peek out (unless they're intentional)…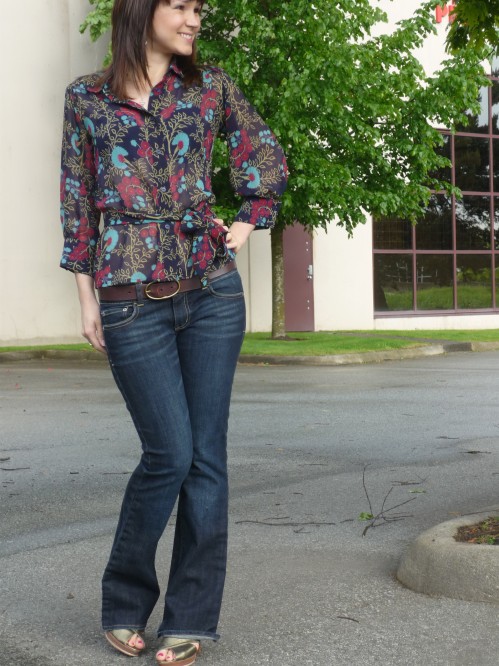 Day 22: Off to meet up with my sister, in my Monet skirt and a t-shirt. I love the fabric of this skirt, however, it doesn't really behave that well. It likes to twist around while wearing it – sometimes I look down and the side zipper has traveled to the front!
Also, I wish it was a little higher on the waist, so I could tuck my tops in. Ah well, that's what happens when you whip something up one night, without testing the pattern out first. It may be instant gratification but it's not always perfect.
Day 23: I forgot to take a picture! I rushed off to my friend's baby's christening in such a hurry that I didn't have time to pose for the self-timer.
So you'll have to trust me that I wore something Me-Made, my Lady Grey Coat over a black dress. Very similar to last week's outfit, in fact I'll just insert a photo from last week as a placeholder.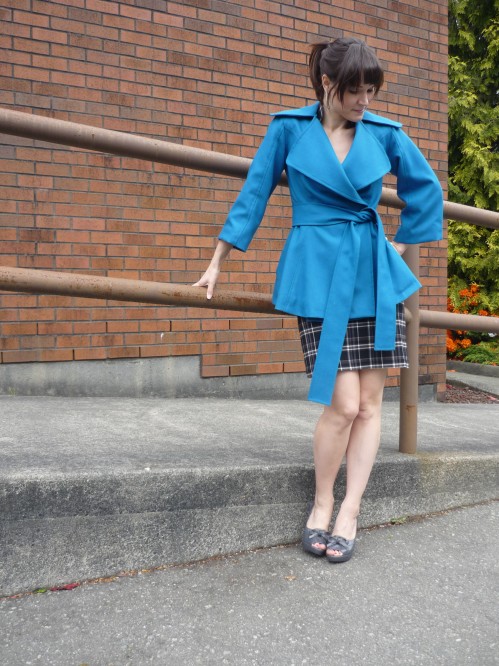 And that's it for now. As the month winds down, I feel my outfits are less planned, and more 'oh crap, don't forget to put something on that you made!'
Also, I wish my half-finished projects were completed so I could add them to the rotation. For the christening yesterday, there were so many dresses in my to-do pile that would have worked, if only they were finished.
Time to go make the most of my day off. Happy Victoria Day and happy sewing!