Whew! This is going to be a lot of outfits for one little post. Has this month flown by, or what?
Day 17: I wore the lovely Vogue 1174. Lots and lots of pictures here, but here's one just for this post. Yay for this dress! I'm super pleased with the outcome.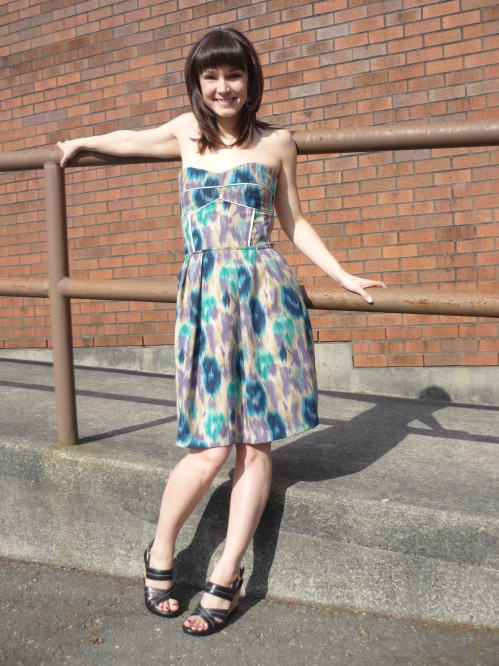 Day 18: Beware – this next one is an outfit fail.  And it doesn't help that yesterday's beautiful sunshine was replaced with rainy gloom.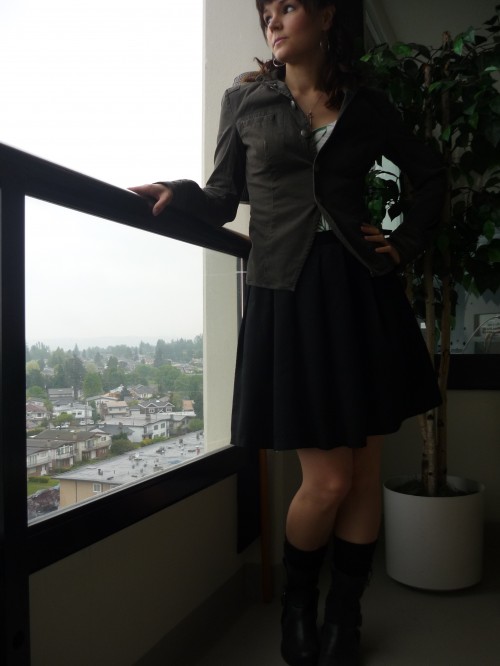 I knew after checking out the photos that it just wasn't very flattering. It's not horrible, but it's not as great as some of the previous looks. And yet, once you leave the house you've commited to wear that look all day. Isn't that the worst, when you're out there getting through the day, in an outfit that Needs Improvement? That's the day you're most likely to run into an ex. Good thing that didn't happen!
Day 19: The Me-Made item in this photo is my top – a refashioned H&M dress. The original dress was not only tent-like and sacky, but had a bad tendency to static-cling to my backside and legs. Not cute! But as a top, it's much better.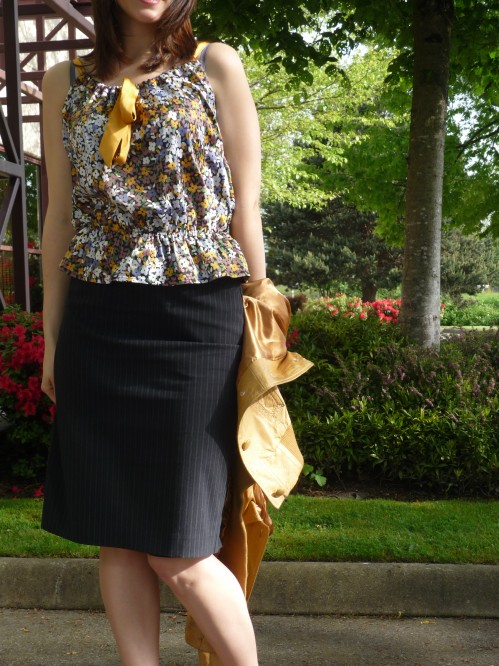 I chopped off the skirt part and hemmed the bottom but it still looked sacky. To give it more shape, I cut a length of 1/4″ elastic roughy the size of my waist, sewed it into a loop, and then stretched the loop to fit approximately 4″ up from the finished hem. I zigzagged over the elastic to hold it in place around the waistline, and voila!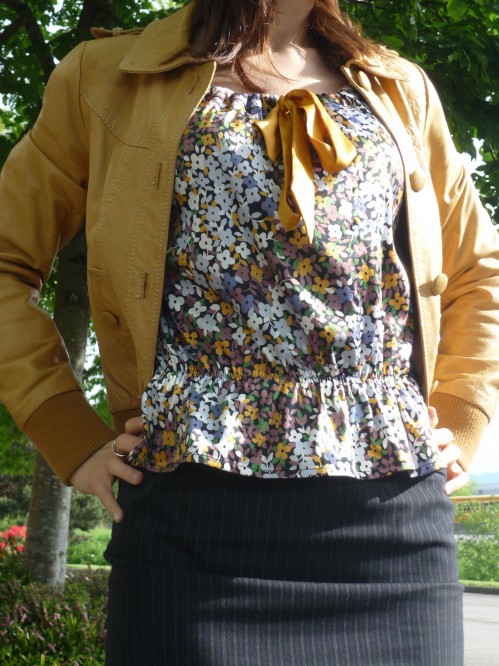 Actually, I did this top refashioning, a day or two before for my first date with my man. When he asked me out, I was SO excited but couldn't figure out if it was a friend-date or a real date. So I decided to just dress as cute as possible and hope for the best! I quickly whipped up this 'new' top so I'd have something flirty and shiny to lure him in. It's two years later now so I must have done something right!
Day 20: I love how colours can pop on an overcast day. Case in point – today's photos! The turquoise wool coat is bright on its own, but looks even more vibrant on this grey morning.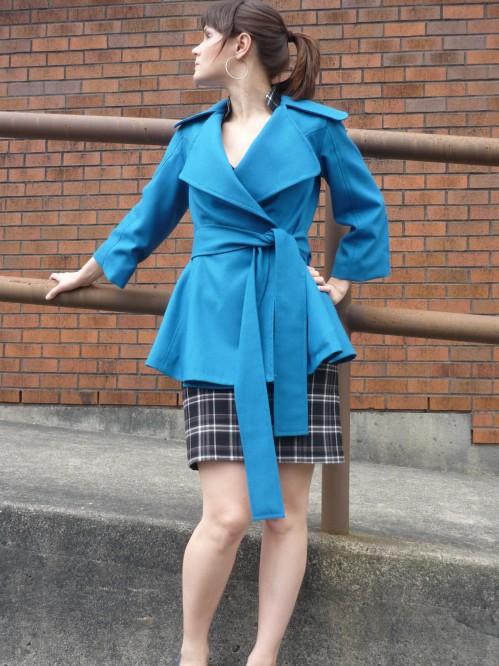 Too bad I didn't run fast enough for the next one – it looks so promising! Had to include it anyways.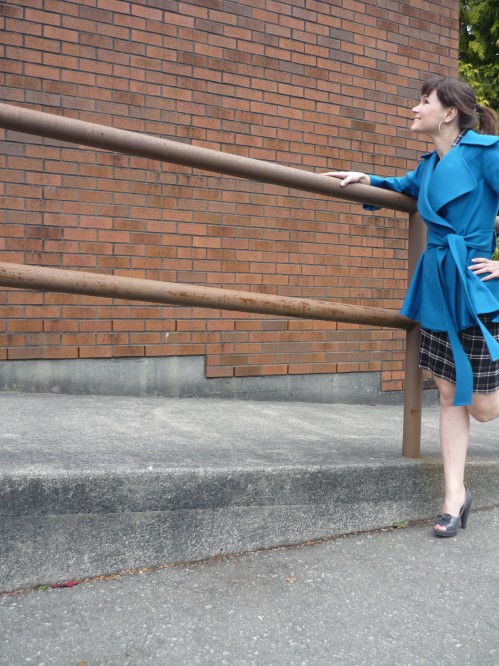 What was cool about this outfit, was that people didn't think I'd made it. One of my co-workers and I had an entire conversation about the coat, and the whole time she assumed I bought it! (It was only when I proudly pointed out the bound buttonhole, that she realized it was handmade!)
Well, that wasn't a quick post at all. Thanks for staying with me!
We're now two-thirds of the way through the Me-Made challenge. And so far, I've done it! I've worn at least one item created by me, every day. Feeling proud of my handmade wardrobe, and excited to keep it going.
ps. It's Half Price Notions at Fabricana this long weekend again. Vancouver seamstresses, time to stock up! I'll be picking up lining, for everything I forgot I needed to line…
pps. Not in Vancouver and still looking for a sale? Colette Patterns is having a sale as well. Sign up for the newsletter to get in on the savings! In fact, if you liked my turquoise wool coat from Day 20, it's Colette Patterns' Lady Grey. The big question is, which ones do I need to add to my collection next?
Have an excellent weekend everyone – and an extra special long weekend to my fellow Canadians!