Almost halfway through the month! Me-Made-May has been a blast so far. It's been an interesting challenge putting outfits together every day. I've felt a little boost to my ego talking about my creations to everyone, which was quickly balanced by humbling moments while editing all of my photos (my hips, my legs, my goofy faces!) and choosing which ones to share.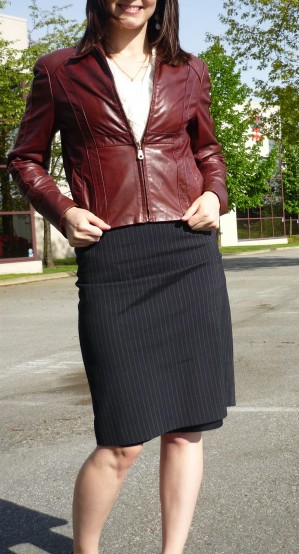 Day 12: Yes, this is my project from last weekend! Guess which item is the Me-Made one… would you believe it's the leather jacket!?
While technically not Me-Made from scratch, I did save this one from Value Village, giving it a new life with a brand-new zipper and shiny new lining. That was a really interesting project – and I mean interesting in that I'm glad I did it, but likely wouldn't do it again.
The best part is that for the cost of the thrifted coat, just over a metre of lining and a new zipper (under $50), I got a nearly-brand-new leather jacket.
In case you feel inclined to try it out, I'll share my steps to replacing a coat zipper and replacing coat lining with you soon. (Guess which of the two jobs was the hardest?)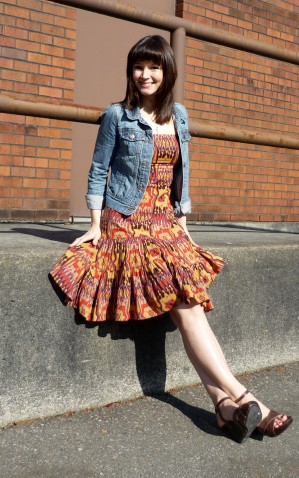 Day 13: Today I'm wearing this dress
again – last time it was on the weekend so it's been a while since I wore it to work.
I know what you're thinking – I'm really lucky that I have the freedom to wear whatever I feel like to work. It's a cool, creative environment where personal style is accepted and encouraged. And this month, I really appreciate it!
Love the comfort of this dress, the cotton fabric and the swishy tiers. I should make more versions of this dress…maybe in white eyelet, or is that too farm-girl?
Also – thanks so much to everyone who commented on my Vogue 1174 work-in-progress! I've now attached the lining and foundation. All I need to do is slipstitch around the zipper, add hook and eyes to the foundation and zipper, and hem!
A couple of you were curious about the inside of the dress. Which is always the mark of quality sewing, if it looks as nice on the inside as the outside. You be the judge! (It's not finished yet, so be kind.)
Here's the dress, completely inside out. See how the foundation is on top of the lining, next to the body?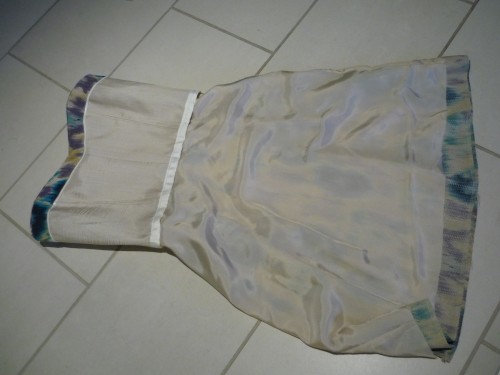 This view shows the foundation, turned back into the dress where it would sit: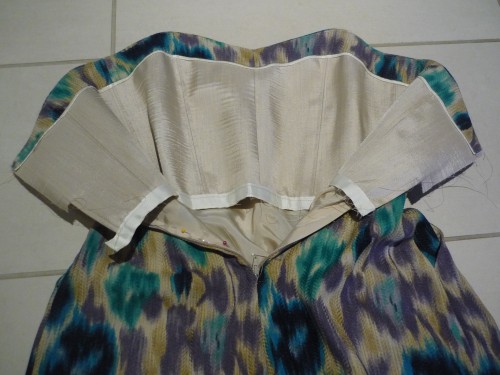 Here is a close-up of the inside of the foundation. It's made of hair canvas (super thick interfacing) attached to a layer of lining, and basically stands up on its own…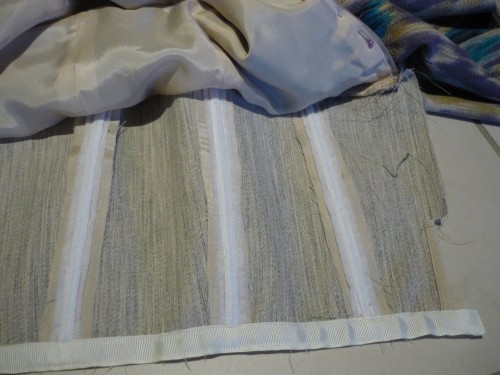 What I like about this dress is the attention to detail. Even on the inside, there's piping along the facing edge. It adds a nice finishing touch!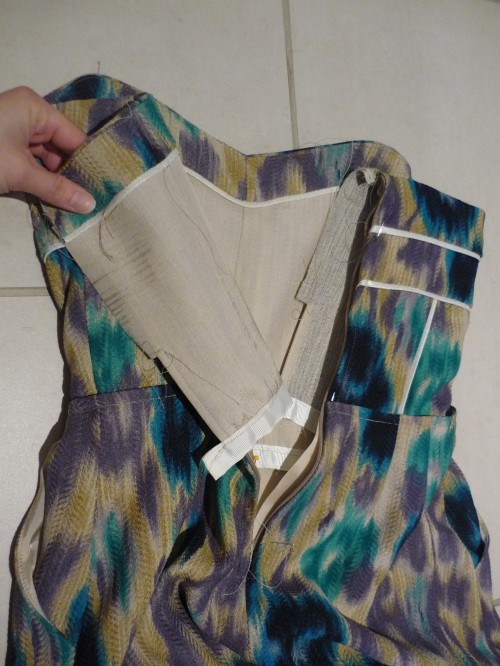 Here's what happens if you pull the corset out. Basically, you have a complete lined dress, plus the built-in corset.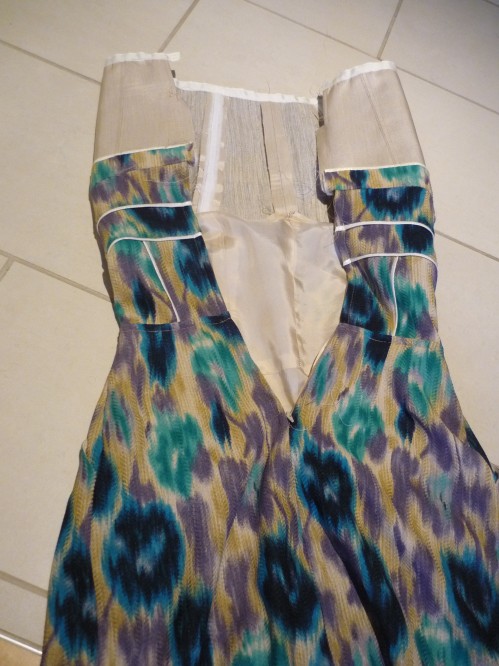 The cream grosgrain ribbon on the bottom of the foundation will form a waist stay when the dress is finished, which anchors the dress to your waistline and holds it in place.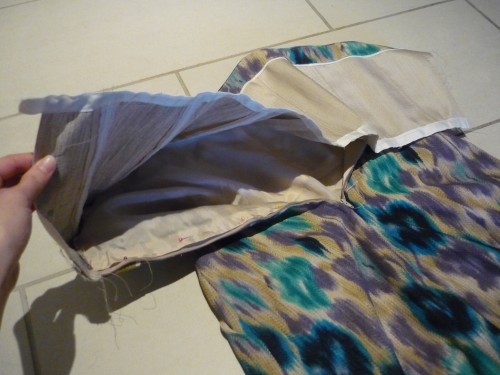 And that's all for now! If you have questions about the making of Vogue 1174, please ask in the comments and hopefully I can help. It's a fairly advanced pattern, but nothing that I can't handle, just a lot of steps to construct.
If all goes well this weekend, I'll have finished dress pictures to share on Monday. Have a fantastic weekend everyone!