The weather has been gorgeous here in Vancouver! First, a wonderfully warm and sunny weekend, and then two more days of sunshine.
So I haven't worn my weekend creation yet, as it's been just too nice out. I've just about run out of new items to wear, so I'm starting to recycle items from the first 9 days of May… hope it doesn't start to get boring!
Day 10: The Armani skirt comes out again. I'm really happy that I finished this skirt in time for Me-Made-May, as it works so well with the rest of my wardrobe. Wonder how many different looks I can work it into…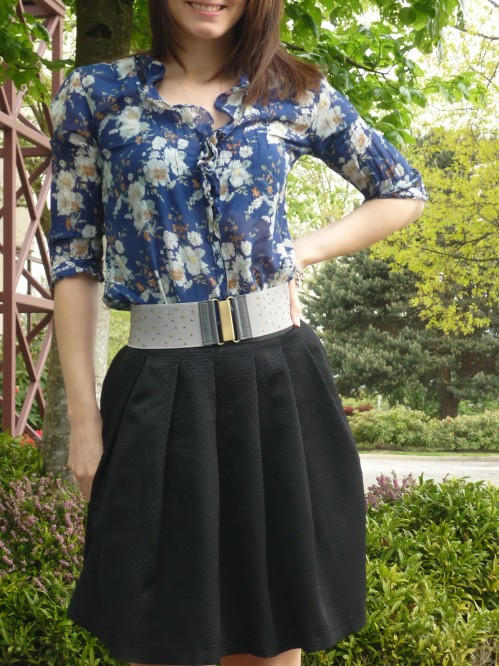 Day 11: After uploading my pictures, I can see that these two outfits are really similar. Both full skirts, both with printed blouses.
Hmm…I suppose, if you know that a certain silhouette works for your body type (and more importantly, if you feel comfortable in it) then work it as much as possible!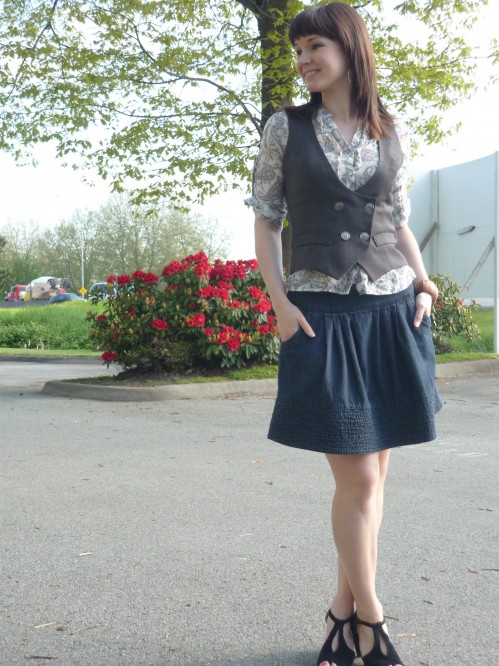 I really like this vest, it's such a well fitting piece of clothing and helps to anchor an outfit. Like today, this blouse underneath is kind of boxy and shapeless. If I hold my arms out it hangs straight down like a square. But with the vest – instant waistline!
I'd make it again, but am not sure what fabric to make it out of, since I already have this office-style wool check version. What would you suggest? I keep thinking maybe seersucker stripe is the way to go, for summer, but is that too cutesy? Maybe a white-with-tan cotton twill stripe? I just want an excuse to pick out more buttons, that's all!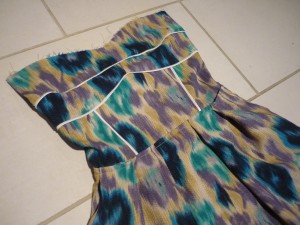 AND – here's a Vogue 1174 update! I have finished the shell, and am working on the foundation and lining.
The built-in foundation is such a great idea! It's like a corset, but built into the dress, made of hair canvas with boning along the seamlines. That's a lot of construction! I haven't seen a pattern with so much structure, ever.
I'm pretty pumped about the finished dress though, not only is the fabric super pretty but I feel confident it won't fall down. No wardrobe malfunctions for me. So close to finishing this one – my goal is to finish it by the weekend. Wish me luck!