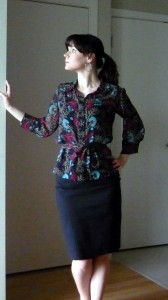 Happy Me-Made-May to you all!
Day 1: There's me on the left, wearing my Saturday morning Me-Made outfit. It was my best attempt at Me-Made business casual for my Shop Assistant shift at Dress for Success.
The sheer polyester chiffon blouse is from last fall, before I started blogging. It's from a Simplicity Project Runway pattern, style 2807. Overall I like how it turned out, but hated sewing with the sheer, slippy fabric.
The thing I like most about the finished blouse is the waist tie, that doubles as a neck tie depending on how you want to wear it. It's loose and flowy and comfortable to wear all morning.
What I dislike most about this blouse is the fact that it's polyester. Even though it's sheer and loosely fitted, after a couple hours of wearing it needs a wash. It's a 'wear once, wash once' kind of garment. Though, it does dry instantly after washing, so it's easy-care. I bought the fabric because I loved the print and colour combination, enough to overlook the fact that it was polyester.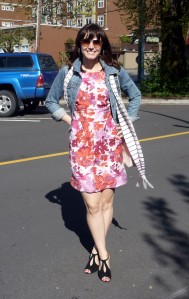 After my volunteer shift, I had plans to watch the hockey game with some friends – Go Canucks!!!  and then off to my girlfriend's birthday party. The business look and polyester-ness of the morning's outfit wasn't going to work for the bar, so I changed into this outfit.
Ah yes, the slightly-too-short dress. At the bar, I figured no one would be looking at my legs, they'd all be focused on the playoff game. That's the only thing I don't like about this dress, I feel like I'm flashing a lot of thigh when I sit down in it. Not the cutest body part to be showing too much of… I might try wearing it with lightweight tights next time.
Things I love about this dress? It's a one-piece instant look. Just throw on a light jacket and you're good to go. I bet you'll be seeing a lot of dresses this month! There's just something about wearing a dress that makes you feel instantly put-together. And in the floral print it's casual enough for the bar. (I couldn't wear my Canucks jersey, as I didn"t have any me-made bottoms to go with it! It would look a bit ridiculous with a printed skirt…) Plus, if someone spills beer on you, the rayon dries really quickly. I've prewashed the fabric, so I know nothing tragic will happen on laundry day.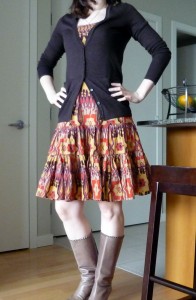 Day 2: Meeting friends for dim sum, I wanted something casual and comfortable that still looked cute. Are you surprised I went for another dress?
It's my resort dress I finished in February, a lightweight cotton tribal print version of Vogue 8185. Topped off with a merino wool cardigan and my lucky-find thrifted boots, it was a pretty good rainy-day-in-Vancouver brunch outfit.
Things I like most about wearing this outfit? Comfort. It's such a comfortable dress – fitted at the bust and loose everywhere else, plus it's cotton and has swishy tiers. Plenty of space to eat sticky rice, chicken knees and shrimp dumplings at dim sum – ok, just kidding about the chicken knees! I love wearing this outfit, I could wear it all day and not feel desperate to change into sweats the moment I get home.
Things I don't like about this outfit? I have nothing I don't like about this dress. Fit, comfort, length, fabric – everything passes the test in my mind. I only wish it could pass for business casual so I could wear it volunteering. (I probably could if I wore a blazer over it, actually.)
What have I learned from Me-Made-May so far? Well, I am starting to talk about what I'm wearing, mostly because friends that read my blog know that at least one thing on my body was made by me! And it really is fun 'styling' my handmade clothing into outfits. I have a feeling by the end of the month there will have been a lot of outfit repeats. I hardly did any sewing this weekend! Definitely no new finished clothes to wear for the week.
But, I have started to master my self-timer on my camera. I had to leave the house at 7:30 AM Saturday morning, and didn't want to wake up my guy just to take my photo. I used the dining table as a tripod for the first and last photos above. Not too bad, eh? Anyone have tips for taking good pics with the self-timer? Leave 'em in the comments!