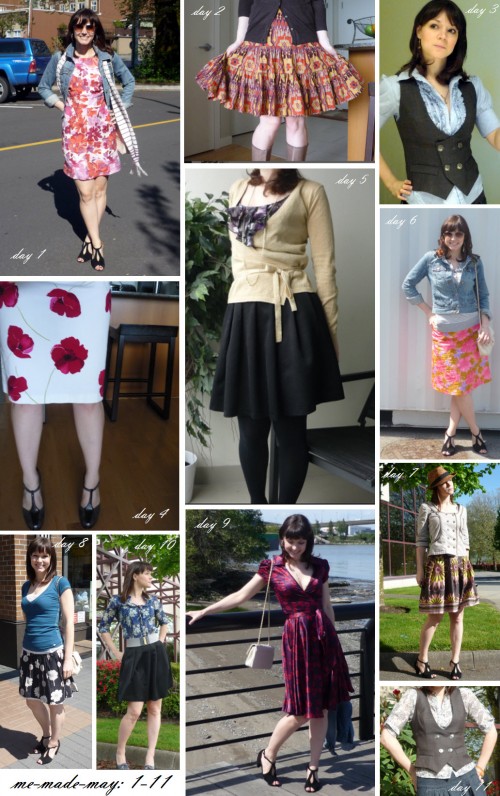 What did I learn from Me-Made-May? For one, you put more effort into your outfit when you know you'll be on camera! I can't just throw on any old thing and run out the door, a little more thought is required.
During May, I tried to spent a little extra time on my accessories, hair and makeup as well. And I really noticed the little things I hoped no one would see – wrinkles, dangling threads, and the skirt with lining that hangs below my skirt hem. You think no one will notice these little things, until there's photo evidence…
This past month also made me think about how much clothing one person really needs. I went an entire month without touching so many garments, that it makes me wonder how long it's been since each item's seen the light of day? Do I really have clothes that haven't been worn in months? How about years?
So why am I holding on to these things? I have things that I purposely didn't wear during the Me-Made-May mix because I didn't want to photograph them on myself. Maybe that's a sign they need to go?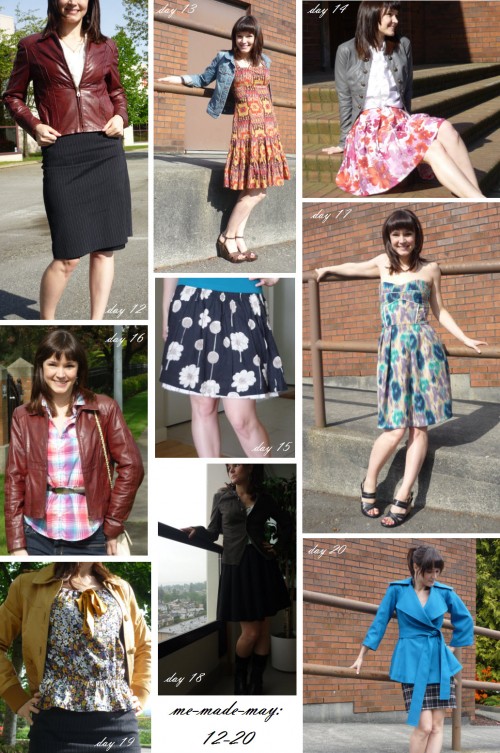 It also made me think about how un-special some of my purchased clothing is, if I don't love it, why am I keeping it? I have a couple theories I use for clothing purges: 1 – would I want to run into an ex wearing it? 2 – if it was stolen/lost/burned in a fire, would I miss it? If the answer is no to either of these questions, then it goes in the giveaway pile. I think I'll be doing a little closet-cleaning shortly and really evaluate why I'm keeping each item. I certainly don't need more clothes.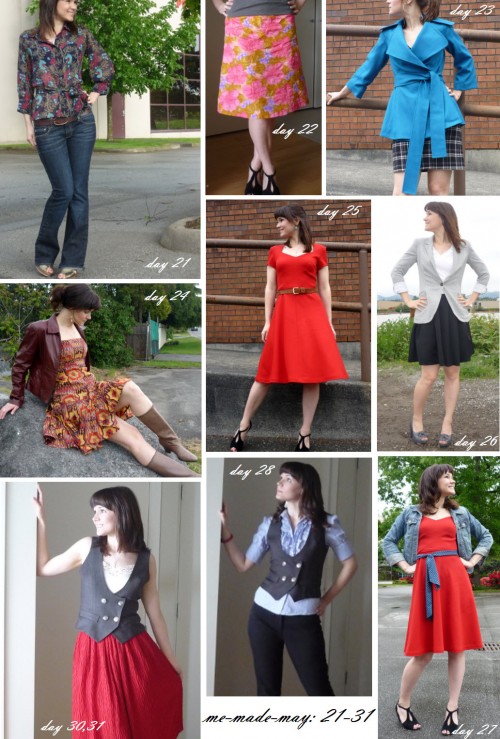 I had to take my vest in for drycleaning, so I could wear it a few more times this month. When I dropped it off, the woman made me pay cash since it was only one item, as sometimes people don't bother coming back for one item. And I thought – but I made it! I love it, I used nice bemberg lining and spent a long time picking the perfect buttons for this vest – of course I'm coming back for it!
Also, it was pretty cool to have an excuse to wear a strapless dress to work. It could have easily been a garment that hangs in the closet for a long long time before I had the guts to wear it out of the house. (Strapless is scary! Plus when you spend that much time on a project, you feel that wearing it might ruin it, somehow.) Not only did I want another option for Me-Made-May but I wanted to take the pictures for my blog… which leads into my next point.
It was fun/challenging/awkward to evaluate photos of myself every single day! It's one thing to pick a photo for a project, but to choose photos based on how I look was hard. I started to enjoy it after a while, especially as my photography skills improved. It was kind of nice to look at a photo of myself and think, wow, I look pretty good!
And then immediately felt kind of embarrased for liking photos of myself. I'm not sure how to explain this properly but I felt a bit showy and self-important. Look at me! was what my blog said every day. And normally, that's not my style. Get the job done, work hard, keep my head down, stick to my schedule – that's my usual routine. It's almost like this awakened a part of me that likes the spotlight – and even stranger, I kind of liked it!
I loved reading comments from people who've never met me, saying they liked my style and liked my outfits. People all over the world were reading my stuff, looking at my finished sewing projects and saying nice things! Can you believe  I was shy to admit I'd made something, previous to this challenge?
In high school I loved sewing, seriously LOVED it. I'd skip my other classes to hang out in the sewing lab! But it wasn't cool to like school, or be successful and get good grades. The cool girls sat in the back of the sewing lab, worked on the same wrap skirt all year long, and made snide comments. I'd proudly wear a dress I made only to have my bubble burst by the so-called cool chicks. Even when I wore jeans and sneakers, they'd say 'Did you make your backpack? Did you make your jeans? Did you make your shoes?' So it became natural to not mention if I made something. Why open myself up to that? It's almost like pretending you hate math because everyone does, even when you secretly kind of like figuring out what happens when two trains leave the station at different speeds…
Well, that veered a bit off-topic from where I intended to go with this post… so thanks for listening. I guess what I'm trying to say is that I'm so happy to have this blog, and readers who are as excited about sewing as much as I am! I love that I have an outlet to create and share. I never expected so many people to read it, much less leave such lovely comments. So thanks so much for visiting, commenting, and being such awesome readers!
And thanks to Zoe for leading this challenge! It's been a fun way to showcase my handmade creations, and led a bit of self-discovery as well. If you follow her blog, you may have already heard about the next chapter in the handmade revolution – Self-Stitched September!
I've already made my pledge:
'I, Tasia of Sewaholic.net, sign up as a participant of Self-Stitched-September. I endeavour to wear 1 handmade or refashioned item of clothing every day for the duration of September 2010.'
Join us, won't you?