While Caroline was fearlessly leading the Saltspring Sew-Along, I made a dress! It's the first thing I have made for the upcoming fall. Truthfully, I didn't think about fall or planning ahead. I saw the fabric, fell in love, and had to have it! It's from Gertie's online fabric shop. Does she have great taste or what?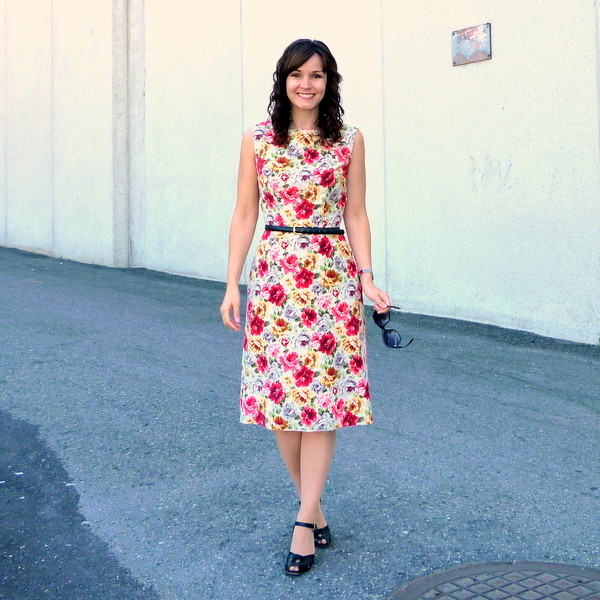 The pattern is McCalls 7743, seen here and here. This is my favourite of the three versions by far!
I have adjusted the pattern to perfection on this one. The bodice is only 0.5cm longer than the original pattern, just a touch longer than this one with no adjustments, and 1.5cm shorter than this one with 2cm added.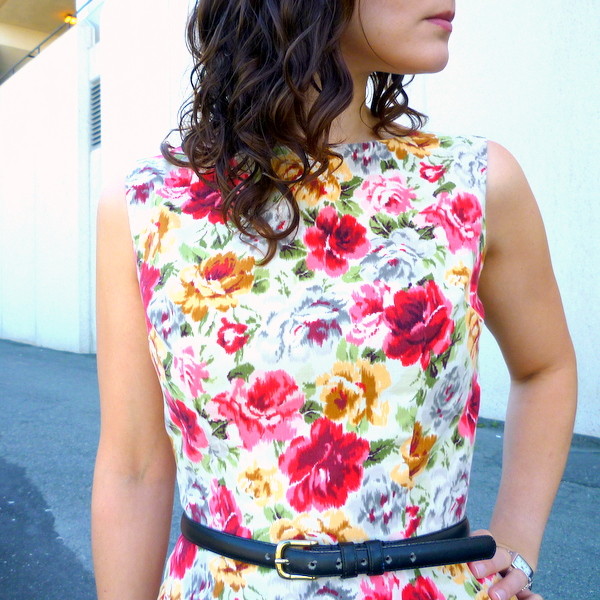 I lengthened the skirt to the original pattern length. That makes it about 4″ longer than the first two versions. As I get older, and because I ride a bike regularly, I actually prefer my skirts longer than I used to. This length is perfect! Normally patterns are too long for me, so this must have been designed to be a little shorter. But I love this more sophisticated length. Like you guys suggested after the Little Letter Dress, it's a more elegant look.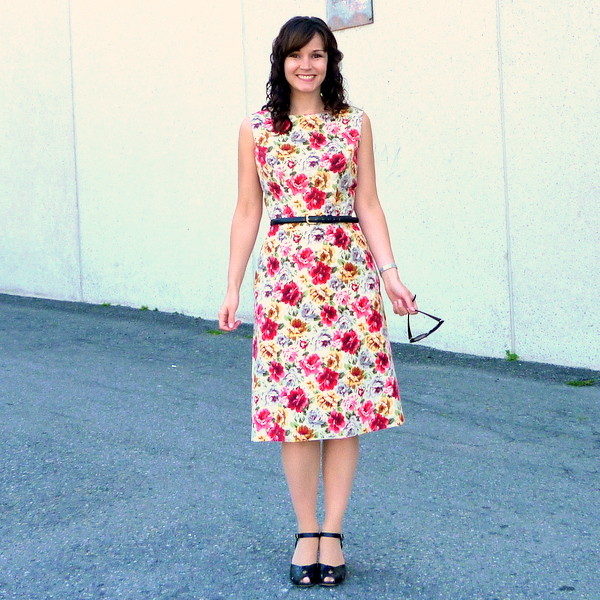 The hem looks crooked in this photo but I think it's because the alley is on a slant. I swear it's even… it looks even in the first photo at least.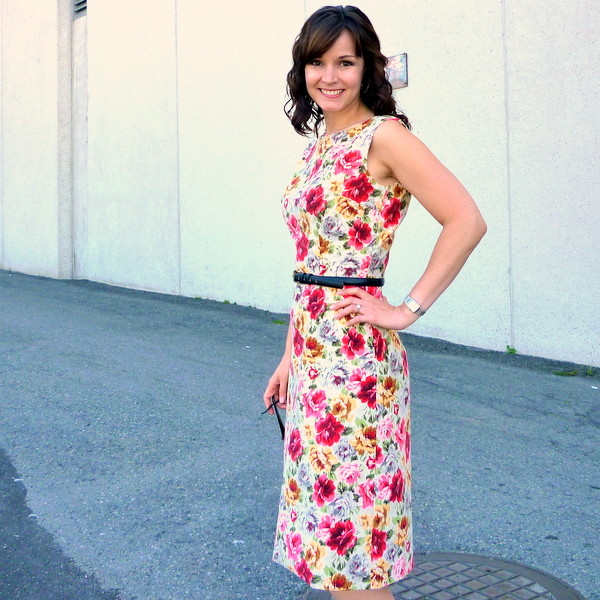 I also raised the neckline back to the original boat neck, and I think it's a better style on me. I like how I look in boat neck styles.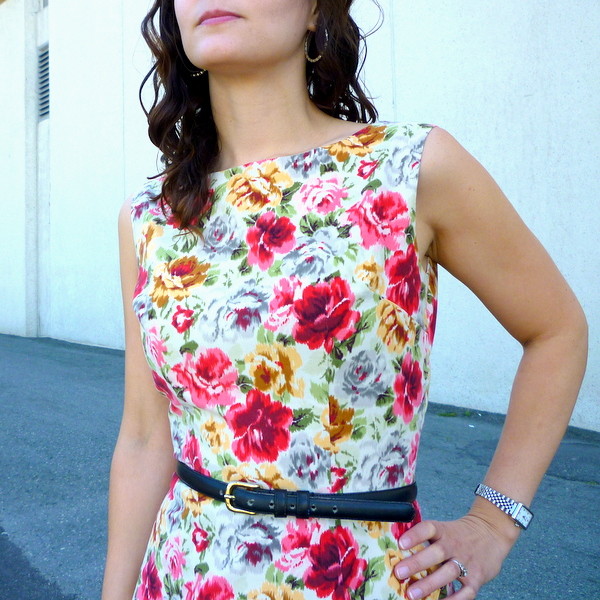 I had to sacrifice the bow belt for the added length. It was one or the other! I decided I wanted the longer length more than I wanted a matching rose corduroy belt. It's too coordinated. A belt like this thin black one helps break up the floral print. Matching would just get lost in the print.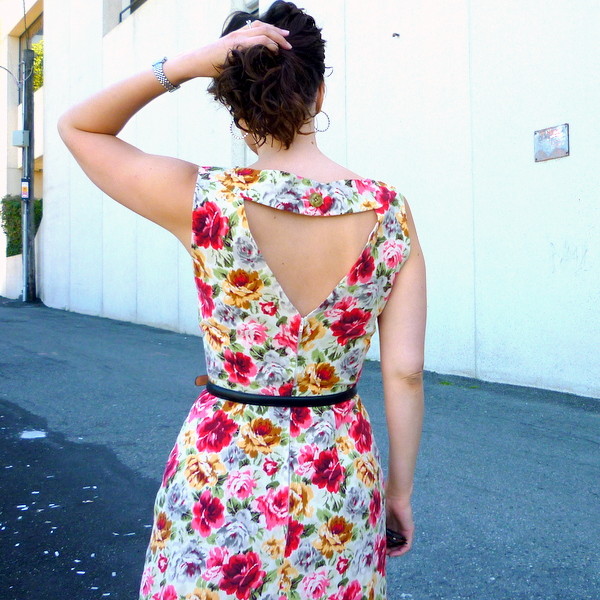 It is the absolute perfect fit for me. Fitted but room to eat and room to bike. (Though I love it so much I fear cycling in it, just in case I fall!)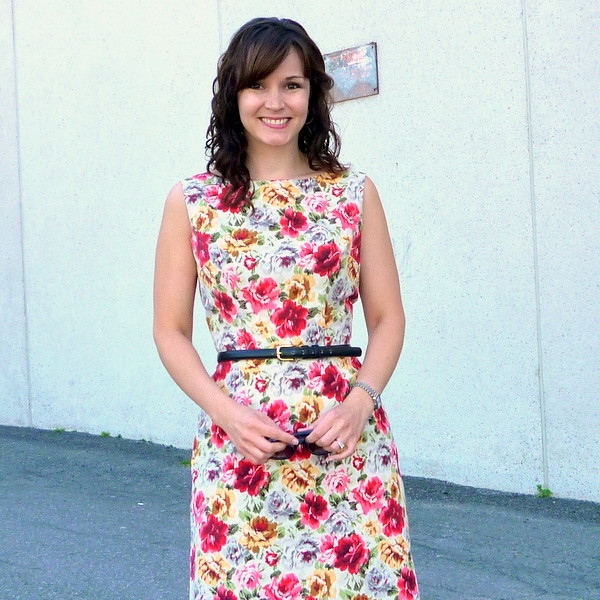 The rayon lining is so soft, it feels fantastic next to the skin. I added lace to the hemline,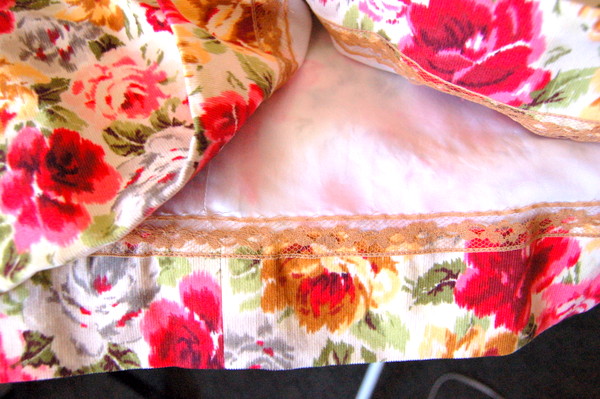 and a cover over the end of the zipper.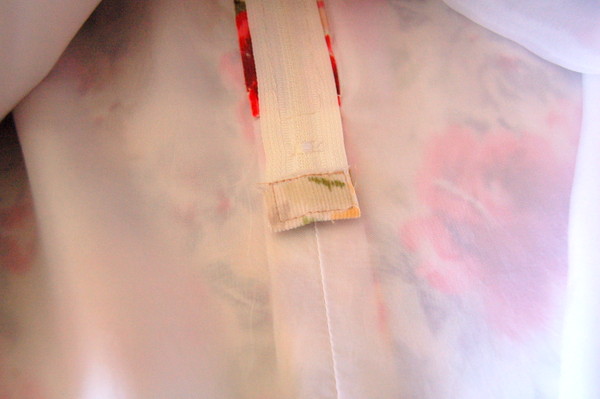 Can you tell how much I love this dress? This is the benefit of making the same pattern multiple times. I went back and forth adjusting the bodice length, changing the hemline and the neckline, until I found the perfect combination.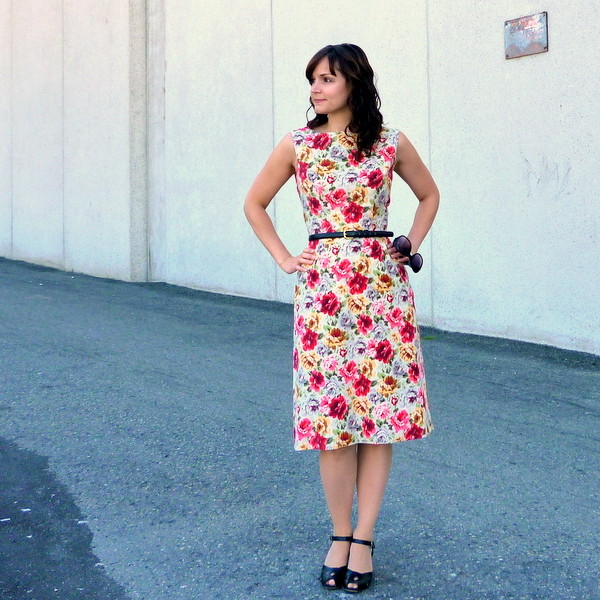 I love that the fabric is floral but works for fall. I love a good bright flower print, but it can look a bit out of place with wooly tights and scarves. This one would totally work with ribbed tights, a fitted winter coat and knit beret. It's a winner!
Check out the other versions of this dress here: