I've decided, I want to make Christmas presents this year for everyone! Is it too early to talk about Christmas? I swear I heard a Christmas song on the radio the other day…
Anyways, I've never made gifts for people before, usually because I'm too busy sewing for me, or not sewing at all. I'm not the biggest holiday person either, I could just as easily skip the whole thing and hop a plane to somewhere tropical! (Wouldn't that be lovely?) I'm also one of those people you see running frantically around the mall on Christmas Eve Eve, when they have the special open-till-midnight hours for the desperate last minute types. So this year, I resolve to be prepared!
(If you are my real-life friend or family – STOP READING NOW. Seriously. You'll ruin the surprise!)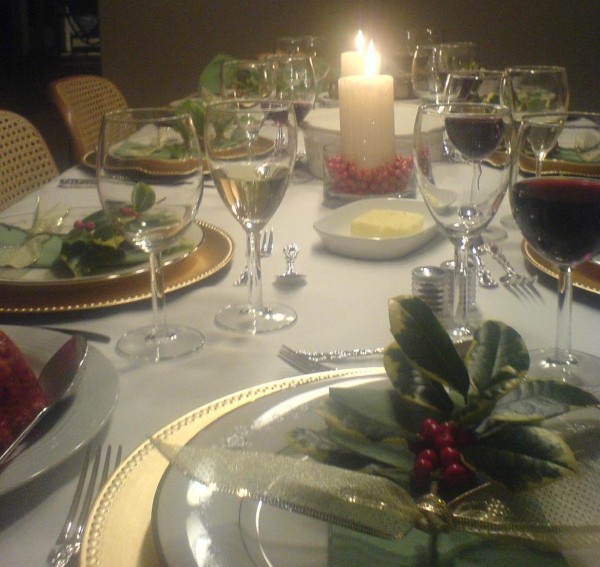 I really want to give handmade gifts for a few reasons:
It's more thoughtful. It takes more time to choose a gift and make it, instead of just picking up a gift cards.
It's one of a kind! There's no chance you'll be giving the same gift as someone else.
Money goes farther. I can make something for less than I would spend at a store, and it's hard to put a monetary value on a handmade gift. Compare that to a gift card, where everyone knows you spent $25 on each person.
It's more eco-friendly, especially if the gift itself is reusable! Think about things made in China: they came from an air-polluting factory, flown over on an airplane and wrapped in tons of packaging – all for a few minutes of entertainment.
People don't need more stuff. There aren't a lot of kids in the families, and the adults don't need anything.
Here are some of the gift ideas I'm considering:
Kitchen goodies, good for party hosts and hostesses! Aprons, placemats, potholders, and reusable cloth napkins. Look at Stephanie's super cute lemon napkins. Easy and cute, no? And a great way to use fun prints, that are too cutesy for clothing.
Cloth shopping bags. Everyone has to buy groceries! I could make some that are way cuter than the store-bought options, Christmas-themed or not.
Stuffed toys, for the kids. I don't have kids, what age are they too old for a stuffed animal? Leave me a comment if you have suggestions. Again, no chance I'll give them the same store-bought toy as someone else.
As for Mr. Sewaholic, I have a REALLY good gift idea for him. We've been watching Mad Men from the beginning and are totally hooked, so I'm going to make him a shirt with french cuffs, and buy a pair of vintage cufflinks. Yes, I've already told him, it would be too hard to fit it without him knowing! And he's pretty excited. Guys have just as much trouble fitting their unique bodies as we do, so a custom made shirt is a big deal!
My friend Suzie wrote an upsetting post about making baby gifts for an unappreciative recipient. In the material world we live in, is this going to happen to me? Should I just not waste my time?
Do you make Christmas (or other) presents for your friends & family? Do they appreciate the gesture, or wish you'd given cash or giftcards instead? How far in advance do you plan, and do you get it all done in time? And, am I crazy for even considering making Christmas gifts while trying to launch a pattern line and work full-time?