On a project like the Granville Shirt, there's a lot of topstitching and edgestitching. If you're using a very small stitch length, like I am, you certainly want to avoid unpicking at all costs.
Here's what I did – I made a topstitching and edgestitching cheat sheet!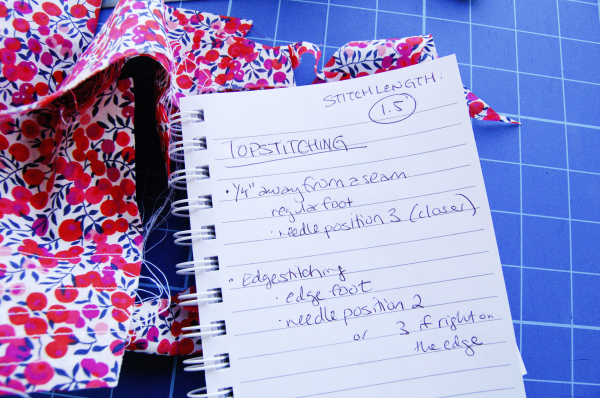 It's just a scrap of paper where I noted stitch length, foot, and needle position for different types of topstitching.
I found it easier than having to think each time I had to stitch, or eyeball the proper distance. This way, all of the topstitching on your project stays consistent.
Some machines allow you to program 'favourites' and save your stitch length and stitch pattern for different functions. I use this for lingerie sewing, I've saved the wide zigzag, narrow zigzag, and bartack-size zigzag. It's easy to switch back and forth without having to press the stitch width buttons repeatedly. If your machine doesn't have the favourites function, having a notebook handy makes it easier to remember your settings.
What do you think – is this helpful? Do you already do this?
ps. Check out all our posts on shirtmaking here!