And now, for something completely different – owl-print fabric napkins! I keep calling them 'Hootlet' napkins, after the Hootsuite owl. (Anyone else think the Hootsuite owl is incredibly cute?) Remember this fabric from last week's trip to Spool of Thread? I made these napkins up yesterday and I'm pretty pleased with them.
Ok, saying 'napkins' is a bit of a stretch, as I only finished one. Narrow hemming is slow! But I had to choose to finish the napkins or write up the tutorial, so I picked the tutorial. Just for you!
LisaB wanted tips on making napkins without a serger, and I know not everyone has one, so I've done my napkins using only a regular sewing machine.
Aren't they cute?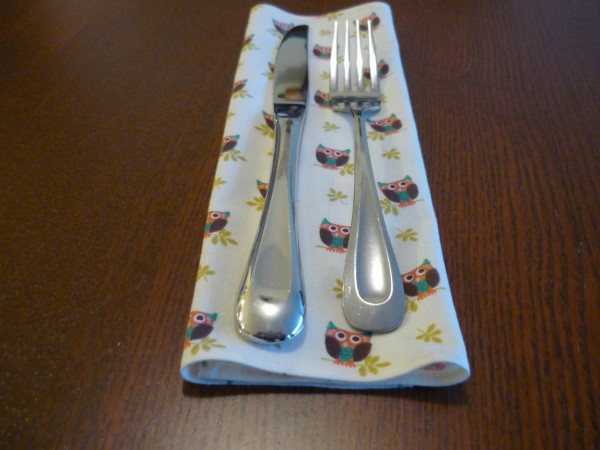 Here's how to make your own! Wouldn't this be a nice hostess gift for Christmas? (Goes well with holiday baked goodies!)
You'll need:
a yard of cotton fabric. I used two yards to make 28 napkins, one yard will give you 14 small-sized napkins.
matching thread
ruler and marking pen
scissors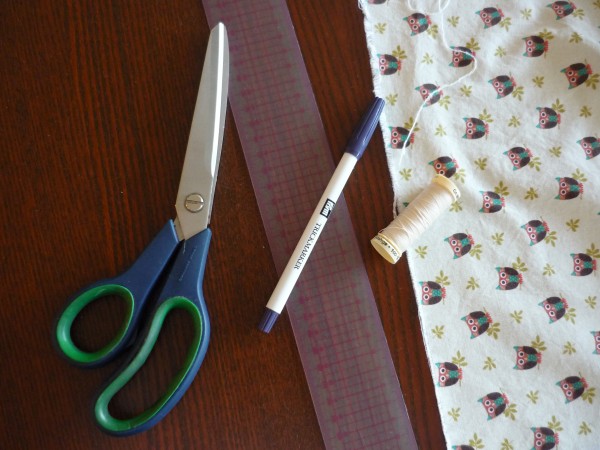 First, pre-wash your fabric. Technically, you don't have to since we're not concerned about fit, but I like to pre-wash and dry everything to remove any sizing, so the fabric's nice and clean.
If you've pre-washed your fabric, iron it out to remove the wrinkles.
Next, carefully trim off the selvages. This will give us as much usable fabric as possible! If you have white selvages, trim right along the white line.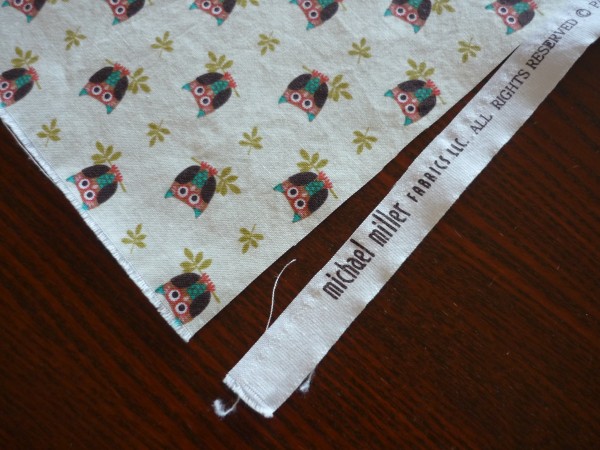 If your selvages are printed, trim where the fabric changes texture (seen in the photo below:)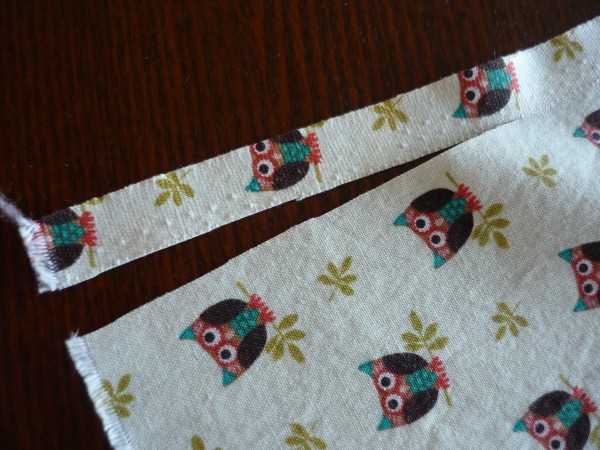 We'll check to make sure our cut ends are on-grain as well. Often when you buy cotton fabric, the salesperson will tear the ends instead of cutting, which I prefer. You can do the same thing at home. Make a snip about an inch from the cut end, and pull! (I'll show you how to do this, later on in this post…) Or if you prefer, use a square ruler to draw a line at a right angle to the selvage and cut across the line.
After trimming the selvages and evening out the cut ends, we'll divide up the remaining fabric into our napkins.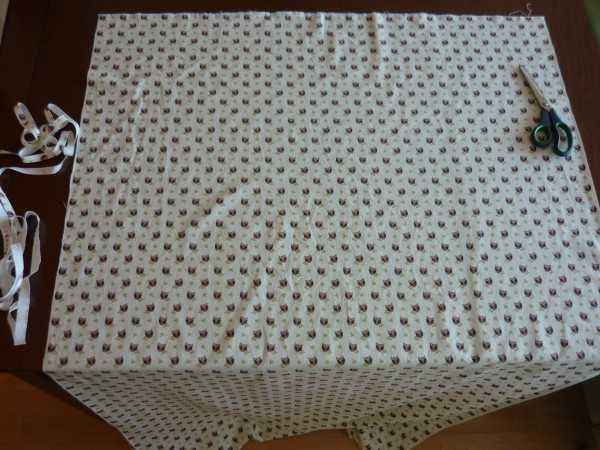 Measure the length and width of your fabric piece. Mine is 41″ across, and 77″ long. I want my napkins to be small, so I'm going to make them approximately 10″ by 11″. This will give us twenty-eight napkins!
First, I'll measure the 11″ along the selvage edge. I'll measure down 11″, make a mark, and then measure 11″ from the previous mark.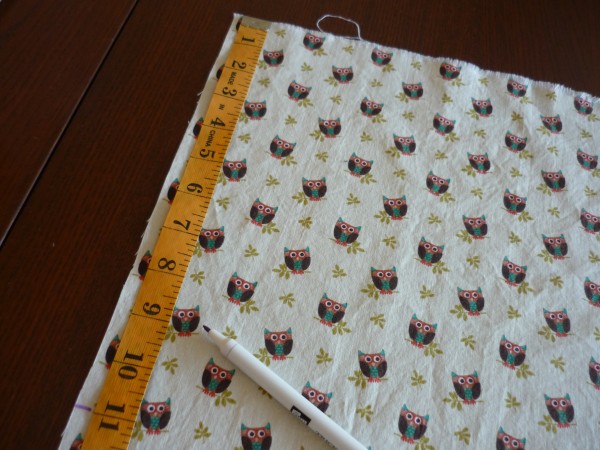 If I've measured correctly, my last section should measure eleven inches from the mark to the end of the fabric – and it does!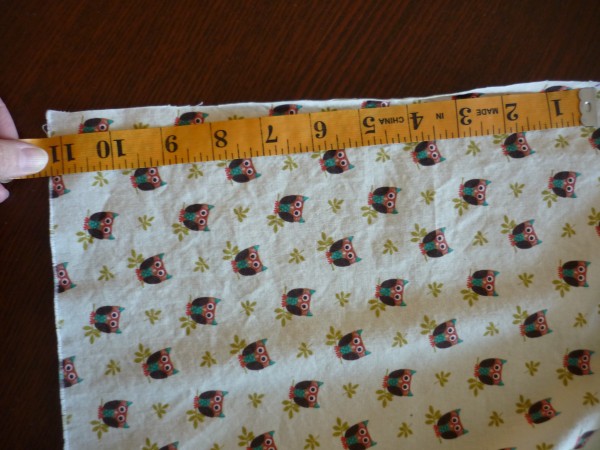 Now, I'm going to tear the fabric into sections, because it's faster and guarantees our lines will be along the grain. It does stretch out the edge of the fabric a little but we're going to be hemming them anyways. Make a snip into the edge of the fabric at the pen mark, and tear!
Here's the snip, made at a right angle to the cut edge: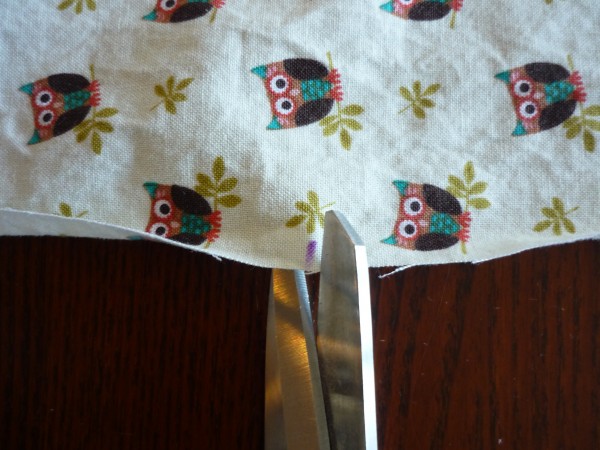 Snip about half an inch into the fabric.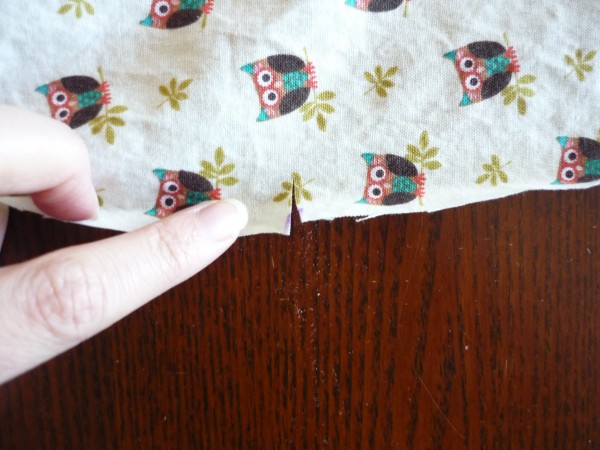 Pull each side of the fabric gently to tear the fabric.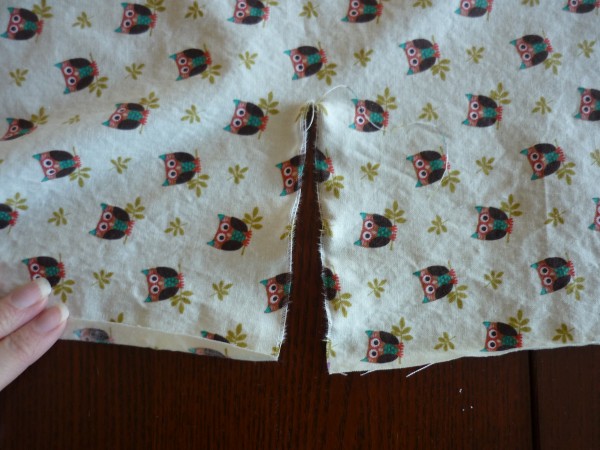 Continue tearing until you have a separate strip of fabric.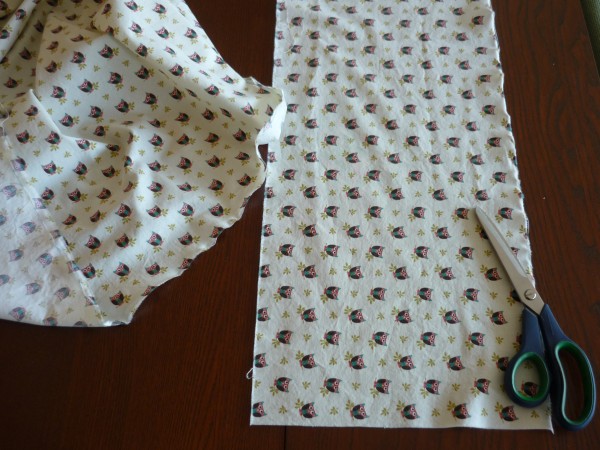 Repeat with the next marking, for the second strip of fabric.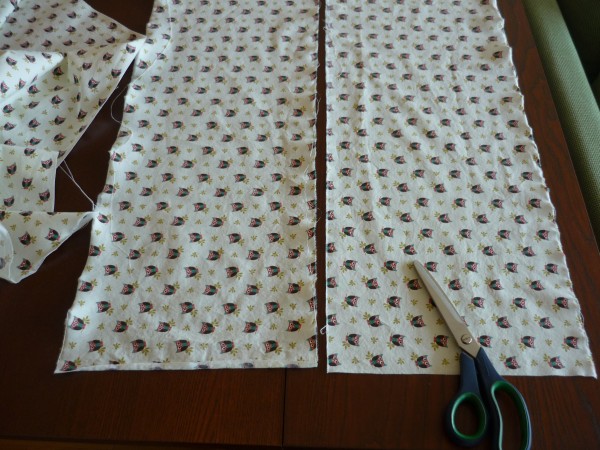 When you're done, you should have seven strips of fabric, each 11″ wide.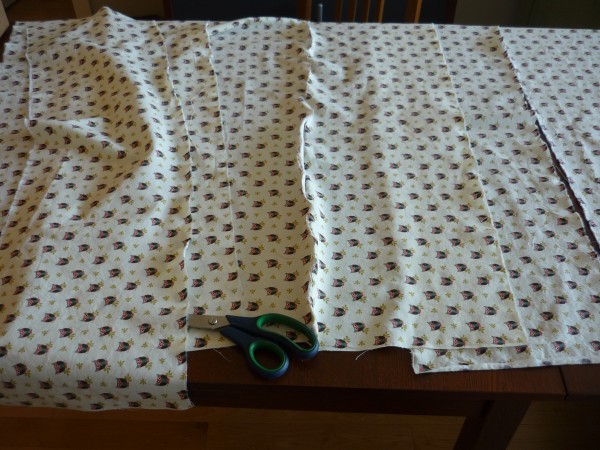 Next, we'll divide up each fabric strip into quarters. Measure the halfway point along the long edge, and mark this point. Divide the two halves in half again, and mark these points as well.
Measure along the bottom edge, and connect these markings with a ruler.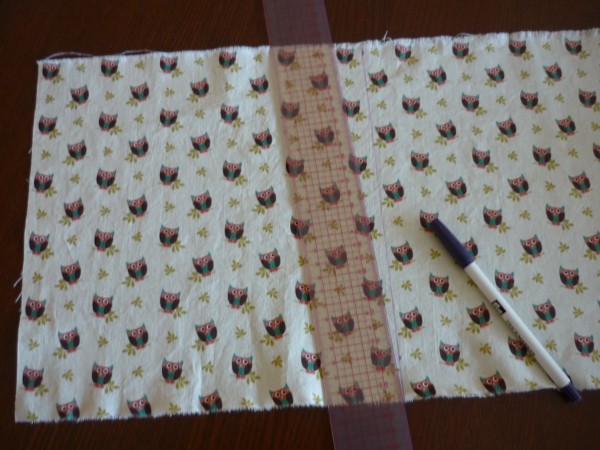 Cut along the marked lines.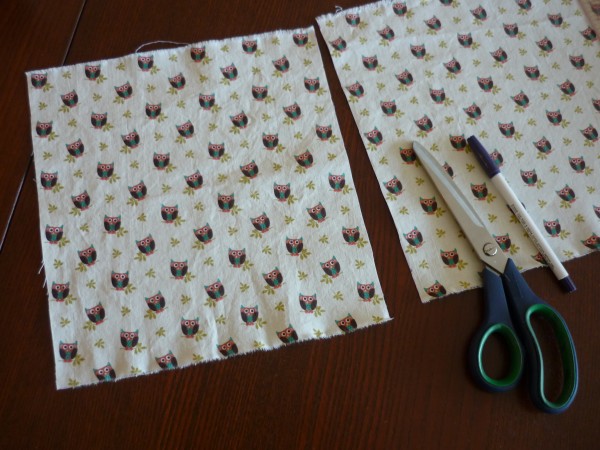 Now we have four napkins ready for hemming!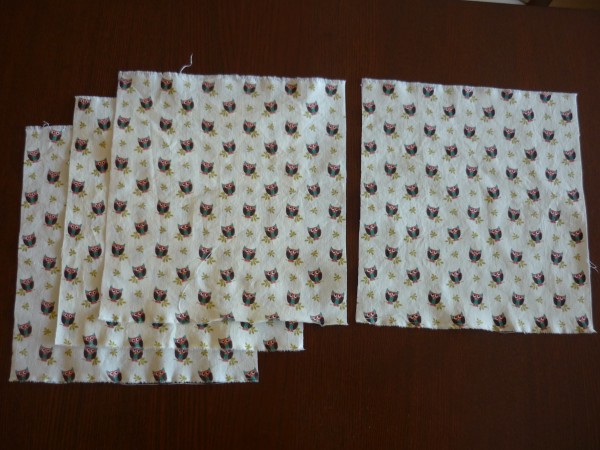 Repeat with the other strips of fabric.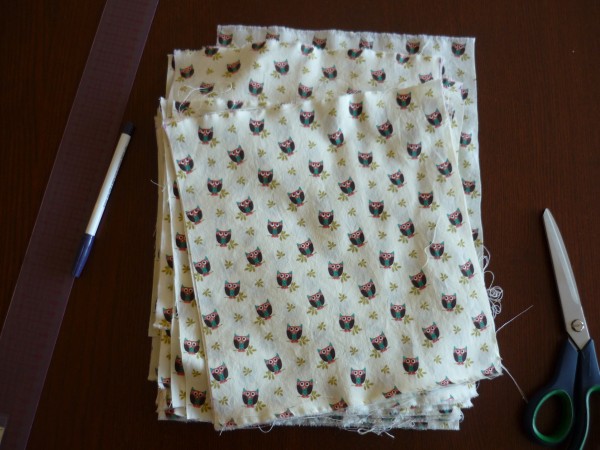 We have 28 napkins cut and ready for hemming now! There's a couple of ways you can hem these. One is to use a serger and do a rolled hem. Or, you could do a machine-stitched narrow hem. A serger would be much faster, but I know a lot of you don't have sergers yet. I'm going to show you the narrow hem method – no serger required!
Take your first napkin piece and give it a quick press with the iron.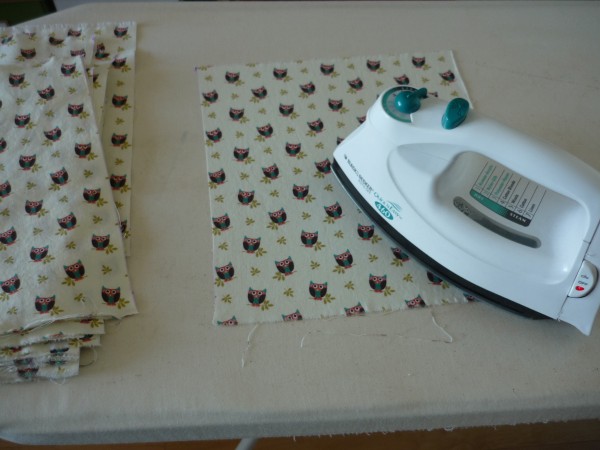 Now, stitch 1/4″ along one edge of your napkin. I like to use the edge of my presser foot as a guide. Do just one edge at a time.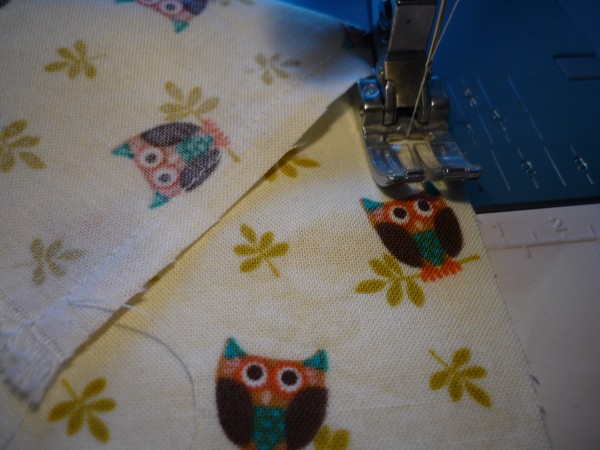 Press the stitched edge under so the stitching is just barely rolled to the inside, approximately 1/16″ from the fold. The photo explains it better than words!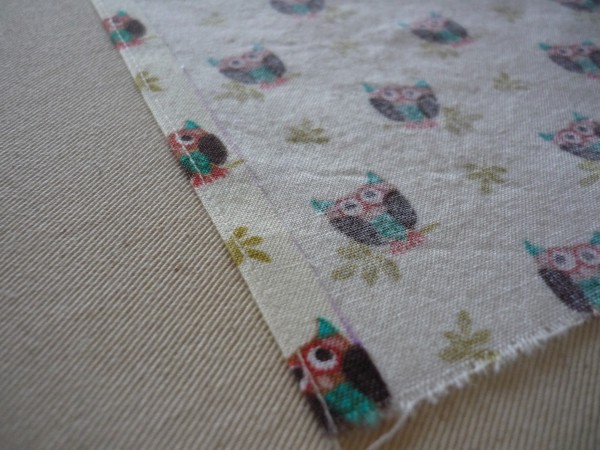 Here's another photo with my finger and a tape measure, to give you an idea of scale: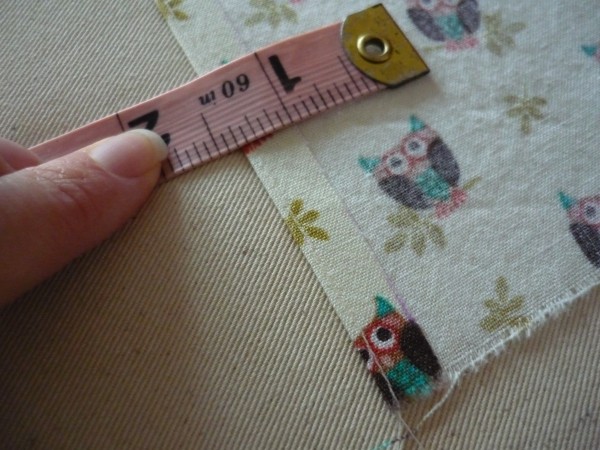 Now trim the seam allowance as closely as possible to the line of stitching.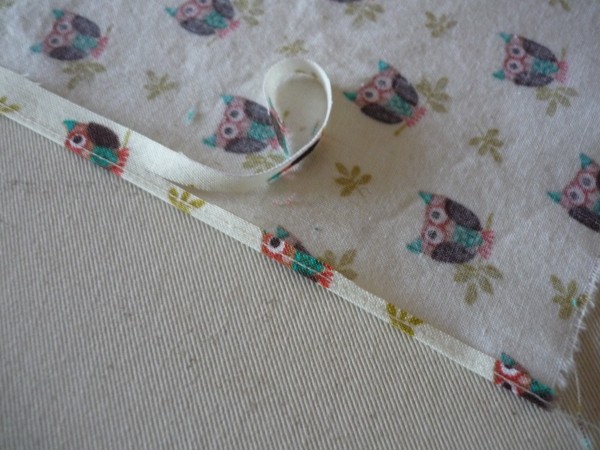 Now, fold the edge in again, along the trimmed edge, and press. You should have a very narrow pressed hem, approximately 1/8th of an inch.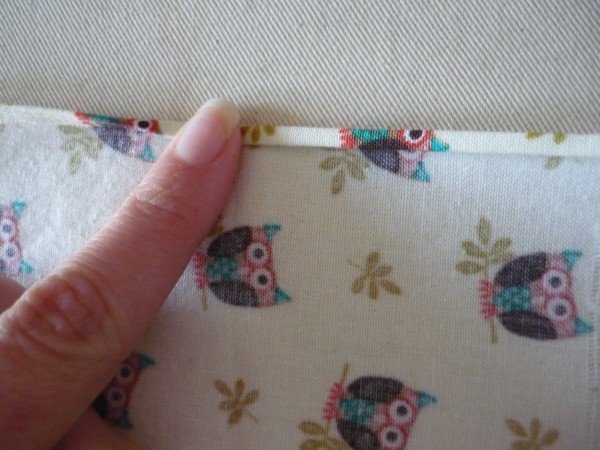 Edgestitch along the fold. Hold onto the thread tails when you start, so the machine doesn't eat your napkin edge!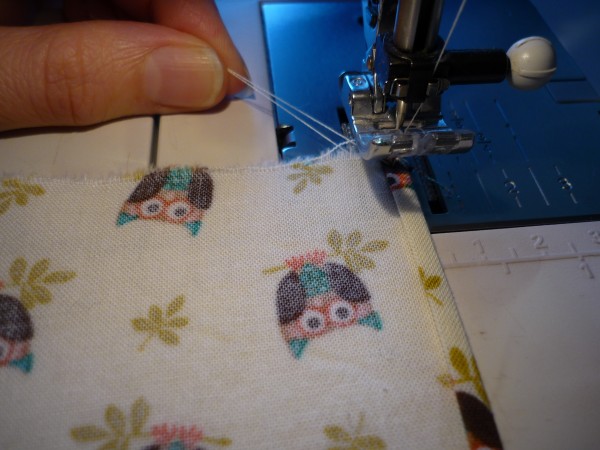 Here's a close-up of the narrow hem, while it's being stitched. You can see both the right side and the wrong side of the fabric. The goal is to have it look nice from both sides!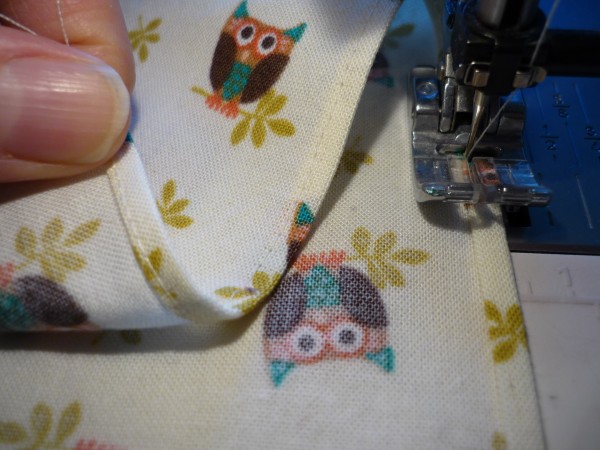 Success! One edge, all hemmed.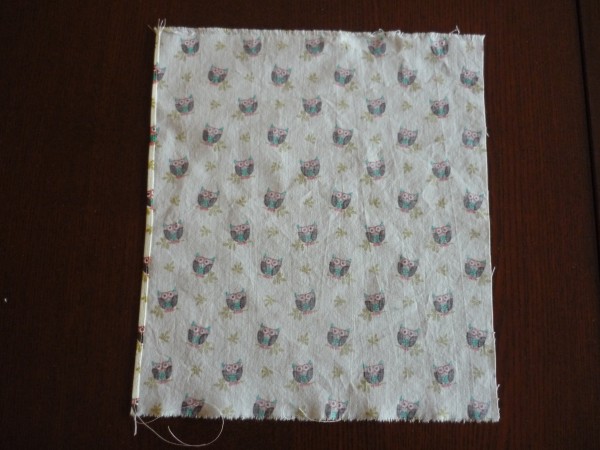 Repeat with the opposite edge of the napkin.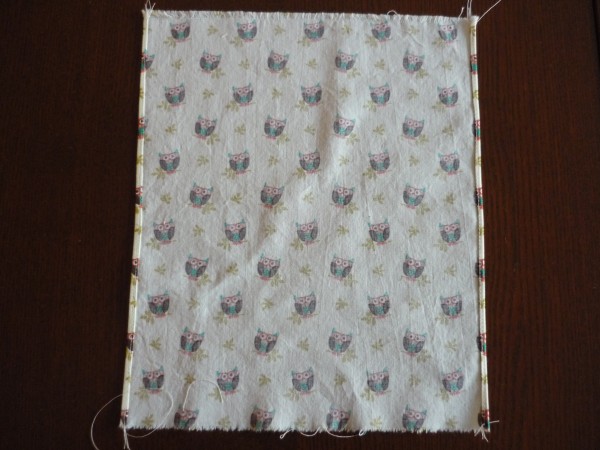 And repeat with the other two edges.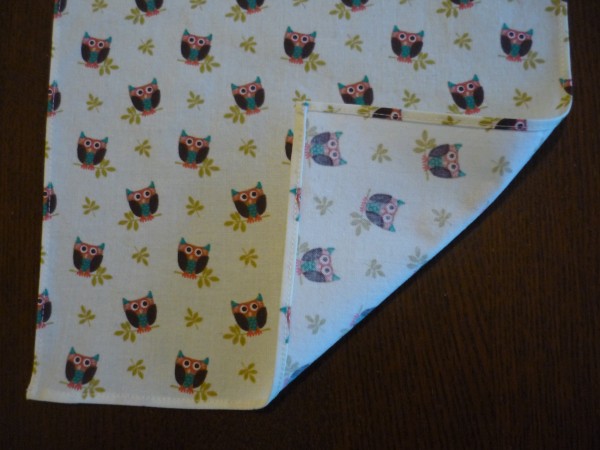 Voila! A narrow-hemmed napkin. It looks tidy and neat, and professional. Best of all, it's sturdy and will withstand lots of washings.
Repeat with the rest of the napkins. I finished one, then I wrote up the tutorial. Only twenty-seven more to go!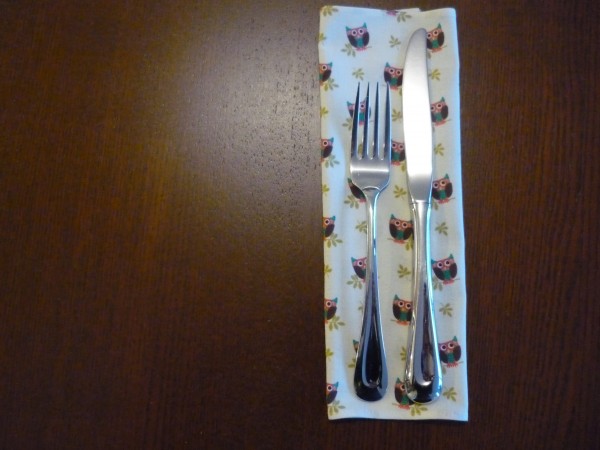 It's a bit of work now, but I'll never have to buy paper napkins again. And because I'll have so many, I won't find myself resorting to paper napkins because the fabric ones are in the wash. Like a lot of eco-friendly solutions – lightbulbs, fabric shopping bags, etc – it's more expensive at the start, but will quickly become way cheaper, and easier on the planet.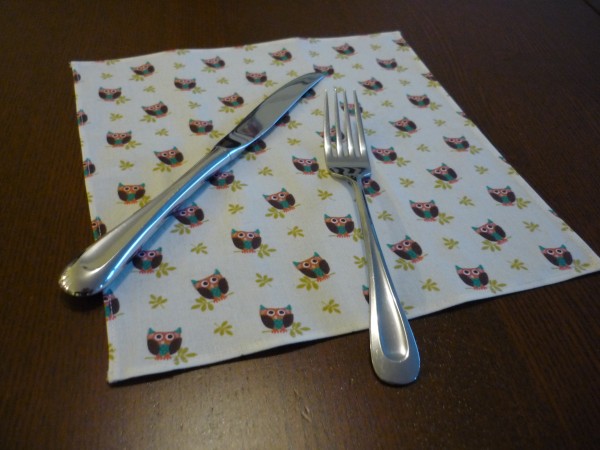 Some tips for making fabric napkins as gifts:
Bigger napkins means longer hems, but less actual napkins to do!
Tie a contrast colour ribbon around four (or six or eight) and add them to a plate of homemade goodies, for bringing over to parties.
Use a couple of different fabrics to create variety packs as gifts! Even using two different fabrics, a print and a solid, would be a nice touch.
On that note – mix a Christmas print with a solid colour, so that the solid colour napkins can be used all year round.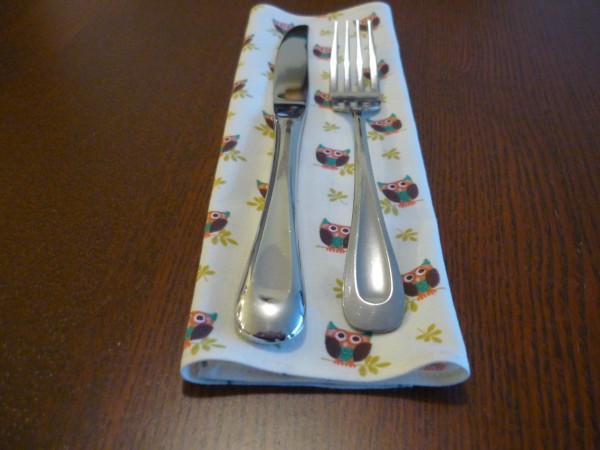 Let me know if you have any questions on the tutorial. If you make your own fabric napkins, let me know. I'd love to see them!