As I'm about to cut the knit fabric for my Renfrew Top, I thought of something. I sew clothing from my own patterns over and over again, but still want to use the same tissue pattern pieces so you guys can follow along at home. As I'm getting reorganized in the new office space, one of the things I wanted to do was have 'master patterns' clearly labelled and easy to find. That way, when I have the urge to whip up some new Renfrew tee shirts or Pendrell blouses, I know exactly where to find my master pattern!
Just putting them in a properly marked envelope isn't enough. I also wanted them to be stronger than the regular tissue paper so they'd survive multiple uses. Instead of tracing, I decided to fuse some fusible interfacing to the pattern pieces. Why not? It adds a fabric-like feel to the tissue, strengthens the tissue so it resists tearing, and even makes the ink show up brighter!
Before starting, I cut a small scrap of interfacing and a scrap of the tissue to test. You might want to do this to see if the fusible interfacing is a good match for the pattern tissue. I'm using a non-woven interfacing, the cheaper kind that I don't like to use for sewing but seem to have a lot of in my collection. It's a little stiff, thinner than a sheet of paper but not too thin.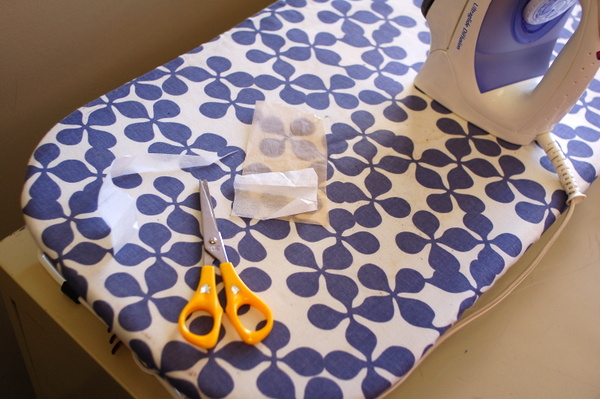 Important: Turn off the steam on your iron. Steam makes the tissue shrink up and ripple and distorts the shape of the pattern piece. And once the interfacing is fused to the pattern piece, it's staying that way! (I know this, but forgot when I fused my test piece – now that was a good way to remind myself.)
If you can't turn off the steam, turn the heat setting down to the synthetic setting. Often there's a little indicator next to each heat setting, letting you know at what heat temperature the steam turns on.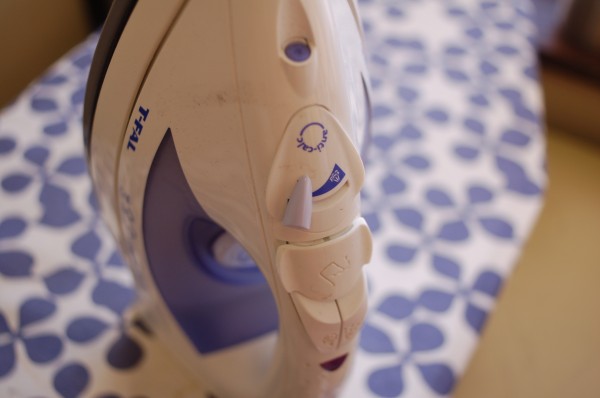 Here's what the test looked like. You can see how much thicker the pattern pieces will be!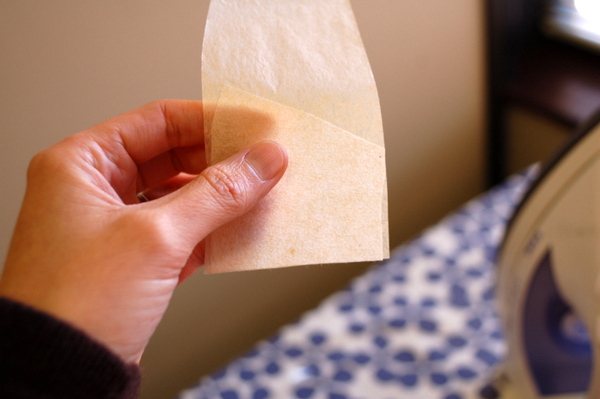 My pattern pieces are stronger, without being too bulky to fold up. If they get wrinkly in between uses, I can give them a quick press and they'll be as good as new!
For the actual pattern pieces, I cut loosely around each pattern piece, leaving an inch to half-an-inch around the cutting lines.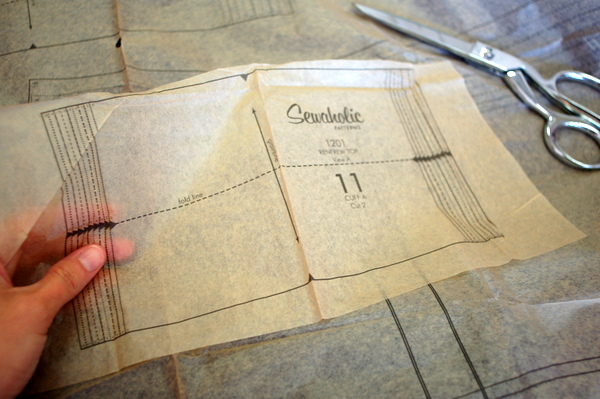 If the tissue is wrinkly, press it with a dry iron.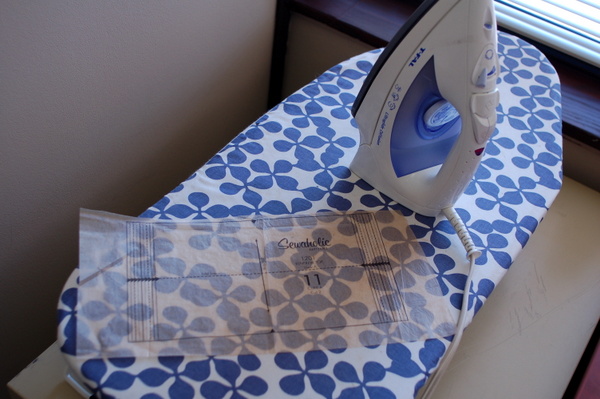 Now cut a piece of interfacing slightly larger than the cutting lines, about the size of the tissue with its edges. It's OK if the pieces aren't exactly the same size. We'll trim off the excess tissue and interfacing when we cut around the cutting lines.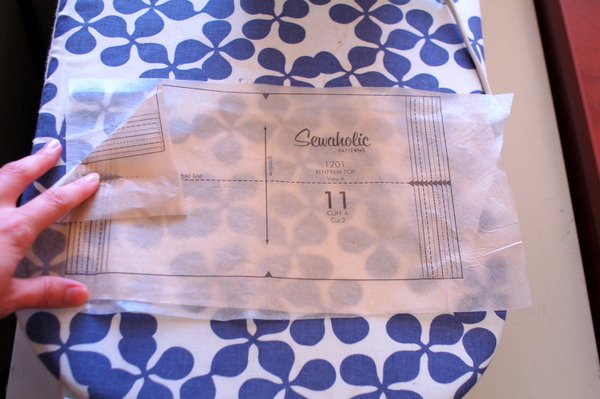 Place the interfacing sticky-side up under the tissue. Fuse the interfacing to the tissue, using a press cloth if you want. (I didn't, but it might be a good idea to avoid getting sticky residue on your iron.)
Cut around the cutting lines for the size you plan to make.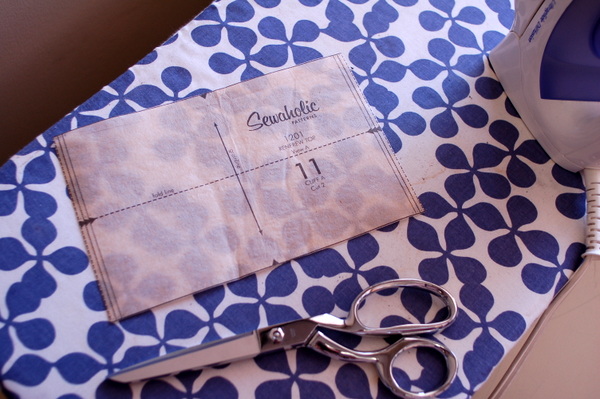 The fused pieces are still flexible…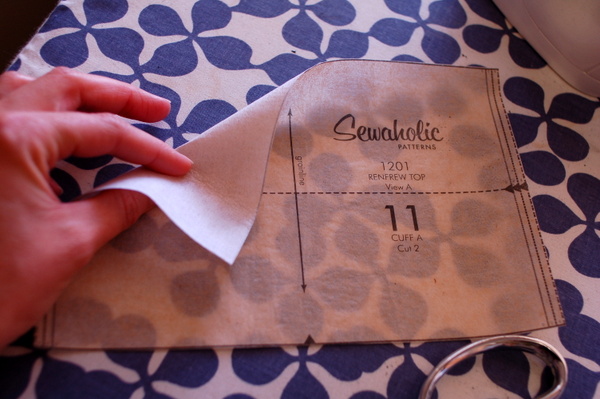 and you can pin through them easily…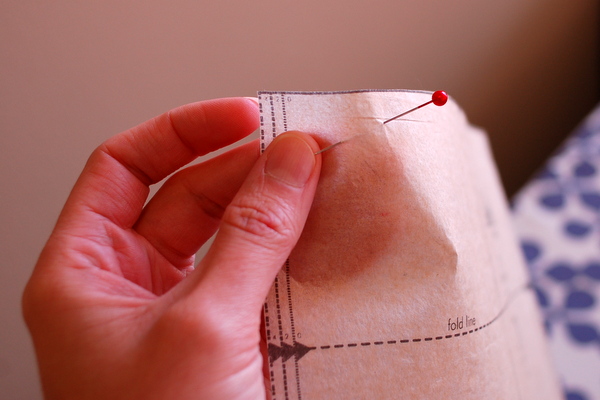 Seems like a good idea! I've never done this to a pattern before. I'll report back after using the pattern if you like and let you know what they were like to work with. I'd imagine tissue fitting would be fine, if not slightly easier to do.
Have you ever done this with your pattern pieces? How did they hold up over time? In your opinion, are there any drawbacks to fusing your pattern pieces to fusible interfacing?
Here are more blog posts about the Renfrew Top. (Get the pattern here.)