After finishing my first quilt (see it here, My First Quilt from Start to Finish!) I knew I had to make one for my bed. It's a logical place to put a quilt, and it feels worth the investment of time and materials since it will be used every day. I enjoyed quilting so much the first time, why not make an even bigger quilt for the second one!
Here it is! If you hate quilting, look away, because I'm about to show you way too many photos of this beauty. I'm really proud of this quilt.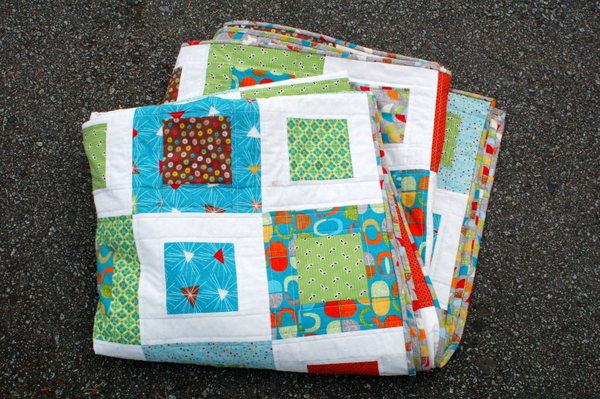 When I told Mr. Sewaholic that I wanted to make us a bed quilt, his only request was 'no flowers.' There are no flowers in this quilt, not one! Instead there are flags, circles, arrows, wood-grain egg shapes, dots and plus-signs. There's even a print that looks like sewing pins – the lightest blue one!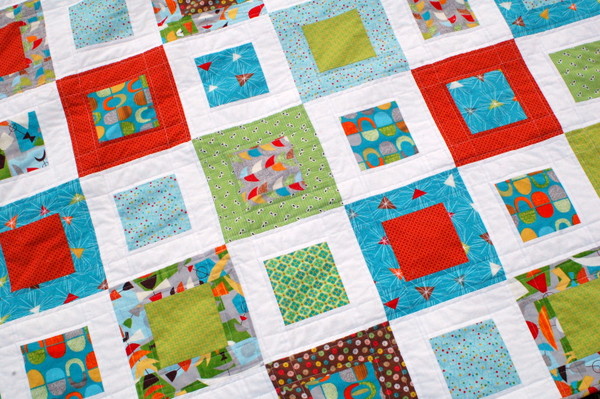 The quilt pattern is called Small Plates. It's from a book, The Practical Guide to Patchwork, which tells you how much fabric to buy, how to make each block and how to put the quilt together. I like that it even tells you how to make the quilt back, and it's an interesting-looking back too.
First, you make all the blocks. I actually increased the size of this quilt, making it 10 blocks by 10 blocks for a square quilt, instead of the 8 x 10 in the pattern. I figured that would make it a better size for a queen bed, square rather than rectangular. (The book tells you which quilt designs can be made larger by adding blocks, and which designs are better enlarged by adding wider borders. I like when a book anticipates my questions.)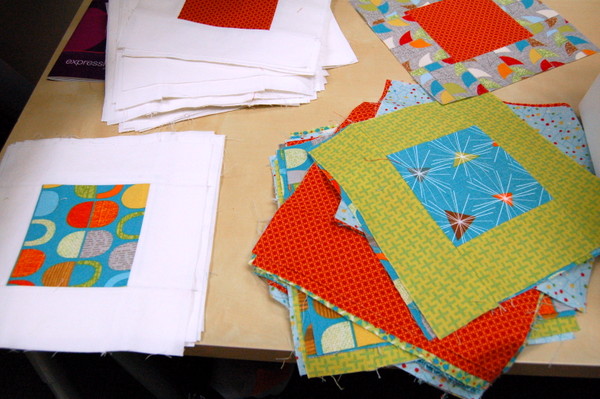 Then you sew them together. But, unlike my last one where every block looked the same, it matters where you place each block. Otherwise there might be too many orange blocks next to each other, and a predominantly blue section somewhere else.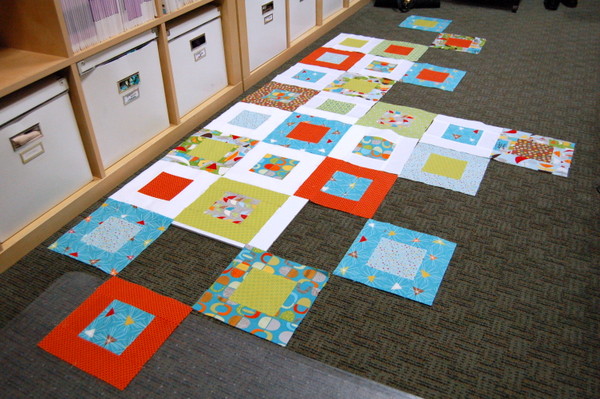 I also didn't want the bordered print to be next to a white block with the same print. So it took a bit of playing around to get them laid out in a way I was happy with!
This would be so much easier if you have a big house…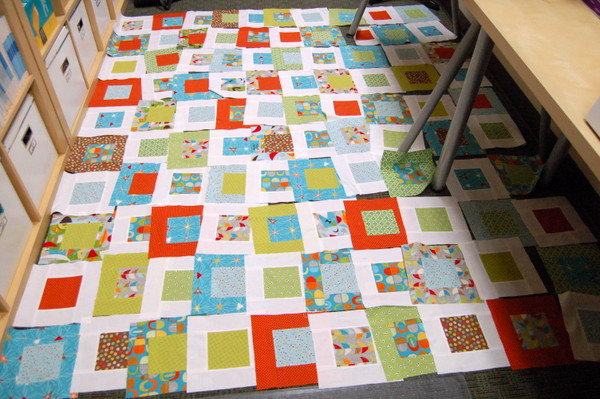 Then it gets sewn into strips, then the strips are sewn to form the quilt top.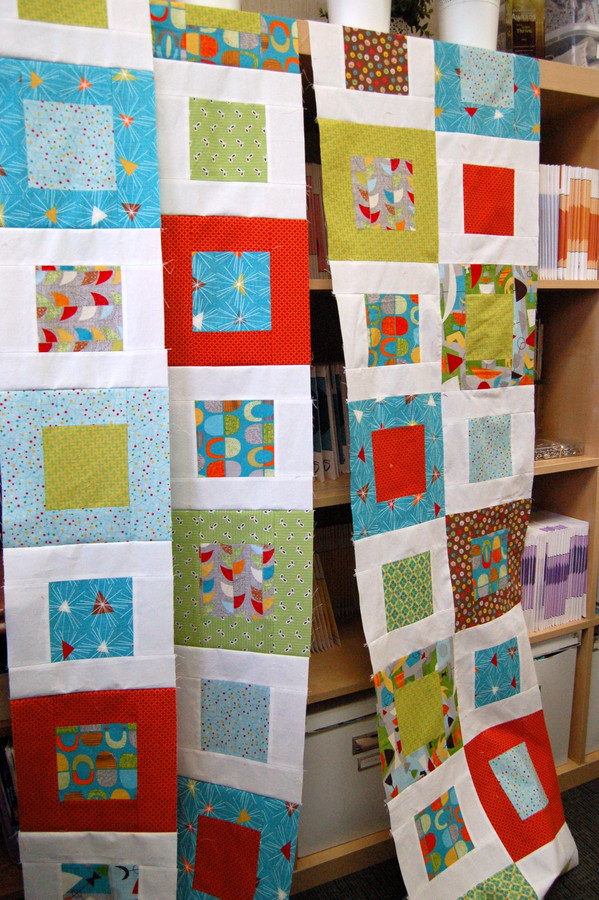 This thing is BIG. Here it is draped over a full-size cutting table at Spool of Thread, where I went to pin-baste it. (Not only is it too wide for my office hallway, where I pin-basted my first quilt, but they've put a filing cabinet in my way, shrinking the hallway even more.)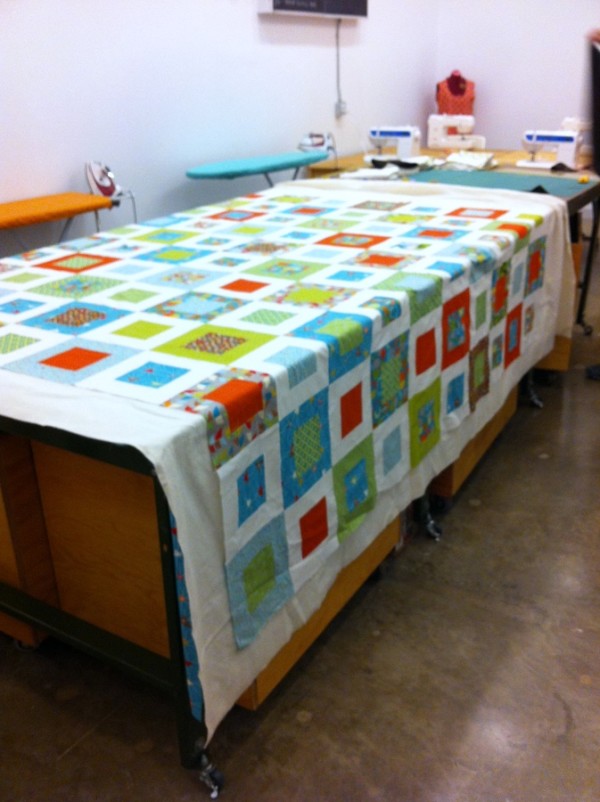 Doing the actual quilting – sewing through the backing, quilt top, and batting – was a challenge. I can't even imagine how I'd do this if I were to try quilting a design. Sewing straight lines was challenging enough! Look at all that fabric to handle.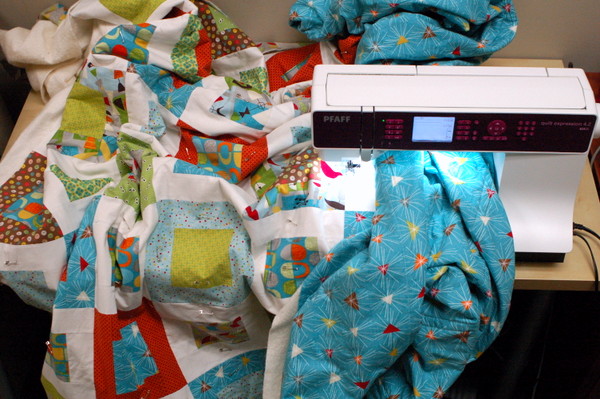 I got smarter, and started rolling up the extra quilt into a tight roll. Much easier than a bunched-up wad of quilt!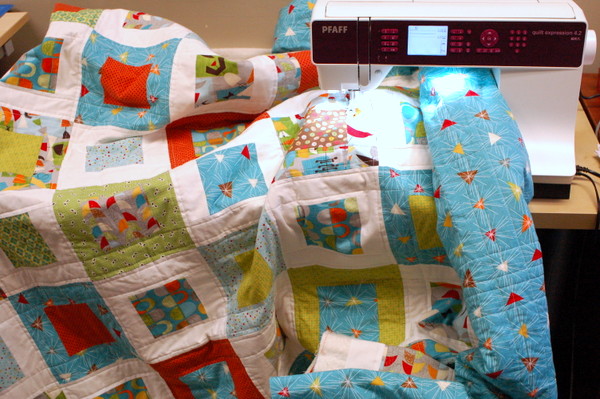 It took about six hours of solid sewing to quilt this thing. I tell you, that was a lot of sitting! I learned these stools are very uncomfortable if you sit on them for four hours straight.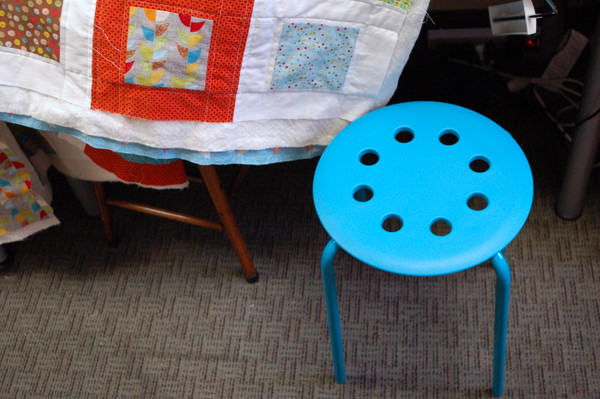 I came in on a Saturday to quilt and sewed straight lines from 8 to about 12.30, non-stop, and still didn't finish! I used probably 10 bobbins, I lost track when the first five I wound ran out, and I started refilling them. I worked on it mainly on weekends. It was so much fun to work on it, would be too much of a distraction to work on during the week.
As an improvement on the first quilt I made, I ran the stitching lines off the quilt onto the batting. This way, the binding covers up the start of each stitch line.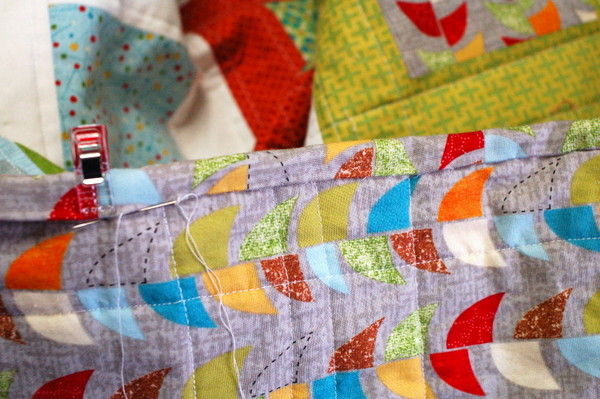 Choosing fabrics for a quilt is different than clothing. I think I did OK, but once it's all sewn up I can see things I would change for next time. I find the brown print too dark, and the orange a bit loud. I'd replace them with different blue or green tones if I were to make it again. I also preferred certain fabric combinations more than others – I loved everything with both grey prints, and I liked nearly every combination with light blue or medium blue.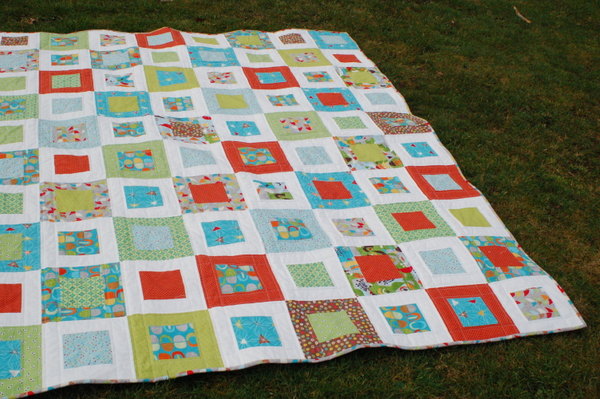 I took photos of it outside, then brought it home to be washed before making up the bed.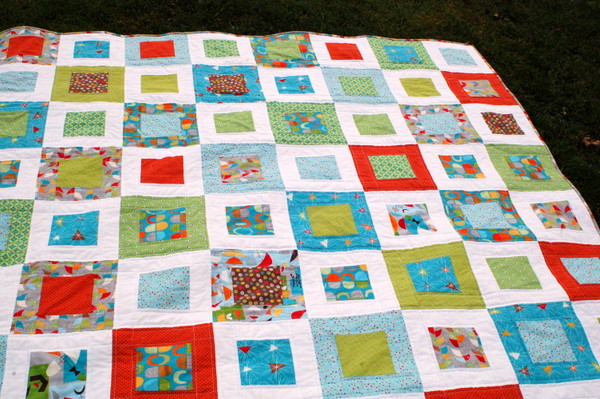 What I like about this quilt is there's so much to look at. There are I think ten or twelve different fabrics mixed in, in all kinds of combinations. Try and find duplicate blocks!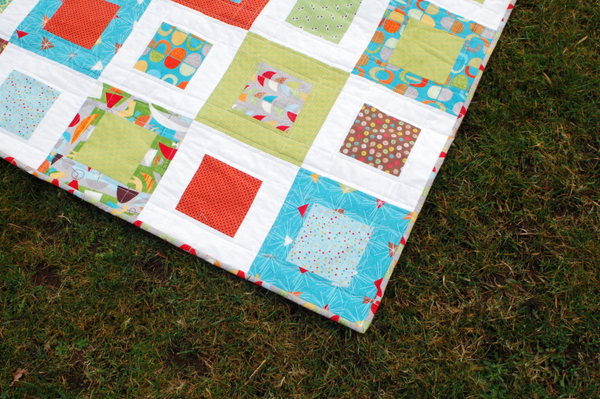 I see why people have someone hold up a quilt to photograph it! I laid it out on the grass and wondered how on earth I would fit it all in the photo.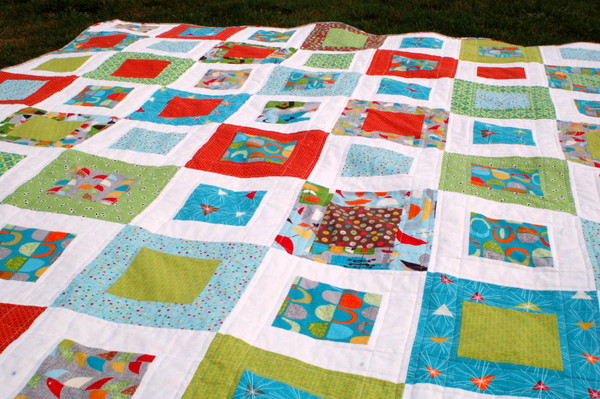 Here's the back of the quilt.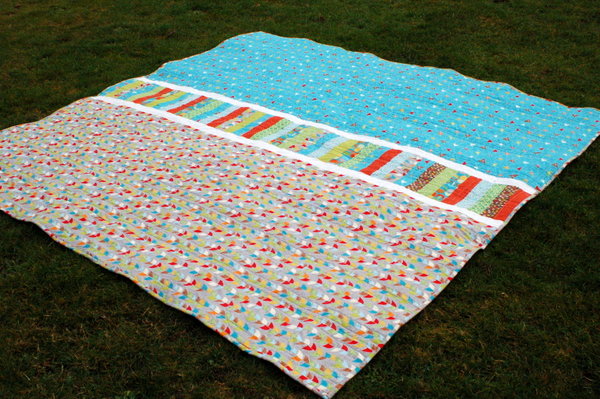 I might even like the back better than the front, in fact. I think Mr. Sewaholic prefers the back. But all the hard work is on the front!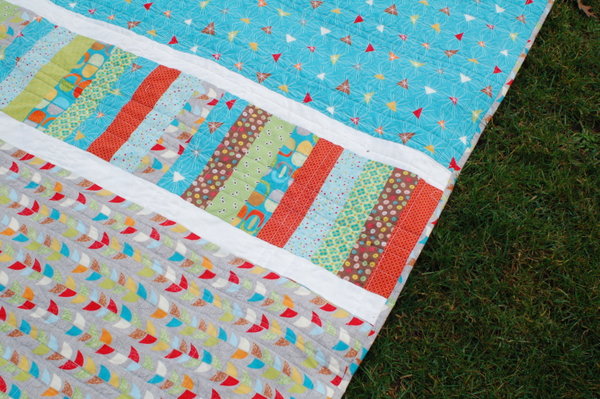 I picked my two favourite prints for the main part of the backing. The strip down the middle uses all of the prints from the quilt top!
This railing works pretty well as a quilt-holder.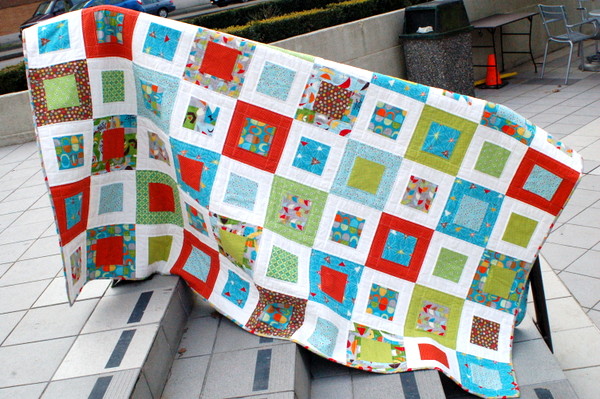 Here it is, at home!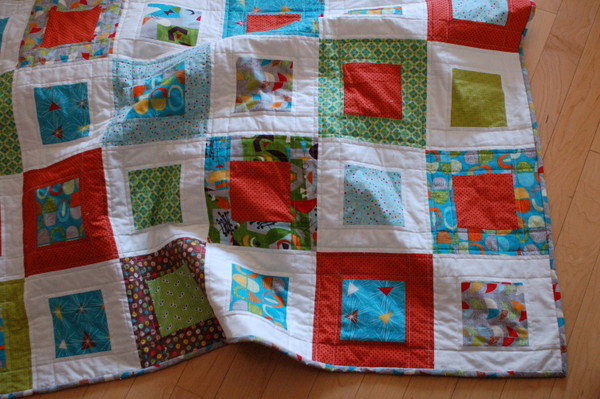 I tried it on the bed to see how big it was, before washing the quilt and all the bedding.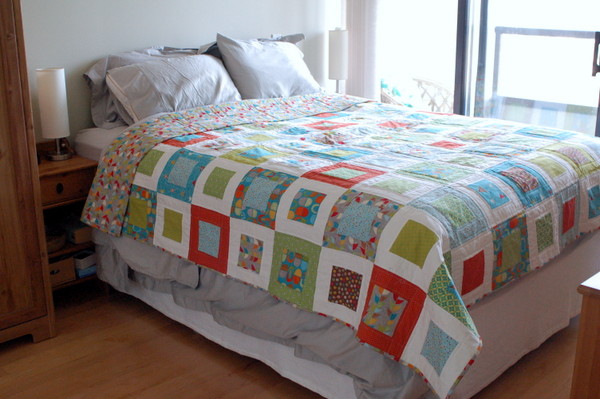 Looking back it would probably be smart to try the quilt top on the bed when it's just a single layer of pieced fabric. Then you could add more blocks or strips to the side if you wanted it bigger.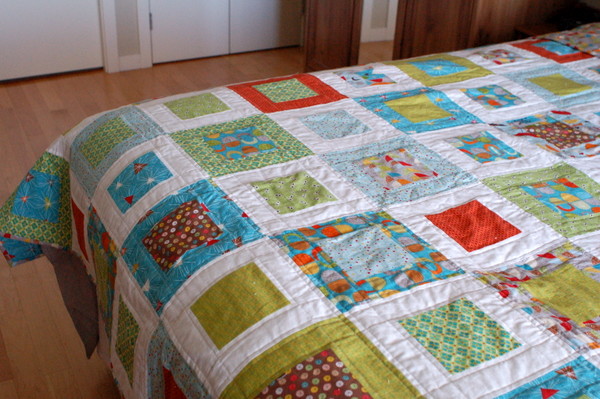 After washing it gets crinkly and textured. It's so neat! It was dark and the photo is a bit yellow, but you can see the difference in the texture. Now it's like an heirloom quilt, passed down for generations, except I just finished making it.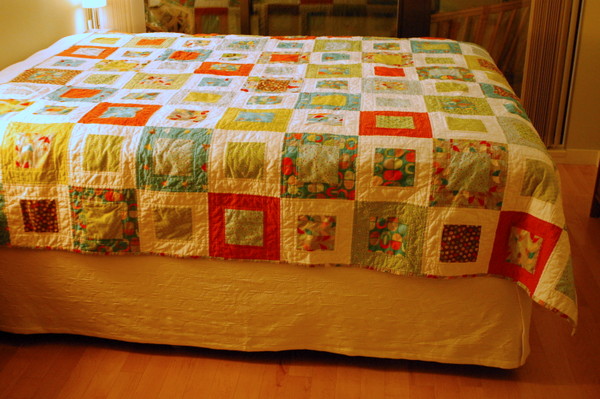 A bed quilt, finished! My quilting goal is complete.