When I first finished my Lauriel Cardigan, I wasn't 100% in love with it. I thought it was a little too big, a little too long in the sleeves and even a little too bright! (I sure am critical of the things I make! It's so easy to point out all the things that are wrong with something, instead of appreciate all the things that are right, like the colour and the style and the pretty leaf detailing.)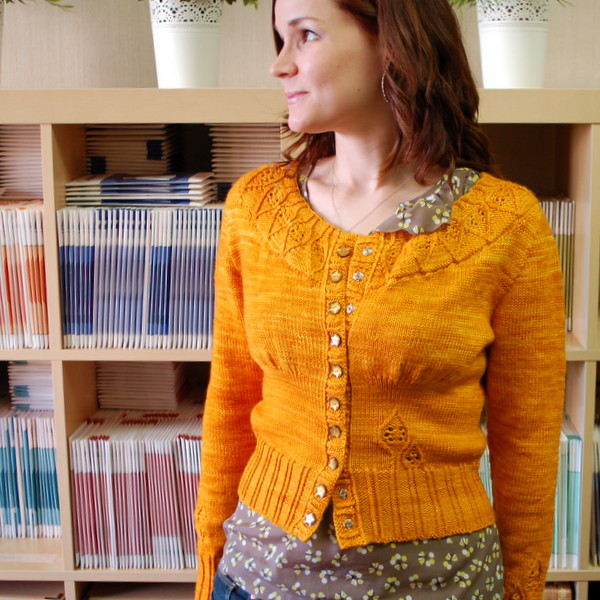 I also didn't have a lot to wear with it. It was too glaringly bright to wear with my Chantilly Dress, and it was too short in the body to wear with jeans or trousers. It's funny though, as soon as I finished the gathered skirt and wore it with the Lauriel, I saw the sweater in a new light. I wore it with the skirt in these photos, the Autumn Cambie and the gathered skirt pictured below!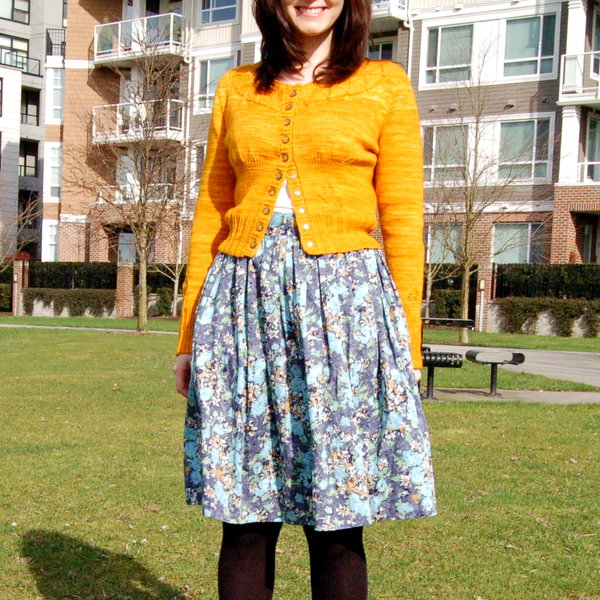 I wore the sweater to take photos on a Monday and wore it again Wednesday and Thursday of that same week! It was so warm, so cosy, I kept reaching for it in the mornings.
Either I've grown a little thicker through the middle, or the sweater has contracted after its first wash, but it seems to fit better too. Looking at the photos it fits the same, but it feels better to wear. (Or I've gotten used to the fit.)
(I still love the details – the snaps are holding the button band firmly in place, it hasn't stretched out at all!)
Plus, I got a lot of compliments on this sweater! At the fabric store, at the office, at a restaurant. My favourite was 'it's beautiful, did someone knit that for you?' Yes someone did, I knit it for me! (I wasn't that cheeky in real life, I promise.) Now I'm really enjoying this sweater, even thought at first I wasn't certain.
Has this ever happened to you: after finishing a project, you're not wild about the results, but after a little time has passed and you've worn it a few times, you fall back in love with the project?