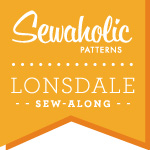 Hello everyone! Are you excited to sew along with me again? I am! I'm excited because this time around, it's going to be better than ever.
The Pendrell Sew-Along was my first time leading a sew-along, and I learned a lot from your suggestions on how to make it better. The Crescent Sew-Along went well, although I wished I had more time and could keep on track with the schedule, we did get a little behind the original timeline! (I was moving offices, so there was a lot going on! Hard to find all of your sewing supplies when you're moving.)
Now I'm settled, and totally ready to lead the Lonsdale Sew-Along!
As requested, I've put together a detailed schedule for this sew-along. This calendar will also be posted on the Sew-Alongs page for reference. If you were one of the people who asked for a more thorough schedule, let me know if this is what you were hoping for!
Lonsdale Sew-Along Schedule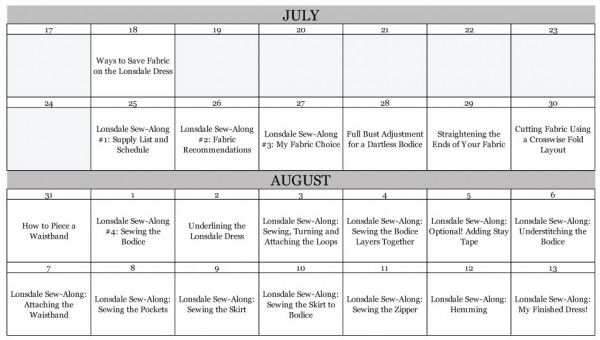 Can you read that? If not, here it is in PDF format, too:
I may throw a few extra posts in there, but I will stick to this schedule now that it's published! (Barring any major disasters.) You'll be able to wear your dress by August 15th!
You can see that the Sew-Along posts will cover the weekends, too. I'll be posting bite-size sewing posts, more frequently, so you can easily find the post you need.
Grab a Sew-Along badge!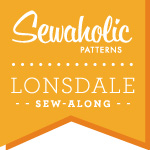 Right-click the image to save it to your computer. If you'd like to add a link to your badge, use this one to find all of the Lonsdale Sew-Along posts quickly and easily!
http://sewaholic.net/tag/lonsdale-sew-along
Q&A
Q. I'm fairly new to sewing! Can I make this dress?
A. Sewing-wise, this is a very easy dress to sew. There aren't any darts, and the rest of the construction is simple. The hardest part is the zipper, so if that doesn't scare you, I'd say go for it! If you're still undecided, watch the sew-along as it goes, so you can decide if this project is right for you. I'm here for questions if you get stuck, too!
Q. What if we want to line the dress? How about underlining?
A. I'll be sewing the Lonsdale Dress exactly as per the pattern, but I will also show you how to make a lining for the skirt, and how to underline the dress! I'll demonstrate these on other versions of the dress that I plan to start during the sew-along and will finish later on.
Q. Can I substitute an invisible zipper for the regular zipper?
A. Absolutely! I'm not a fan of invisible zippers, but that doesn't mean you can't use one.
Q. Can I use a hand-picked zipper in this dress?
A. You bet! I love a hand-picked zipper. I have a tutorial on my blog, and if I get time, I'll demonstrate a hand-picked zipper on the Lonsdale dress. It's a great way to ensure your seams line up!
Q. I want to make a pencil skirt for the bottom of my dress. Will you show me how to alter the pattern?
A. This is a tough one! Because of the way the skirt is designed, it's not possible to simply take in the sideseams and slim down the skirt. We'd need to draft a completely new skirt for this dress! If you feel comfortable with combining different patterns, you could use a tried-and-true pencil skirt pattern instead of the skirt pieces in the pattern. I won't be covering this in the sew-along however.
Q. This pattern uses a lot of fabric. Are there ways to save fabric on this dress?
A. Yes! I'm putting together a post shortly that will share a couple of ways to save fabric on this dress. It does use a lot of fabric, but I have some ideas that might help!
Any more questions on the Lonsdale Sew-Along? Leave a comment below!