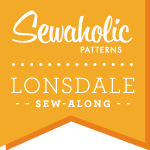 Hello, Sew-Alongers! Today's post is a list of supplies you'll need to follow along with us, as well as the schedule, re-posted for your reference.
I'll talk a little bit about each item on the supply list to explain what it's used for. Also, I've listed some optional supplies for this project too – things you can add to your project for extra quality and flair.
For earlier Sew-Along preparation posts, check out these links:
Supply List:
The Lonsdale Dress pattern, of course!
Thread. All-purpose polyester thread has the most colour options and works on any type of fabric.
16″ (40 cm) zipper. I'll be using a regular zipper, but you can use an invisible zipper if you prefer. The sewing steps leading up to the zipper, and after the zipper are the same regardless of zipper type!
Fusible interfacing. What for? For the loops and for the waistband. You can use sew-in interfacing if you like! If it's really hot where you live, or you plan to wear this dress on vacation in a tropical climate, using a lightweight cotton fabric instead of interfacing may be more suitable. It's just the waistband though, so it won't make a huge difference either way.
Optional Supplies:
Stay tape. On one of my samples, I used stay tape to reinforce the upper edge of the bodice. It's not critical, but it will help your dress keep its shape over time.
Lace or seam binding for the hem. A lace-trimmed hem is so pretty! Contrast seam binding looks great as well. Or choose a coordinating colour for a simpler look.
Lining or underlining. If your fabric is slightly sheer, you may want to underline it for modesty. Maybe you just want to line the skirt for an extra layer of coverage?
Here's what you'll need if you want to underline the whole dress, or line the skirt:
Underlining: Entire fabric requirement – so if you need 3 yards of main fabric, you'll need 3 yards of underlining as well
Lining: If you're lining just the skirt, you'll need twice your skirt length. Measure the length of your pattern piece, and if the skirt length is 28″, you'll need 56″ of lining fabric = just over one and a half yards of lining. Be careful, lining is usually narrow in width! To be extra-sure, bring your pattern pieces to the fabric store and test them out.
Sew-Along Schedule: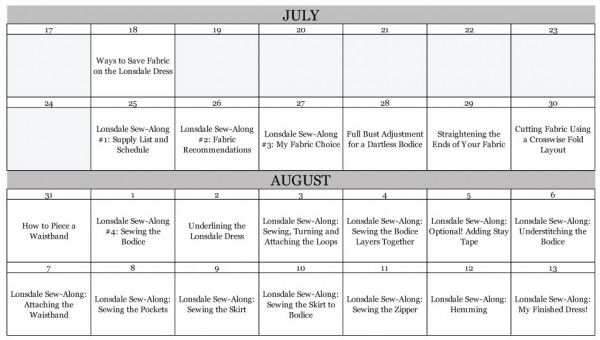 One last time, here is the schedule for your reference! Any questions on supplies, schedule, or anything else Sew-Along related?
Are you sewing along? Introduce yourself in the comments and say hi to the other Sew-Alongers!