Happy Monday, everyone! Thanks for all of your comments last Friday on the new pattern, the Lonsdale Dress. It's exciting to see so many positive comments on the dress! I totally understand that it's not for everyone, style is such a personal matter. That's why sewing is so wonderful – you have a multitude of style, fabric, and colour options to choose from, and can customize your projects to suit your taste. Don't worry if you aren't a fan of this dress, there are more new patterns to come this year!
By request, I've posted the Envelope Front and Back images and PDF files for the Lonsdale Dress. Sizing, fabric requirements, and back view illustrations are all here for your reference.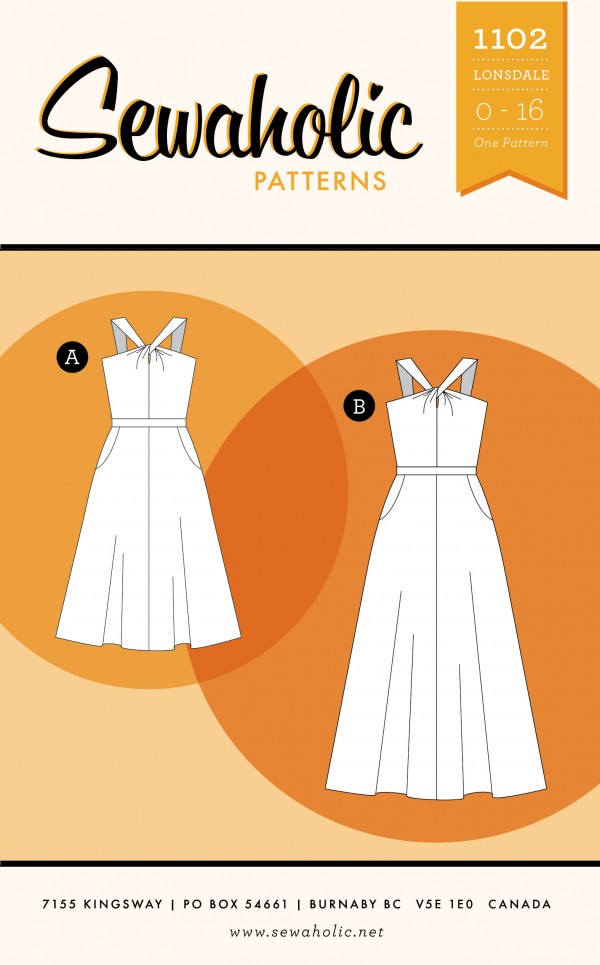 Check out the super-cute back straps that tie in a bow! If you really didn't like the bow, you could sew them down flat, but it's so nice to have them adjustable. Plus it's easier to press the ties when you wash the dress if you can untie them and flatten them out.
Here's the Envelope Back image, so you can see the information: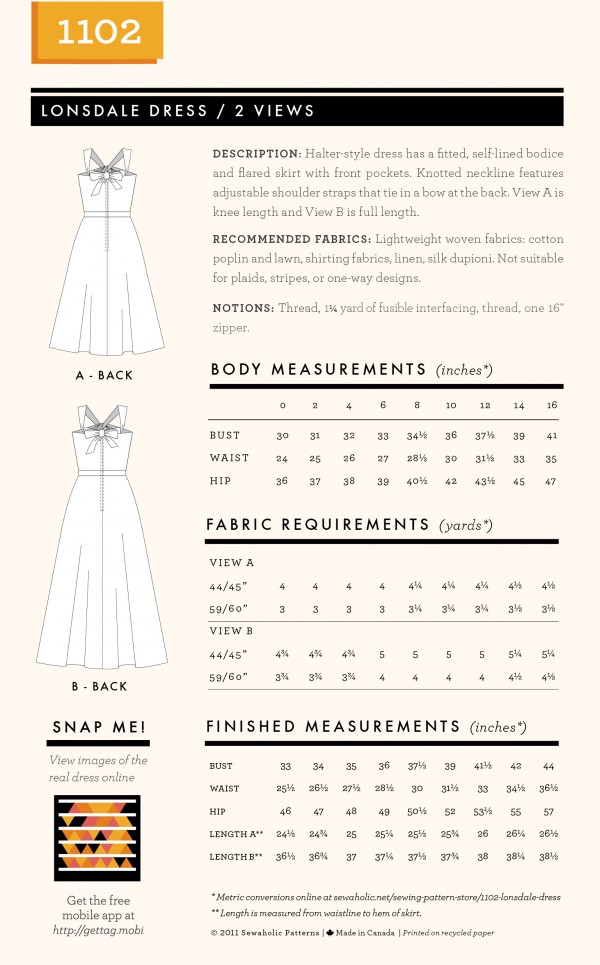 I've also included a PDF file to save to your computer. Or if you have the iPhone, you can save it to your iBooks! Handy for flipping through when you're at the fabric store. Or print out a copy to take with you when you go fabric-shopping.
Click here to view the Envelope Back in PDF format.
Metric conversions are coming soon! If you're in need of the metric fabric requirements right away, simply multiply the yard requirements by 0.9144. For example, if you need 3 yards, multiply 3 x 0.9144 = 2.75 metres.
PS. Like the look of this pattern? Sign up to the mailing list for the pre-sale link and special offer. I'm excited to report that presales are going extremely well so far, and we're just getting started!
PPS. Some of you wanted to see how the back straps and tie are constructed. The back view diagram might help, but I'll also take some photos and show you how it all comes together!