From the leftover fabric from the sack dress, I made another dress! (The joys of having to buy a minimum amount of fabric. You get a second chance to make something cool!)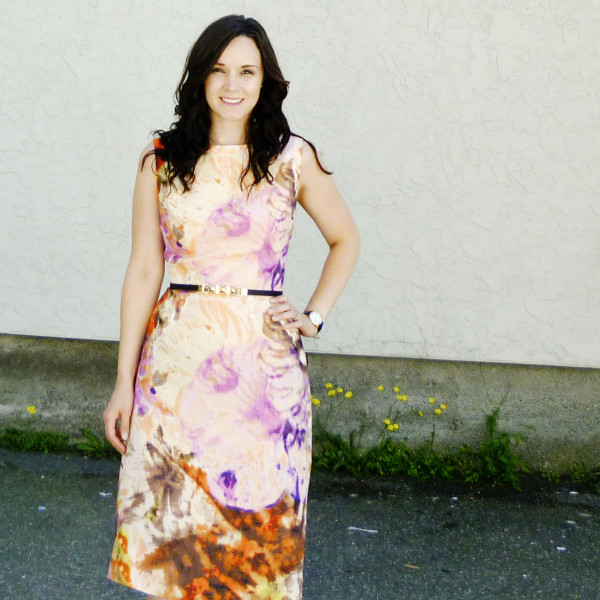 This is McCalls 7743, a dress pattern I've used many times. This time I made a different view, choosing the back without the cutout detail. In this next picture I am twisting my body it seems, as the zipper is straight but looks quite crooked here.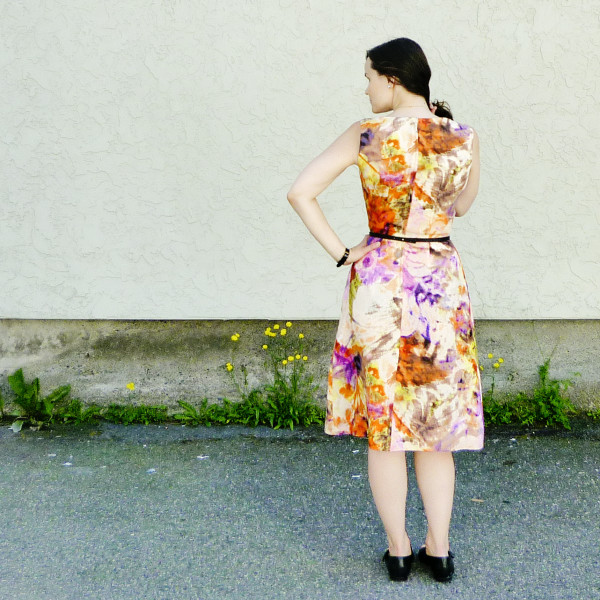 I left it unlined, for a cool breezy summer dress. I wanted to enjoy the benefits of the linen and not add lining fabric. This makes it breathable and cooler for hot summer days!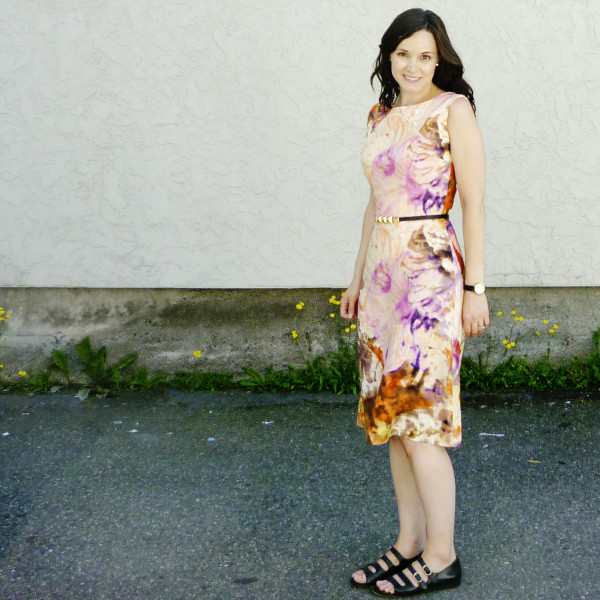 It is a bit sheer, so if you care about people seeing the outline of your legs through your dress, lining is probably a good idea. On really hot days, I could care less if you can see the shape of my legs! It's still less revealing than wearing short shorts, and more comfortable for me too. On cooler days or if I feel self-conscious, I'll wear a slip.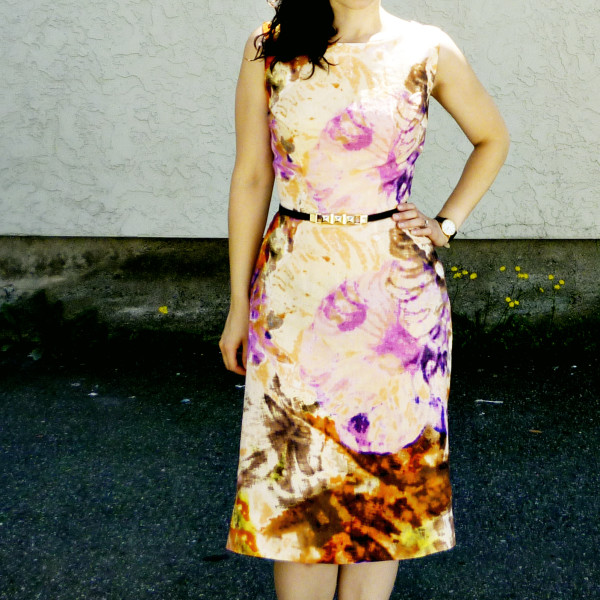 I added seam binding to the waistline for a waist stay. (You can see this method in more detail in this post.) In this fabric, it helps strengthen the waistline. Linen is delicate and seams can tear under strain. This should help! (So I can eat a big meal and not worry about busting the seams of my dress.)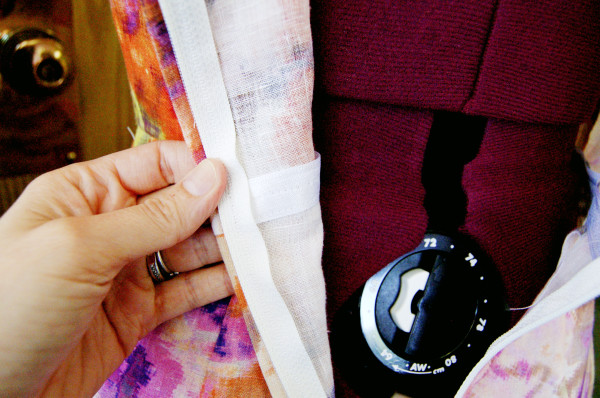 I sewed a lapped zipper into the back, following the directions in my book. This method produces a nice result!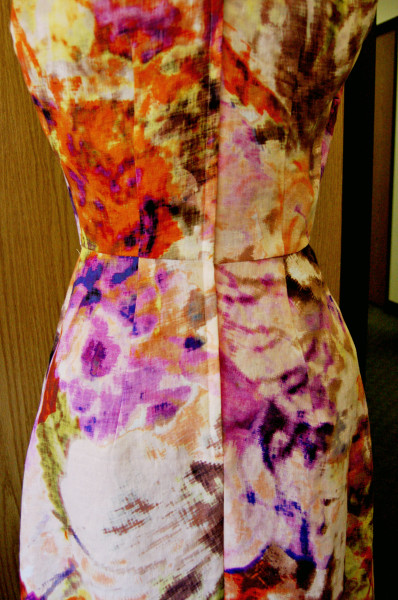 This dress is a different look than my first version with this fabric. Funny enough, both ended up with peachy-pink around the face, which is so pretty. There's even the same purpley blob in the middle of the bodice!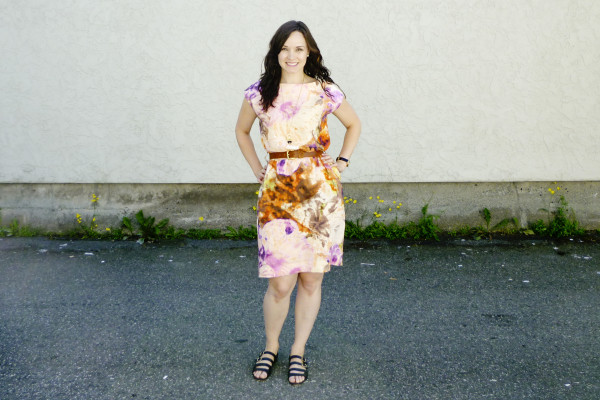 One is loose and slouchy, one is fitted. One defines the waist with the cut of the dress, one relies on the belt. Both have the same facing construction where you slipstitch the inner shoulder seams, so it was repetitive and easy to sew.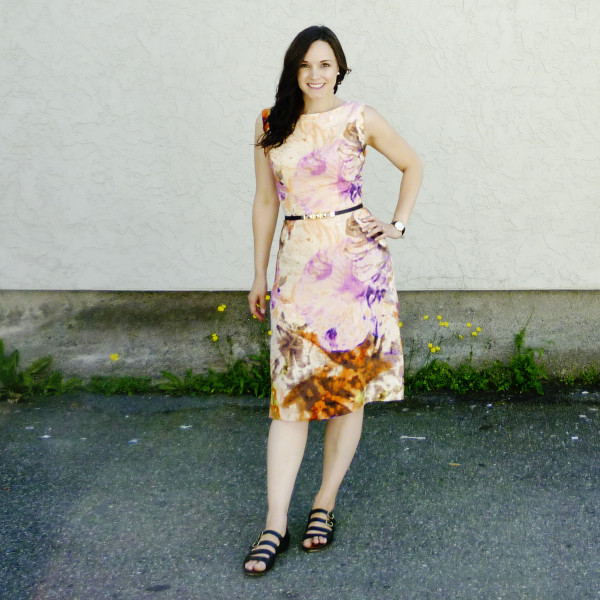 I swear these shoes feel more flattering and cooler in real life. In photos they're a bit flat and plain and shorten the legs.
I added a label – this big facing was a great place to use the biggest label! The facing piece was missing so I drafted a new one using the back piece as a guide.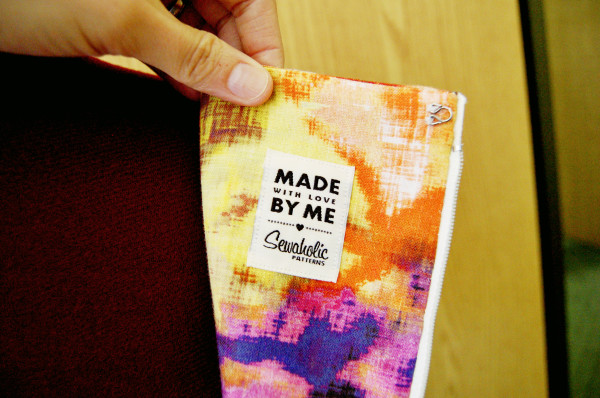 If you are sewing labels into a similar garment, sew the label to the facing first while it's still flat. Make sure it is parallel to the centre back edge and square to the top edge, and there's enough room to sew the seam allowances and not be near the label.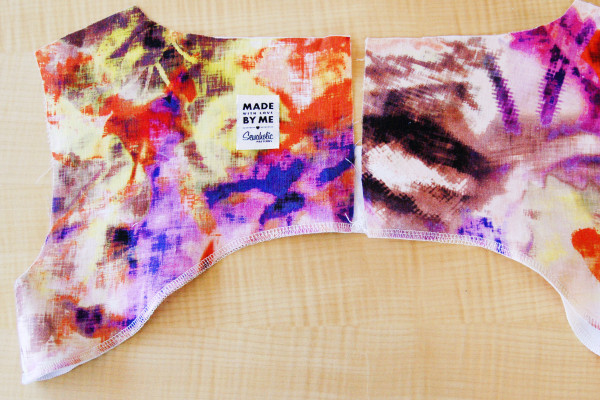 I even sewed the hook and eye to the top of the zipper opening. For some reason, this is one of my most-hated sewing steps.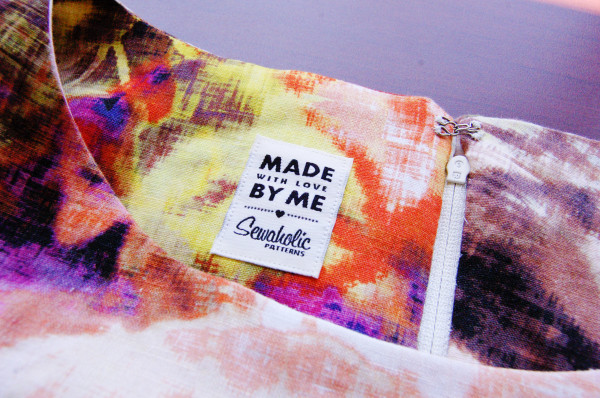 Since I've only sewed the view with the cut-out back, the back bodice is a little long. I didn't notice on the other views, but next time I'll pinch about half an inch out of the centre back length. It's just a little roomy from neck to waist, when the waistline of the dress sits on my waist.
Side note: this was the most awkward outdoor photo session! A guy watched me the entire time. It was even worse than the selfie guy I mentioned in this post, at least that guy kept walking. This one offered to take my photo and then casually leaned against a pole about twenty feet away and watched me run back and forth. So incredibly awkward! Yet I didn't want to waste the sunny day so I kept going.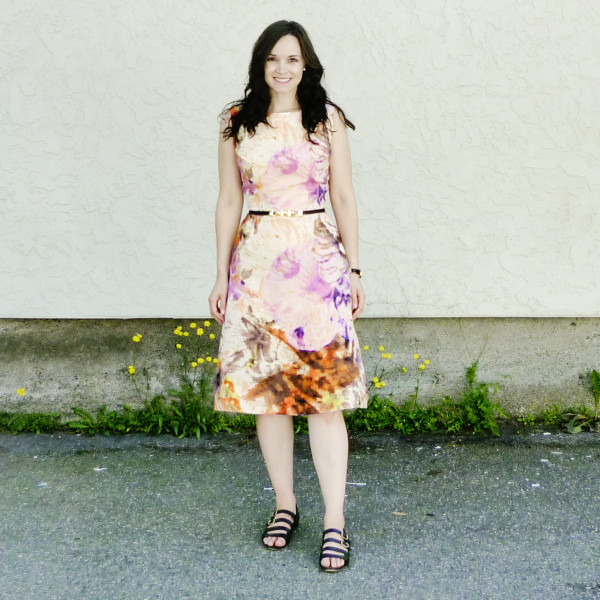 I think I look better in this one than the sack dress, taller and slimmer overall. This is a much better style on my body shape. I am more excited to wear this version, which tells me something! (Next summer, that is. It's starting to be past linen dress weather here.) There's something to be said for sticking to silhouettes and patterns you know you love.